DVDs from TCM Shop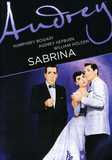 Sabrina Two wealthy brothers fall for... MORE&nbsp> $6.95 Regularly $8.99 Buy Now
NOTES
The working title of this film was Sabrina Fair. The film opens with voice-over narration, spoken by Audrey Hepburn as her character, "Sabrina." According to a March 1953 Daily Variety news item, Paramount paid $75,000 for the rights to Samuel Taylor's play, prior to its first production. An August 1953 Variety item reported that Paramount had bought the rights with the proviso that the film would not be released until the play had run for one year. The film started production in late September 1953, and the play, which starred Joseph Cotten as "Linus" and Margaret Sullavan as Sabrina, opened in New York in mid-November 1953.
Some modern sources contend that Audrey Hepburn, whose previous film was Paramount's hit Roman Holiday (see entry above), had read Taylor's play before Paramount's involvement and convinced the studio to buy it for her. Other modern sources state that producer-director Billy Wilder found the play and suggested that the studio, to whom he was under contract, buy it as a vehicle for Hepburn. According to a November 1953 Variety item, Paramount considered changing the film's title to The Chauffeur's Daughter. Sabrina marked Humphrey Bogart's first film for Paramount, and the last Paramount picture for Wilder, who had made seventeen films at the studio over an eighteen-year period.
Modern sources add the following information about the production: Taylor, who is credited as a co-screenwriter, quit the film after Wilder substantially altered his play. Cary Grant was first offered the role of Linus, but after some consideration, turned it down. One modern source claims that Grant rejected the part because he did not want to carry an umbrella onscreen. Bogart negotiated for $200,000 in salary and script approval, but because of scheduling conflicts with the stars, production was moved up, and principal photography began before the shooting script was finished. Modern sources state that Lehman, whom Paramount borrowed from M-G-M, worked frantically to complete the script during filming and eventually suffered a nervous breakdown. One scene was written during a lunch break and shot that afternoon in seventy-two takes. The scene in which "David" forces Linus to reveal his love for Sabrina had to be shot before Wilder and Lehman had decided whether Linus would end up with Sabrina, because William Holden, who played David, had to leave for another role.
As noted in a 1995 Time article, Hepburn originally wanted famed couterier Cristbal Balenciaga to design her costumes for Sabrina, but he turned her down. She then asked Hubert de Givenchy, Balenciaga's lesser known proteg. (One modern source claims that Wilder's wife Audrey discovered Givenchy during a Paris shopping spree and brought him to her husband's attention.) Because of the costumes' high price, modern sources report, Paramount insisted that Hepburn pay for them herself as part of her personal wardrobe. One of Givenchy's costumes, a black cocktail dress, became a fashion sensation after the film's release, and its high neckline became known as the "Sabrina neckline." Givenchy, who continued to design clothes for Hepburn during her entire life, did not receive any billing on the film, and although she was responsible only for Sabrina's pre-Paris costumes, Edith Head won an Academy Award for Best Costume Design.
According to Hollywood Reporter news items and production charts, some scenes were shot in New York City. An August 1953 Variety news item noted that shooting also took place at Paramount president Barney Balaban's boat landing in Mamaroneck, Long Island, NY. Modern sources add that the yard and swimming pool of William Paley's Long Island estate were used for one scene, and that process shots were taken at Long Island's Glen Cove railway station. The process shots, however, were redone in Los Angeles, according to modern sources. A Hollywood Reporter news item adds Rand Harper to the cast, but his appearance in the final film has not been confirmed.
In addition to Head's Oscar, Sabrina was nominated for the following Academy Awards: Best Actress, Best Art Direction, Best Cinematography (b&w), Best Writing (Screenplay) and Best Director. Wilder, Taylor and Lehman won the 1954 Writers Guild award for "Best Written American Comedy." In 1965, Sabrina was reissued with Breakfast at Tiffany's (see AFI Catalog of Feature Films, 1961-70). In 1995, Paramount released Sabrina, an updated version of the 1954 film, starring Harrison Ford, Julia Ormond and Greg Kinnear. Sydney Pollack directed the remake, and Wilder, Taylor and Lehman received screenwriting credit with Barbara Benedek and David Rayful.