DVDs from TCM Shop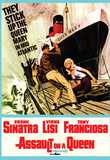 Assault on a Queen Mercenaries salvage a sunken... MORE&nbsp> $18.71 Regularly $24.95 Buy Now blu-ray
Home Video Reviews
Based on a long-out-of-print pulp hit by famed sci-fi author Jack Finney, this bizarre and kinda creaky adventure-heist thriller plays today like a lazy hit of nostalgia opiates. Here was a day when the lackadaisical hipster star power of an aging Frank Sinatra was more than enough to anchor audience's ardor, and a day when a pure pulp story told largely without gloss or visual hyperbole, and usually on a double bill, was a Saturday night blissfully spent. There's something to be said for the modest and even generous expectations we used to have for movies - filmgoers wanted stars and stories and moments of electric connection, and certainly didn't need the attention-deficit-disorder editing, ear-bleeding Dolby soundtracks, and relentless digital effects that contemporary movies employ to scream us into submission. Nobody then or now will make a case for
Assault on a Queen
as an artful masterpiece, or anything more than the third or fourth most unexceptional film Sinatra made during the Rat Pack '60s. But there's a raw pleasure to be had from it that movies do not know of anymore, like the buzz you get from an old, badly recorded rockabilly single in a world of Autotuned pop overproduction and Lady Gaga blitzkriegs.
This was postwar America, where every man seems to have an ambivalent military legacy trailing behind him and working knowledge of submarines. Sinatra and Trinidadian star Errol John are weary sub vets eking out a living and in the Bahamas running a fishing boat, which is all well and good until debts force them to take grinning slickster Tony Franciosa, his unbelievably hot girlfriend Virna Lisi and their German u-boat vet partner Alf Kjellin out to look for galleon treasure. During the trip, deep-sea diving along the ocean floor, Sinatra discovers a sunken German submarine, still intact. Franciosa and Co. decide to do what you or I would naturally do with this news - raise the sub, secretly moor it, spend weeks cleaning it and getting it running, and then concoct an elaborate scheme using the u-boat to rob the Queen Mary in mid-Atlantic.
What? Finney didn't pause for breath, apparently, and neither does Rod Serling's script, just leaping past the hundred plot holes and unlikelihoods inherent in the story. On the other hand, director Jack Donohue, whose career is comprised largely of sitcoms, shot the film as if on vacation, often settling for static two-shots on obvious studio sets. Nothing moves very quickly in this film, whether the scenes are underwater or not - the cleaning of the sub is lengthy and, almost comically, treated by the cast as a run-of-the-mill job, a business start-up. (The vital planning discussions are all lubricated with ubiquitous booze and cigarettes.) Sinatra is preoccupied with a yen for Lisi, and it's hard to blame him - a star in Italy and then internationally in the '60s despite having made a single remarkable film (she supported Jeanne Moreau in Joseph Losey's
Eva
, in 1962, but that's about it), Lisi was not a power personality but a sleek, cat-like beauty of the kind filmmakers and audiences have never been able to resist. Still, she doesn't stand a chance against Sinatra, whose redoubtable charisma here fits like an old bomber jacket. He makes it look easy, and for him it was - watch him listen to the other actors, and you'll see a born movie star, occupying center stage as if he was born to it. This is both the glory and the weakness of the star system as Hollywood devised it - regardless of material and direction, and often within films we wouldn't see twice if we were paid, someone like Sinatra remains deathlessly watchable, magnetic, a cool, convincing spectacle onto himself.
Assault on a Queen
eventually does get around to its heist, and in the tradition of heist films as they were before the new George Clooney
Ocean
series, you know the plot is doomed. In this case the robbers never anticipated the nearby presence of a Coast Guard ship - why not? - and the agonizingly slow mechanics of deboarding a luxury liner and escaping in a raft make for nail-biting where you thought there'd be none. Sinatra is the glue here, but Franciosa, a generally obnoxious and glib actor, is splendidly obnoxious and glib here as the hopeless jerk you know won't make it out of the story alive, rounding out an Italian-American trifecta variety pack with Richard Conte, showing up midway through as a recalcitrant sub mechanic and looking perilously swollen with drink. (He looked much leaner and sharper six years later, as Don Barzini in
The Godfather
.) All things told, Assault on a Queen is nothing more or less than an unpretentious yesteryear matinee programmer, an echo of a time when moviegoing was a relaxed lifestyle, not submission to an assault.
For more information about
Assault on a Queen
, visit
Olive Films
. To order
Assault on a Queen
, go to
TCM Shopping
.
by Michael Atkinson