DVDs from TCM Shop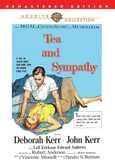 Tea and Sympathy A faculty wife risks her... MORE&nbsp> $16.95 Regularly $19.99 Buy Now
USER REVIEWS
See Detailed Ratings
Acting of Lead Performers

Acting of Supporting Cast

Director

Music Score

Title Sequence

Screenplay

Cinematography

Historical Importance

Would You Recommend?

0 Member Ratings
Rate the acting of the Lead Performers

Rate the acting of the Supporting Cast

Rate the Director

Rating of the Music Score

Rating of the Title Sequence

Screenplay

Creatively uses the camera to tell the story

Importance in Cinema history

Would you recommend for fans of this genre
Submit Ratings
Cancel
Write a Review
Read Reviews
NO REVIEWS AVAILABLE
The title has not been reviewed. Be the first to write a review by clicking here to start.
Drink Diet Tab

The only ones being directed in this movie are the viewers.

last tune of the picture

So nice to top off the end of this flick with "Plaisir d'amour." Took me right to Joan Baez classic rendition, which always bring tears to my eyes. Is it still so easy to brand young men with the "homo" label as it was in the '50s when I was at prep school? How shameful that was.

i will say it ..over and over.

I prefer dr.pepper and I have no sympathy for Deborah kerr movies.

Tom Lee & Bill Reynolds!

What a devastating experience this film must've been for Robert Anderson, who had to write a falsified version of his own superbly-written Broadway play - for the "revelation" of the play is that it is NOT Tom Lee who is gay, but Bill Reynolds, Laura's husband, who is gay.

Homophobia in films

This film strikes me as being just about as homophobic as a film could be. First of all its directed by Vincent Minelli and he sure has hell should have known better. The cast is great ..who could be better than Deborah Kerr in anything but come on....Homosexuality is made out to be the worst sort of crime. The entire film is putting out the point that no matter what ..he's not gay. How could a gay like this film? I'm completly aware of the code and all the other restrictions including the Catholic church ..but this is the worst sort of pandering to Homophobes...This lurid film says only ..don't judge a book by it's cover....he might be really weird, but ...He's not gay!

Not about homosexuality

I think those who insist that Tom must be gay are mistaken. I think the movie is just as valid if it looks at how men who are not stereotypically masculine are viewed. As a teacher of over 35 years, I can tell you that I have know many boys who were straight but who were teased by their peers because they were not tough or into sports. To suggest that every sensitive boy must be a closet homosexual is as insulting as homophobia. It is as if you are saying that only gay men are sweet and sensitive and artistic and poetic. Are you saying that all straight men are brutes by nature? What bigotry!

One of my All-Time-Faves

I have come to love all things Deborah Kerr and this movie has been one of my favorites for years. She was absolutely stunning in this film and I would have given anything to see her perform Laura on the stage despite the fact that "Tea and Sympathy" was produced for stage more than a decade before my birth. Here's the deal though; I never saw Tom as gay. I saw him as a very sensitive young man who had a big-time crush on Laura. Having had big-time crushes in my life, I recognized all of the tricks that are done to put oneself in the path of the obsession. In all of the situations that got Tom his nickname "Sister Boy", the common denomenator was that Laura was somewhere nearby to pay attention: whether it was singing at his window where she could hear, to sitting on the beach sewing on buttons. This was truly a touching film and it showed me how far we come in half a century as well as how far we haven't when it comes to accepting those who are different and the cruelty that kids and adults still inflict upon one another. However, I did find Laura's husband a loud, overly aggressive bully who was quite exasperating. After several viewings, it slowly dawned on me what was really up with him. It was a case of "the-gentleman-doth-protest-too-much" syndrome. Besides, it should give one pause when a man has the lovely Deborah Kerr at home truly wanting to be loved and touched by him, but he would rather hang out with teenaged boys.

Tea and Sympathy (1956)

Contrary to what you might think, this movie is not about homosexuality. Not really. It's more about homophobia than anything else and the ridiculous stereotypes of what characteristics are supposed makes a man. Hard to believe that cold-hearted promiscuity with easy women or tearing the pajamas of a male freshman and pretending to rape him would be considered characteristics to fit that bill, but whatever ... Meanwhile, the sensitive artist, who cares about women as people and is considerate and gentle is judged by his schoolmates to be a "sister boy." He in turn starts to believe the label to the point where he doubts himself and wants to commit suicide. That this (1950s!) movie attacks the stupid notions of false masculinity and reveals the plethora of sexual insecurities that "macho" men are actually covering up makes it a highly worthwhile film to watch, and those involved in it should be congratulated. On the other hand, according to the introduction, the play this film was based on was far more explicit and movie producers stepped in to tone it down dramatically. For instance, Kerr's husband was revealed as a closet homosexual in the play, but ended up in the movie as "just" a macho bully. However, I think the director and the actor pulled one over on the producers because I STILL got the same impression, as it was blantantly obvious that he preferred and loved physical contact with "his" boys, but was loathe to touch or kiss his wife, let alone put out in the bedroom. Not a perfect film by any means, but suprisingly open-minded and critical of society's failings.

Tea And Sympathy (1956)

I have seen almost every film (comedy or drama) dealing with the subject of homosexuality. "Tea and Sympathy" doesn't seem as good as many of the others in my opinion, probably because it was made in the ultra-conservative 1950's, where any overt mention or portrayal of homosexuality was forbidden in film, and those who were gay/lesbian in real life were looked down on as perverted social outcasts, and had to either disguise their homosexuality or practice their chosen lifestyle in private. Although the perofrmances are very good (particularly Deborah Kerr and John Kerr), and Vincente Minnelli does an excellent job of directing, I feel that "Tea and Sympathy" misses the mark dealing with homosexuality. The main character, Tom Lee, is a sensitive young man whom everyone thinks is gay just because he doesn't act brutish, chase girls or brag about his sexual conquests. An ugly rumor gets started about him, and from then on things basically go downhill for him until he finds solace in his dorm headmaster's wife, and she's the only one who tries to understand and help him. Her husband berates her for this, and feels she's giving all her love to Tom instead of him. Ultimately it destroys their marriage. If it had not been for her, Tom probably would have committed suicide, being unable to deal with the emotional abuse and mixed messages from his fellow students, the headmaster and particularly his own father. If "Tea and Sympathy" were remade today I'm sure homosexuality would be portrayed in a more realistic and honest way, although in our ostensibly enlightened 21st century I'm sure that many of the things shown in TAS still go on today.

a film that should be remade

I had high expectations before I watched the movie, given the fact that it was directed by Vincente Minnelli and featured the three lead actors from the original Broadway play. I am sure that in 1953 when the play opened it created quite a stir. I imagine the script, the acting and the subject matter were seen as bold, daring and pushing the envelope. Watching the movie version, it is hard not to see its imperfections and shortcomings. The script at times is not natural or credible. The acting at times is stiff and seems not to have been nuanced from what the actors probably delivered on the stage. I am not sure if other viewers would agree with me, however, I was not only wondering about the masculinity of the character Tom Lee but I was also wondering how secure Tom's father, Herb Lee, and Tom's house master, Bill Reynolds, were in their own masculinity. They certainly were not secure in their affectivity. Tom's father is concerned about his son's effeminacy, but seems unaware of his own effeminate ways. The dialogue may have been realistic and believable back in the 1950s, but to a contemporary audience it comes off as poorly written and weak. For most of the movie I was hoping for everything to be more believable and less contrived. With the Todd Haynes' superb reworking of All That Heaven Allows in his 2002 Far From Heaven, I think he would be the ideal director to revisit this story and to give it a more realistic and relevant interpretation. Few people in today's world automatically equate effeminacy with homosexuality as was the case in earlier generations, and especially in the right-wing, bigoted 50s. However, the potential for dramatic plot and conflict is there: perception versus reality, self-image and reputation, the complicated web of human wants, needs, desires and fears, etc.

Tea and Sympathy

As another reviewer, I happened to be at home and was only going to watch the first part of this wonderful, tender movie. How fortunate that I was able to stay at home and fiinish watching it. It touched my heart, and made it break to think that many people as I was growing up in the 50's and 60's still treated their sons in this manner. And it made me sick to think that some men still want their son to be that "All American" guy. Deborah Kerr's character was so brave, to stand up for one young man's life, even if it meant the demise of her own marriage. As is for almost all Deborah Kerr's movies, I enjoyed it thoroughly, made me cry, and made me think for a long time after watching it. What better compliment can you give a movie.

Always Worth Another Look!

I happened to catch "Tea and Sympathy" on TCM yesterday. I only meant to watch a smidgeon, then go on with my afternoon, but, as usual, I ended up seeing the whole thing! While, admittedly, the topic seems a bit dated in our more broad-minded, 21st Century society, the film still has relevance with its broader themes of conformity, peer pressure and the cruelty to which, sadly, we all can fall prey.For me, however, the spotlight of this picture always falls upon Deborah Kerr. Did she ever look more radiant? Her gentle, sincere manner, her aristocratic beauty and the kindness she effuses in every scene is just breathtaking. To watch this film and realize how it fell within a banner year - "The King and I" and "Heaven Knows, Mr. Allison" both in the same calendar, with "An Affair To Remember" following shortly, is an intriguing bit of trivia. And how beautifully Vincent Minelli photographs and frames every shot! Deborah's red hair, her emerald dress and those yellow roses epitomize Technicolor in its best sense! We are losing too many of Hollywood's Classic Era, but with films like this (and TCM's wonderful presentation) they are with us forever. A real treat on a fall afternoon here in Milwaukee!

In today's world...

If this film had been made today, Tom would be happily married to a same-sex partner. I think that, by making him straight, it took some of the revelancy away. In other words, we can sympathise with him becuase, in the end, he's really straight and therefore we can like him. Would he have the same level of sympathy if he turned out to be gay afterall?

Not necessarily what it seems

I saw most of the show today for the first time. Although I didn't see the entire movie, I don't think it was saying that Tom was "gay". The movie was saying that you don't have to be a pig to be a man. Just because a man is sensitive and doesn't treat women like objects doesn't mean he prefers someone of his own gender. That's a sad message that's being sold to the public. I always like Deborah Kerr movies anyway.

Great movie

I saw it for the first time this afternoon and sat glued to the set. Though I think perhaps what many people may have missed was that it was the Housemaster himself who was gay and couldn't come to terms with it.The signs were subtle but there were many and the end of the movie pretty much made it clear to those sensitive enough to pick up on it. Overall a great movie. And it made me thankful I grew up in the 80's where being different was considered rather cool, unlike the conformist 50's where I would have been as miserable as Tom. It was pretty brave to make this type of movie back then.

Excellent

Tea and Sympathy is a really overlooked movie. When I saw it, I thought it was just great! It's sexy! I was surprised it wasn't recognized more, because it's great. I thought Deborah Kerr had been nominated for an Oscar for this movie and was surprised that she wasn't. Wow!

A heartbreaking timepiece from a repressed era...

david lincoln brooks

7/3/07

This film is a great one, so important. And today, it's excruciating to watch for any gay man who grew up in the 40's, 50's, 60's or even the 1970's...Excruciating not because the film is bad-- it's not, it's very good indeed-- but because it strikes some very painful emotional chords that most G/L people can identify with. The fact that this boy might be gay is such a monumental, unspeakable PROBLEM in this film!!! Frankly, I don't think that men and teenaged boys are much different today in the USA than they were in upper middle-class 1956. Boys today still call each other "fag" and decry anything they don't like as being "so gay". What I PRAY is different today is, I like to hope that young G/L kids today have many more outlets for emotional expression and self-esteem, and atre not riddled with self-loathing as is the young protagonist in this film... It is certain that there are now many more healthy examples of "out" folks and thematic elements in the media.

Tea and Sympathy: A Work of Geinus

"Tea and Sympathy" is one of the best mvies ever made. It was one of the few Movies alowwed to break the strick Production Code. Not only does it deal with adultry but, it has to do with the fact that Tom Lee might bea homosexual.
*We protect your personal infortmation and will not provide it to anyone without your consent. For a complete explanation, please refer to TCM's Privacy Policy. By submitting your contribution, you agree to TCM's Terms of Use.