DVDs from TCM Shop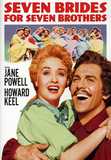 Seven Brides for Seven Brothers When their older brother... MORE&nbsp> $10.95 Regularly $14.98 Buy Now
NOTES
The working titles of this film were Sobbin' Women and A Bride for Seven Brothers. The story of the Sabine women referred to in the film came from Plutarch's Life of Romulus. The cast is listed in different order in the opening and closing credits. In the opening credits, the actors are listed in the following order: Jane Powell, Howard Keel, Jeff Richards, Russ Tamblyn, Tommy Rall, Howard Petrie, Virginia Gibson and Ian Wolfe. According to a November 25, 1951 Los Angeles Times news item, M-G-M had waited five years to acquire the rights to Stephen Vincent Bent's short story, as Broadway producer Joshua Logan had optioned the story as a potential stage musical. In an interview published in a modern source, director Stanley Donen said that producer Jack Cummings originally planned to use existing American folk songs for the film's musical numbers. After months spent searching in vain for the right music, Donen recalled, the decision was made to commission an original score. According to a biography of Donen, composer Harold Arlen was chosen to collaborate with lyricist Johnny Mercer on the songs. However, Donen said, "Johnny Mercer told me he wouldn't work with Harold Arlen. Johnny said, 'He's too picky about the words that go with his music.' Gene de Paul did the music, and the score suffered." A November 28, 1951 item in Hollywood Reporter's "Rambling Reporter" column stated that composer Harry Warren would be Mercer's song-writing partner.
According to a August 13, 1953 Hollywood Reporter news item, Steve Forrest was cast, but he was not in the film. December 1953 Hollywood Reporter news items add the following actors to the cast: Regis Parton, Leroy Johnson, Saul Gorss, Carl Pitti, George Paul, Tom Steel, Frank McGrath, John Daheim, Henry Wills, Fred Kennedy, Johnny Indrisano, Hazel Burgess, Betty Graeff, Jerry Martin and Clint Sharp. The appearance of these actors in the final film has not been confirmed, however. According to a modern source, star Howard Keel attempted to have Donen replaced by director George Sidney. Although some location shooting took place at Tioga Pass in the High Sierras, the film was shot primarily on M-G-M's back lot. According to modern sources, Donen wanted to shoot the film on location over the course of a year, "because we were covering events in our story that required all four seasons," but the studio refused to grant the film such a high budget. Modern sources contend that M-G-M did not have high financial expectations for the film, and chose instead to allocate its resources to Rose Marie and Brigadoon (see entries above)-films that never matched the commercial and critical success of Seven Brides for Seven Brothers.
With full location shooting no longer an option, Donen was forced to rely on painted backdrops for the outdoor scenes. "The backdrops always hurt the picture," Donen asserted in a modern source, "less when it came out than now, because then people were used to seeing pictures shot in studios. But it breaks my heart to look at the picture." Donen added that he had hoped to film "Spring, Spring, Spring" as a lavish production number, complete with footage of chicks hatching, fish spawning and snow melting on a mountainside. According to a July 1953 memo in the M-G-M Collection at the USC Cinema-Television Library, A. J. Reilly, head of the studio's film library, contacted Ohio filmmaker Karl H. Maslowski, whose material had been incorporated in the 1951 M-G-M film Across the Wide Missouri. Reilly explained that the studio was making a film containing a "spring awakening montage" and needed footage of various nature scenes. Reilly requested a viewing print of Maslowski's film Under Ohio Skies, but it has not been determined whether any of Maslowski's footage was used in the final film. Correspondence in the Collection indicates that M-G-M also considered using footage from some of Walt Disney's nature films, but rejected this plan when it became clear that Disney would insist on screen credit.
An December 18, 1953 Hollywood Reporter news item reported that Donen was planning to shoot the brawl in the barn-raising sequence with four cameras simultaneously. Although a December 1, 1953 news item noted that the production would mark the first time that the Ansco Color process was used in conjunction with CinemaScope, they were also used in tandem on The Student Prince, an M-G-M film shot almost simultaneously to Seven Brides for Seven Brothers and given its premiere a month prior to it. Donen stated in a modern biography that because many theaters were not equipped to exhibit CinemaScope pictures, he was required to make the film both in CinemaScope and in a flat version. "I had to shoot and cut everything twice-restage scenes, put in a different set of marks, light it differently, loop it," he recalled. "We had two cutting rooms going, and it cost the studio another $500,000, which was a lot for then."
Seven Brides for Seven Brothers was enormously popular with both audiences and critics. The Hollywood Reporter review proclaimed the film "historic for being the first completely successful marriage of ballet and movie comedy," and Time called it "the liltingest bit of tunesome lollygagging to hit the screen since the same studio brought forth An American in Paris" (see entry above). Michael Kidd's athletic choreography received considerable notice, and the barn-raising sequence is frequently included in documentaries about dance in film. The film received an Academy Award for Best Scoring of a Musical Picture, and was nominated in the following categories: Best Picture, Best Screenplay, Best Cinematography (Color) and Best Film Editing.
The film loosely inspired the television series Here Come the Brides, which ran on ABC from 1968-1970 and starred Joan Blondell and Bobby Sherman. In 1978, a stage version of Seven Brides for Seven Brothers, adapted by Al Kasha and David Landay, with additional songs by Kasha and Joel Hirschhorn, toured the southern United States. Keel and Powell reprised their film roles in the musical, which closed before reaching Broadway. The production was later revived with Debbie Boone in the lead role, and lasted five performances on Broadway in July 1982. In September 1982, CBS produced a television movie-of-the-week based on the film, with a script by mystery writer Sue Grafton and her husband, Stephen Humphry. The television version, which starred Terri Treas and Richard Dean Anderson, changed the story's setting to a modern-day cattle ranch in Northern California and omitted all but one of the brothers' brides.
In 1996, a newly restored print of Seven Brides for Seven Brothers was released by Turner Entertainment. The June 20, 1996 "Rambling Reporter" column in Hollywood Reporter noted that M-G-M had accommodated the unexpectedly high demand for the film in 1954 by mass-producing release prints from the original camera negative (rather than copying the duplicate negative, as is customary). Columnist Robert Osborne reported that the original negative was left badly damaged, and was difficult to repair because the obsolete Ansco Color process did not match the newer color film stock. In his September 12, 1996 column, Osborne stated that only forty percent of the original negative was usable for the restoration, and that the remaining sixty percent was created by combining elements from duplicate negatives and other sources.