DVDs from TCM Shop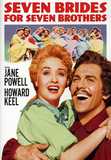 Seven Brides for Seven Brothers When their older brother... MORE&nbsp> $10.95 Regularly $14.98 Buy Now
Home Video Reviews
DVD buyers have gotten used to the fact that if they're patient a "special edition" of their favorite film will probably come along after a first no-frills DVD release of it. That's certainly the case with
Seven Brides for Seven Brothers
, originally released on DVD by Warner Video, but now available in a deluxe 2-disc edition that really justifies the investment. For one thing, the new transfer is a vast improvement over the first one which was overly grainy and riddled with minor but noticable defects. But before we get into the details, here's a quick refresher course on this award winner.
Saul Chaplin and Adolph Deutsch won Oscars® for Best Scoring of a Musical Picture for the sprightly score of
Seven Brides for Seven Brothers
(1954). This MGM musical is based on the Stephen Vincent Benet story about a family of Oregon backwoodsmen who abduct a collection of not-entirely-unwilling maidens for purposes of marriage. Chaplin and Deutsch, who remained faithful to the movie's frontier spirit by favoring banjos, accordions and harmonicas in their orchestrations, had some great source material in the collection of witty and rousing songs created by composer Gene de Paul and lyricist Johnny Mercer. Among the outstanding numbers are "Goin' Courtin'," in which Jane Powell, as the wife of the eldest brother (Howard Keel), instructs her brothers-in-law in the ways of wooing; "Lament (I'm a Lonesome Polecat)," in which the boys give voice to their lovesickness; and "Sobbin' Women," in which Keel gets his brothers fired up for the kidnapping by relating the story of the rape of Sabine women by Roman soldiers.
Seven Brides for Seven Brothers
was nominated in four other categories: Best Picture, Color Cinematography, Film Editing and Screenplay. Although they lost in the latter category, Frances Goodrich, Albert Hackett and Dorothy Kingsley did share a Writers Guild of America award for Best Written American Musical. The movie proved a box-office smash (later becoming a perennial hit in revivals and on television, and spawning a stage version that also starred Powell and Keel). It won glowing critical notices, including
Time
magazine's claim that "It's the liltingest bit of tunesome lolly-gagging to hit the screen since
An American in Paris
," and appeared on almost every major "10 Best" list of its year. Director Stanley Donen's concept, with musical numbers developing from and advancing the plot, won favorable comparisons to the groundbreaking stage musical
Oklahoma!
(which would be filmed the following year). Michael Kidd's spirited and inventive choreography was singled out for special praise.
The attention and adulation heaped upon
Seven Brides for Seven Brothers
came as a major shock to MGM, which had relegated this film to a relatively low budget and back-lot shooting while lavishing a great deal more time, effort and expense that year on such other musicals as
Rose Marie
,
Brigadoon
and
Jupiter's Darling
. The Best Picture Oscar® nomination was a particular distinction. During the 1940s and 1950s, generally considered the Golden Age of the Movie Musical, only three others of that genre from MGM earned such recognition:
Anchors Aweigh
(nominee, 1945),
An American in Paris
(winner, 1951) and
Gigi
(winner, 1958).
One fascinating aspect of the new special edition of
Seven Brides
is that disc 2 features the rarely seen alternate widescreen version of the film. It also includes a highly entertaining documentary on the film, "Sobbin' Women: The Making of Seven Brides for Seven Brothers" (hosted by Howard Keel), newsreel footage on both the 1954 premiere and MGM's 30th anniversary celebration, and a musical short (
MGM Jubilee Overture
) that includes an 11-song set performed by Johnny Green and the MGM Orchestra.
The first disc, of course, features the sparkling new transfer of the original theatrical release along with director Stanley Donan's always "candid" commentary. This is not a wall-to-wall audio track in which the participant never takes a breath or pauses for reflection. Instead, you'll encounter several lengthy pauses in Donen's commentary and there are times when he simply prefers to sing along with the cast members or repeat the dialogue. But there's choice information here, from addressing the rumor of Howard Keel requesting that Donen be fired from the film to stories about the film's artificial sets which confused the live animals used in the movie.
For more information about the special edition of
Seven Brides for Seven Brothers
, visit
Warner Video
. To order
Seven Brides for Seven Brothers
, go to
TCM Shopping
.
by Roger Fristoe