DVDs from TCM Shop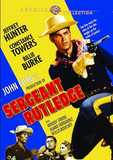 Sergeant Rutledge A 19th-century lawyer tries to... MORE&nbsp> $12.95 Regularly $17.99 Buy Now
NOTES
DVDs from TCM Shop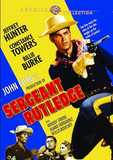 Sergeant Rutledge A 19th-century lawyer tries to... MORE&nbsp> $12.95
Regularly $17.99 buy now
The film's working titles were Captain Buffalo and The Trial of Sergeant Rutledge. Portions of the film were shot in Monument Valley, along the Arizona-Utah border. Although August 1959 Hollywood Reporter news items add Edward Shaw the cast, his appearance in the film has not been confirmed. The CBCS mistakenly credits Shaw as "Chris Hubble," a role played by January Stine. Other actors added to the cast by contemporary Hollywood Reporter news items are Dan Borzage, Byron Hightower, Gertrude Astor and Dorothy Phillips, but their appearance in the film has not been confirmed.
After the Civil War, four all-black units, the 9th and 10th Cavalry and the 24th and 25th Infantry, played a major role in developing the Western frontier. The Native Americans who faced these men in battle called them "buffalo" soldiers, in honor of their fighting spirit, as well as the buffalo coats and hats they wore. After seeing combat in World War II, the 9th and 10th Cavalry were deactivated in 1944. At that time, the 25th Infantry was also scattered, although the 24th Infantry survived to do battle in Korea. The all-black units ceased to exist when the Army desegregated in the early 1950s.
In interviews published by modern sources, producer/writer Willis Goldbeck credited director John Ford with much of the screenplay's construction, including the film's courtroom setting. Modern sources also state that Ford was paid $300,000 for his work on the film. Numerous film scholars have stated that Sergeant Rutledge marked an important step in the evolution of racial consciousness in Ford's films, as it is his only film to feature an African-American protagonist.