DVDs from TCM Shop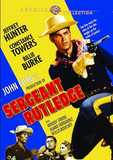 Sergeant Rutledge A 19th-century lawyer tries to... MORE&nbsp> $12.95 Regularly $17.99 Buy Now
Home Video Reviews
I don't know if John Ford had a change of heart late in life or if he just felt more empowered to break with his own movie conventions then. But, after becoming the foremost chronicler of the white settlers' experience in the old west, Ford broadened his perspective during his last decade of work. He focused on the Native Americans he'd so often demonized in
Cheyenne Autumn
and, in 1960's
Sergeant Rutledge
, he used a familiar cavalry setting to examine racism.
To the movie's credit, it's much more than a message movie, and it holds up better than similar films of its day like, say,
The Defiant Ones
. But, as can still happen today, it focuses on its "different" character through its "normal" character. The different character is the title character, Sergeant Braxton Rutledge, an ex-slave and the proud "top soldier" of the all-black (save for officers) 9th Cavalry; the audience surrogate is Lt. Tom Cantrell (Jeffrey Hunter of
The Searchers
), an officer at the 9th's Arizona outpost. Rutledge is on trial for the murder of the post's commanding officer and the rape and murder of his C.O.'s teen daughter, and Cantrell is defending him.
One of the things that makes the movie interesting today is that, as probably wouldn't happen today (when we're all
so
enlightened), Ford and writers James Warner Bellah and Willis Goldbeck actually play off of the assumed racism of the audience. As Rutledge's court-martial begins, we're not told what the exact charges against Rutledge are, but we see that the one witness Cantrell has brought to the courtroom is blonde Mary Beecher (Constance Towers of Sam Fuller's
Naked Kiss
) and we see that a group of ornery townspeople is clamoring to string up Rutledge.
Of course
, we assume there's a sex crime involved; it's not as if Hollywood was making many movies about black heroes. (The movie's trailer, the DVD's lone extra, also plays on the assumed threat of a big black man on a white woman like Mary.)
But Rutledge is indeed heroic.
Sergeant Rutledge
has an inevitably predictable structure, launching into flashbacks with every new witness who takes the stand, but it also tells a very involving tale. Starting with Mary's testimony, we see how she first encountered Rutledge at a remote train station where, after she found the station man dead and ran outside in horror, it was wounded Rutledge who grabbed her, calmed her and protected her from a small band of raiding Apaches. Further testimony from an officer's wife (Billie Burke), the post doctor (Charles Seel), another 9th Cavalry sergeant (Juano Hernandez), Cantrell and Rutledge himself fill in more of the story: how Rutledge was friendly with teen Lucy (Toby Michaels), how Rutledge was seen exiting the C.O.'s quarters after shots were heard, how he deserted the post and, later, how Cantrell, leading a party of soldiers tracking Apaches, arrested him at the train station. When the cavalrymen encounter the Apaches, Rutledge helps to save the lives of many of his comrades.
Of course, that battlefield heroism won't get Rutledge off the hook at his court-martial. The panel of judges (led by the cranky officer well-played by Ford regular Willis Bouchey) doesn't doubt the ex-slave's reputation as a warrior, nor the defendant's powerful speech about how important the 9th is to him, emotionally put across by Strode. It takes a
Perry Mason
-like unveiling of the real perpetrator to acquit Rutledge, but that feels rushed and overly convenient. No, in the world of John Ford westerns it's much more significant that Rutledge and his squad get the full-blown Ford treatment: face-offs against Indians, treks through Monument Valley, the camaraderie of men in uniform. There's no love interest for Rutledge, but other than that, the most effective affirmation of the title characer in
Sergeant Rutledge
is that, essentially, whatever's good enough for John Wayne is good enough for Woody Strode, too. Despite the weak resolution, which also involves a reconciliation of would-be paramours Cantrell and Mary, the last shot of
Sergeant Rutledge
, a choice Ford image of a line of buffalo soldiers on horseback, ascending a ridge, is a genuine tribute.
In a rare lead role, Strode, who regularly played supporting parts in Ford's 1960s films and had memorable roles in
The Professionals
,
Spartacus
and
Once Upon a Time in the West
after this, really rises to the occasion. Like most good movie actors, his very bearing gets across much of his character, and the proud air ex-football player and wrestler Strode gives Rutledge makes him a strong, dignified character who won't be cowed by his harsh court-martial surroundings. The movie asks you to accept this defiant character on his own terms, and though the movie's message of tolerance can feel obvious 46 years later, Ford certainly spoonfeeds its message of tolerance less than many movies after it,
Philadelphia
included. Among the better of Ford's non-Wayne westerns,
Sergeant Rutledge
is, for the time being, available only in the
John Ford Film Collection
boxed set.
To order
Sergeant Rutledge
, go to
TCM Shopping
.
by Paul Sherman