DVDs from TCM Shop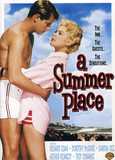 A Summer Place An adulterous couple discovers... MORE&nbsp> $15.79 Regularly $19.98 Buy Now
USER REVIEWS
See Detailed Ratings
Acting of Lead Performers

Acting of Supporting Cast

Director

Music Score

Title Sequence

Screenplay

Cinematography

Historical Importance

Would You Recommend?

0 Member Ratings
Rate the acting of the Lead Performers

Rate the acting of the Supporting Cast

Rate the Director

Rating of the Music Score

Rating of the Title Sequence

Screenplay

Creatively uses the camera to tell the story

Importance in Cinema history

Would you recommend for fans of this genre
Submit Ratings
Cancel
Write a Review
Read Reviews
NO REVIEWS AVAILABLE
The title has not been reviewed. Be the first to write a review by clicking here to start.
a summer place

Typical Delmer Daves flic. About 40% of the way in (actually, make that 30%) the guilty pleasure factor yields to the boredom factor. If you're hell bent on exulting over the crumpling body of Will Hays may I suggest "Peyton Place" instead? It too is set in New England (and shot there as well, unlike this one where Monterey stands in for Maine ) and has lovely theme music, lots of sex, and a fun, trashy, late 50s atmo, but you're not stuck with The World's Dullest Adulterous Couple, Dorothy Maguire and Richard Egan, and Diane Varsi is a definite step up in class from Sandra Dee. (The common denominator that unites these 2 quite similar films is the great Arthur Kennedy who is sleazily wonderful in both). Give it a C.

Great Soap Opera With Sandra Dee

It's pure soap opera, to be sure, but a soap has never been done better. The on-going, but weakening, Hays' Code resulted in a few moral lectures being included, but they only add to the charm of this film with Sandra Dee.

Mixed Up Parents and their Mixed Up Kids

Sandra Dee's father has an affair with Troy Donahue's mother. As I recall, both were unhappily married to other people--the former to a domineering controller, the latter to an alcoholic. They'll live happily ever after at their summer place until Sandra and Troy decide to take their teen love angst to the next level. Never mind that the two of them are going to be stepbrother and stepsister. She winds up pregnant. The best performances are from the actor who portrayed Troy's alcoholic dad and the actress who portrayed Sandra's controlling mother. Similar themes here to Splendor in the Grass--good girls don't, bad girls do--about the pressure young women (in particular) face to engage in pre-marital sex to prove their love. The theme song is memorable, but you wonder how happy the youngsters will be one or two years later when they realize their starter marriage is the result of an unintended pregnancy. No matter. Enjoy the sparkly bright Sandra Dee and Troy Donahue in all their youthful beach blondness.

Music and Scenery Great

Story is well presented and acted. The music and scenery is beautiful. Think its the Maine coast but not sure. Watch it.

A Summer Place

For the first half of the movie I thought it had a wonderful script, the actors were very good, the scenery lush, and best of all, they cut to the chase all the time, often in a droll way. THEN the second half completely bogged down in trite soapery and became dull, dull, senseless. Too long and boring. What a let-down.

Great Richard Egan & D McGuire

loveitsthemesong

10/11/15

Always loved Egan,tall,well-built & handsome!He really is the appeal for me & Ms McGuire is his match.Ford & Kennedy were a better match & should've gotten together,just to make it a total swinger's holiday.The movie deserves decent reviews,in spite of the times and wooden acting by Troy & Sandra.

Does it bother anyone else?

I really like this movie and watch it every time it airs. However, I am bothered that the teen lovers in this film are step-siblings. Granted, the teen couple discover they are pregnant after their respective parents marry. For the era, this was a very taboo film.

Out of the past for me.

I was the same age generation Donohue and Sandra Dee. The only difference between this film, and what was happening in real life, was films were still soap operas. Somehow, they flew by a norm, and we now are way past real life and what they pass of as "realty" The films today seem to rely on gratuitous violence and profanity. And the music. Well, the music in this film is the best part of this film. Most scores in film today will pass into oblivion. I can't recall a recent film that expressed sentimentality instead of vulgarity,

magnificent score

i was attracted to this movie as a youngster.who can possibly not fall in love with the score of this movie?and who can not dare to look back and relive or feel sad at a ;love affair that ended or never quite made it?i don't think this movie attracts people that have had great love in their life.but it does attract anyone who is sensitive to love that was left unfulfilled.did i say that the music is heart warming?

This got past censors?

While this movie is one of my favorites, each time I see it I can't believe it got past censors from that time.In the end step-siblings get pregnant with each other and get married. WOW!

A Summer Place

This movie hits on teenage love fairly well. It is funny that a week earlier, while watching "Susan Slade", another soap movie with Troy Donahue, about young love, they used the theme from "A Summer Place" in a small portion of that movie. I remember humming along and then told my hubby that the music was from a different movie. I guess I'm a sucker for those sappy teen soaps of that day. Egan and McGuire had a love affair when they were younger and have an affair once again. One reviewer was trying to explain why these teens parents marriages were falling apart. "Now that I'm older, I realize this movie is about 2 marriages unraveling, although in the case of Richard Egan, I don't recall why. In the case of the other marriage, the husband is a boozing loser and the wife is a mean, miserable, controlling matron." Let me straighten that out a bit. The girl's (Sandra Dee) parents marriage (Richard Egan and Constance Ford) had to do with the mother being frigid and thinking sex was bad and just keeping her daughter a virgin. She and her husband slept in separate rooms. She was also very bigoted, rude and money hungry. She works with her mother to figure out how to get as the most money from her husband if they divorce. Now the son's parents (Dorothy McGuire and Arthur Kennedy) were dysfunctional in that she was still in love with Richard Egan's character and her husband was an alcoholic and very jealous of the fact that she called out Egan's characters name during childbirth and not his. He only stayed with her because he was fascinated in how she could play wife and mother. Eventually the 2 couples divorce and Egan and McGuire marry. Dee gets pregnant, they try to get married but are told they are too young and eventually do marry with Egan and McGuires permission.

A SUMMER PLACE

SUNDAY MORNING MOVIE

3/24/14

The just love the style of the 50's 60's The story line is perfect and timeless.We can relate to it today, love is not easy but we all need it... fall in "LOVE" with a great movie "Sunday Morning Movie"https://www.facebook.com/SUNDAYMORNINGMOVIES

Love Theme Song

I'd take Richard Egan any day over Troy,and not apologize!

Blondes at the Beach: Donahue & Dee

"Don't you DARE threaten me, " says Dee's screen mother to Donahue, a boy crazy-in-love with her daughter. Now that I'm older, I realize this movie is about 2 marriages unraveling, although in the case of Richard Egan, I don't recall why. In the case of the other marriage, the husband is a boozing loser and the wife is a mean, miserable, controlling matron. So that one I sort of get. It's kind of a similar plot to Splendor in the Grass in that the mother is consumed with protecting her daughter's (Dee) chastity. Because Troy Donahue is...well perfectly tall and handsome and has great legs. It's been a while since I've seen it, but I think Dee does end up pregnant by Donahue and the couple has no one to turn to in the end except her Dad (Egan) and Donahue's mother who somehow end up married to each other. So in the end, Donahue is hitched to his stepsister, Dee which is kind of creepy. But it's really about the theme song anyway.

Acting makes all forgiven

This was a racy movie for the times. It would still be today. It's not illegal but kind of frowned upon that step siblings marry. Still ilaughed through most of the movie. What I enjoyed most was the acting. I know all of those people. No one went over the top. It gave credibility to a campy screenplay. Kudos to the casting director

Music Score

I believe the music score is the same for a movie from 1946 "A Stolen Life" with Bette Davis that they used for "Summer Place". It is Max Steiner I believe, why did they use the same musical score for both movies? I may be the only person who noticed, but "Summer Place" happens to be my favorite movie. When I saw the 1946 movie today on TCM, it hit me right away when I heard it. I cannot say more than GREAT when I speak of "Summer Place". I could watch that movie over and over again. Arthur Kennedy and Richard Egan made this movie, Arthur Kennedy with his humor and Richard Egan with his wonderfully romantic lead.

A Summer Place (1959)

Delmer Daves, the same boring director who brought you the world's longest cigarette ad (see "Parrish"), now brings you the world's longest music video ... ever!! Seriously. The first time I heard the familar theme I was like "Hey, this is a famous song." A constant 130 minutes of it later I was nauseated hearing it. This film is plodding and waaay to long, which overshadows any "raciness" it may have had. In the hands of a better director, a better actor than Troy Donahue, and brisk running time of, say, 80-90 minutes, this movie might have actually been good.

A Summer Place

A terrifically made teen melodrama. Fine ensemble from McGuire, Egan & Kennedy, but it's Dee & Donahue who shine most of all. The story is good, but not great & the score by Hugo Winterhalter is another character in the film. A fine film showcasing two idolized young stars. I give it a 3.5/5.

Ooh That Theme Music!

I could have sworn the great theme music to "A Summer Place" (and the score by Max Steiner) received an Oscar nomination. I look at the ASP overview and see it got none. Too Bad. I've never seen ASP, but I really like the theme. Percy Faith and his Orchestra took it to number one on the pop charts in 1960. A bit of trivia on the ASP theme-Charlton Heston put an 8-track (remember those?) in his car tape player, and the ASP theme was playing as he cruised around post-apoocalypse Los Angeles hunting down vampires in the 1971 Sci-Fi film "The Omega Man". It wasn't the Percy Faith version though. Steiner's great music should have gotten nominated.

A Summer Place

I love this story of LOVE. The cast was excellent.

A SUMMER PLACE

I remember sneaking into the theatre to see A SUMMER PLACE in the spring of 1960 when I was all of 11 years old.I had seen GIDGET the previous summer and I was in love with Sandra Dee --- and here she was in what I was certain was an ADULT movie ! I was tasting forbidden fruit and it's a thrill that I've never forgotten. I loved the film then because I could boast of having seen it to my less fortunate friends who also drooled over Miss Dee. I love the film now because it's a glossy melodramatic style of motion picture that has gone the way of the dinosaur .... and, for me, that's sad.

Smash Hit Delmer Daves Troy Donahue movie

A Summer Place with its soaring theme by Percy Faith was the first of 4 grand Troy Doanhue movies at Warner Bros that fit the mood of the late 50's and early 60's: A Summer Place, Parrish, Susan Slade, and Rome Adventure are swell movies to watch and I wish TCM would schedule a day of the Daves-Donahue movies.A Summer Place filmed with all the technical professional of a great studio Warner Bros featured Troy Donahue with Sandra Dee and became a worldwide smash hit. Ms. Dee would go on to a career at Universal in a series of films produced by Ross Hunter that elevated her to be a ranking star of the top 10 box office stars of her era.

A Summer Place

Great story line. Would love to see it again. Excellent cast!

Sexy!

This movie is so sexy, and quite daring for it's time. No nudity, no extreme love scenes, but this movie lets your imagination carry you away. And of course the story line leaves no doubt as to what is going on. I love the two female leads in this film. Dorothy McGuire and Constance Ford, both excellent actresses playing very different type mothers. Great movie, beautiful scenery, and wonderfully sexy. I give it an A.

A Summer Place

I love this movie! It took me back to my young years when I was so in love. I have seen this movie so many times and I can't wait until the next showing. Thank you TCM for all the great movies of the past. I am your biggest fan!

Filme classico

Summer place um filme classico mostrando todas as mudanas comportamentais dos jovens dos anos 50. A Sandra dee est tima. A trilha sonora do filme linda. Um filme sublime

A SUMMER PLACE

TERRIFIC MOVIE. THIS MOVIE ALWAYS PLAYED AT LEAST ONCE A YEAR, AROUND THE SAME TIME THEY WOULD PLAY PEYTON PLACE. THEY EVENTUALLY STOP RUNNING A SUMMER PLACE. AND I OFTEN WONDER WHY???????????????????

A Summer Place

This is the best movie that I have ever seen! I love this movie. I have it in my collection and I watch it often.

Would love to see this movie on TCM.

The actors are wonderful. I have always loved this movie since the early 1970's.

Racy for the time

I first saw this movie when I was about 20 yrs old (about 1985). I worked with women who remembered seeing it at the theater. I said that was a really daring film for the time. About parental affairs and divorce and teenagers going "all the way" when "good girls where virgins when they got married". If they did and got PG (pregnant) were sent off "to live with distant relatives" and to give the child up for adoption. And whispered about. The movie is great I'd love to see it offered in the summer on TMC. It is a wonderful love story!

A Summer Place

Does anyone know when this movie will be on tv/cable? If so, please let me know, or let me know how I can request that it be shown. Great, great movie.

Filmed in Pebble Beach, CA

I had photo,s of the film shoot. It was a magical time and place. The beauty of the local, was equal to that of its star.I was not yet a teenager, but could so quickly identify?It broke my heart to read Dodd Darin's Dream Lover. It was a wonderful gut wrenching book.I ask, why this movie is NEVER on TCM? While others are on often? I have not seen this movie since it orginally in theatres....

Gorgeous movie!

I wanted to be Sandra Dee and wanted Troy for a boyfriend! How I loved this movie! No telling how many times I saw it. It was beautiful and the Theme from a Summer Place was the ultimate instrumental. I wore out my 45 but still have it.

Sweet Sandra Dee

12 18 2007The theme from "A Summer Place" is fine.

Wonderful and Inspiring

I have seen this movie a few times now and love it to death. You fall in love with Molly and Johnny! Even though everyone has heard the theme song before, it is like you are listening to it for the first time when you watch this movie. I love how even though this movie was relased in 1959 it addressed some very deep and risky subjects for the time...escpecally involving teenagers.

Coming of age movie

This was the first movie I saw as a teen that dealt with out of wedlock romance. I still love it to this day and all of the actors in it.Also to be noted I loved the Frank Lloyd Wright house, I wanted a house just like that. A true love story.

Beautiful movie

This was my favorite movie as a teenager. I first saw it when I was about 14 and saw it about 6 times at the movies after that. I totally fell in love with Troy. And wanted to look like Sandra Dee. The scenery was so beautiful. How could it have been any better? I don't see it on TV very often but would sure like to.

A SUMMER PLACE

ONE OF THE BEST ROMANTIC MOVIES WITH TROY DONAHUE AND SANDRA DEE AT THEIR HEIGHT OF FAME. A GREAT TEARJERKER. SHOULD BE SHOWN MORE OFTEN. ABOUT ONCE A YEAR NOW. ONE OF MY ALL TIME FAVORITES. WAS ONE OF MY AUNTS FAVORITE MOVIES WHICH SHE PASSED QUITE A FEW YEARS BACK. SHE INTRODUCED ME TO ALL THE GOOD ROMANTIC MOVIES A SUMMER PLACE, GONE WITH THE WIND, AND PAINT YOUR WAGON. THESE MOVIES BRING BACK SOME OF MY FONDEST CHILDHOOD MEMORIES. WISH I COULD GET IT ON DVD BUT HAVEN'T HAD ANY SUCESS. '

A WONDERFUL CLASSIC FILM

A SUMMER PLACE IS A CLASSIC LOVE STORY BETWEEN TWO COUPLES THAT WON'T SETTLE FOR ANYTHING LESS THAN LOVE IN THE BEST SENSE. A WONDERFUL CLASSIC LOVE STORY WITHIN THE TIME PERIOD IT WAS MADE.PLEASE RELEASE THIS CLASSIC FOR ALL WOMEN TO EXPERIENCE.ALSO, I DO BELIEVE THAT ONE OF THE HOMES USED IN THIS MOVIE WAS BUILT BY ONE OF THE MOST FAMOUS ARCHITECTS OF OUR TIME.GUESS WHO?

A summer classic

I was shocked to see that this fantastic love story, spanning the generations, has not been produced on DVD!!Pls don't disappoint millions of baby boomers out there who crave these classics.Thank you.

Please release A Summer Place on dvd

I saw this movie when I was very young and fell in love with it. I know that there must be a lot of people like me who really want a copy of it. Please consider releasing it.

Totally Addicted To A Summer Place....

Mrs.M.Sonia Pope.

3/24/06

I was 15 when I first saw this film, I was totally addicted to this film and the music, I still have my 45 single record of A Summer Place, by the Percy Faith Orchestra,, I did not have a record player at the time and I had to play it at my friends, I have TCM, and I have watched many an old movie, but never A Summer Place, please can you show it, if only we could buy the FILM, no chance, has it been weitten off or something, Thanking=you for letting me air my views, forever hopeful....Sonia....
*We protect your personal infortmation and will not provide it to anyone without your consent. For a complete explanation, please refer to TCM's Privacy Policy. By submitting your contribution, you agree to TCM's Terms of Use.