DVDs from TCM Shop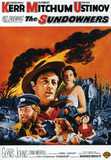 The Sundowners An Australian sheepherder and... MORE&nbsp> $15.79 Regularly $19.98 Buy Now
NOTES
Although most reviews state that the running time is 133 minutes, the film's copyright record and the New York Times review list the duration as 141 minutes. The studio's production notes for The Sundowners report that portions of folk songs "Lime Juice Tub," "The Overlanders" and "Moreton Bay" were sung or played in the pub scenes.
Although a December 6, 1954 Hollywood Reporter news item reported that producer Joseph Kaufman had taken an option on the Jon Cleary novel, his contribution to the final film, if any, has not been determined. According to a December 1959 New York Times article, producer-director Fred Zinnemann's inspiration to film The Sundowners came from lyricist Oscar Hammerstein II's Tasmanian-born wife Dorothy, who urged him to make a film about Australia, a country that had rarely been featured in international films. Mrs. Hammerstein sent Zinnemann and his wife books with an Australian setting, among them, Cleary's The Sundowners. After settling on The Sundowners, Zinnemann had to convince Warner Bros. to shoot the film in Australia, rather than a less expensive location site, such as Arizona or California. Eventually, according to Zinnemann's autobiography, Jack Warner agreed to "follow the production pattern" of the successful Warner Bros. film The Nun's Story (see entry above), by basing the film in London, and allowing some exteriors to be shot in Australia.
According to a May 1957 Hollywood Reporter news item, Zinnemann was planning to produce and direct the film under his F.R.Z. Company and signed Aaron Spelling to write the screenplay. Although an August 1957 Hollywood Reporter news item stated that Spelling would write the second draft of The Sundowners, according to Zinnemann's autobiography, Spelling was replaced by Isobel Lennart.
Hollywood Reporter production charts add Max Obiston and Mercia Barden to the cast, and Hollywood Reporter news items add the following actors to the cast: Barbara Llewellyn, Gerry Duggan, Leonard Teale, Peter Carver, Ken Broadbent, John Fegan, Gwen Plumb, John Tate, Alex Kelleway, Jackie Knott, Frank Taylor, Robert Leach, Cliff Neat, Betty Lucas and Mavis Magnamara. None of the above-named actors' appearance in the film has been confirmed. Although a September 1959 Hollywood Reporter news item adds Lionel Jefferies to the cast, he did not appear in the film.
In an October 1959 Los Angeles Times article, Zinnemann's wife Renee stated that she played a nun at the railway station. Although she is too far away to be identified, two nuns appear in the sequence depicting the arrival of the "Carmodys" and "Rupert Venneker" in Cawndilla. A modern source adds Ray Barrett and Alister Williamson to the cast. Sixteen-year-old Michael Anderson, Jr., who portrayed "Sean," was the son of noted British producer and director Michael Anderson, and had appeared previously in British films and television shows.
According to Zinnemann's autobiography, champion jockey Neville Sellwood was Anderson's horse riding double. Modern sources add the following crew members: Robert Lennard and Gloria Payten (Casting), Keith Batten (Sound Mixer), Skeets Kelly (2d unit dir of photog), Gerry Fisher and Nicolas Roeg (Camera Operator), Elaine Schreyeck (Continuity) and Ron Whelan (Location Manager).
The film's production notes state that interiors were shot at Associated British Pictures Corp. studios iin Elstree, England and exteriors were shot in Australia at Cooma, Nimmitabel and Jindabyne of New South Wales and in Port Augusta, Whyalla, Quorn, Iron Knob, Hawker and Carriewerloo in South Australia. The Sundowners was shot in a 1.85:1 frame ratio, because, according to April and May 1959 HR news items, Zinnemann believed that the large screen process did not "adapt to closeup work."
The Sundowners received six Academy Award nominations: The film was nominated for Best Picture and Zinnemann was nominated for Best Director, but in both cases lost to United Artists' The Apartment. Deborah Kerr and Glynis Johns were nominated for Best Actress and Best Supporting Actress, respectively, but lost to Elizabeth Taylor in Butterfield 8 and Shirley Jones in Elmer Gantry. The Sundowners was also nominated for Best Screenplay Based on Material from Another Medium, but lost again to Elmer Gantry (see entries above for winning films).
Kerr and Mitchum appeared together in two other films, the 1957 Twentieth Century-Fox film, Heaven Knows, Mr. Allison, which was directed by John Huston, and the 1961 Universal film The Grass is Greener, which was directed by Stanley Donen (see AFI Catalog of Feature Films, 1961-70). They also appeared together in the 1985 television movie, Reunion at Fairborough, which was directed by Herbert Wise.