DVDs from TCM Shop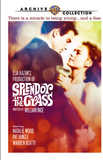 Splendor in the Grass Sexual repression drives a... MORE&nbsp> $14.95 Regularly $17.99 Buy Now
Home Video Reviews
Kansas, 1928. The Twenties are roaring and so are the hormones as teen-aged Bud (Warren Beatty) and Deanie (Natalie Wood), in big close-ups, passionately lock lips in a car beside a rushing waterfall. That's how
Splendor in the Grass
(1961) begins, and like all good movies, the opening sets up and lays out the themes that will makes up the bulk of the story. Bud and Deanie get hot and heavy in the car; Deanie catches herself and pushes him away; Bud angrily gets out of the car and walks a few feet away to cool off, then takes her home.
In other words: two kids, growing up, experiencing intense emotions and sexuality, trying to make sense of their bodies, dealing with repression, and unable to verbalize exactly what is driving their thoughts and actions. The rest of the movie delves more deeply into all this, but ultimately this is an encapsulation of what is to follow. Even by the very end of the movie, these characters' longings will persist and much will remain unsaid.
The story covers the end of the Roaring Twenties into the heart of the Great Depression, and while that span serves as a powerful metaphor for what the characters go through mentally,
Splendor in the Grass
is really timeless. Its subject matter is relevant in any era, for this is what kids of every generation go through in one way or another. Writer William Inge and director Elia Kazan certainly knew this; one of the fascinating things about their film is how modern it feels and looks. The movie has period trappings - clothes, cars and the like - but at the same time these things aren't overdone. There are no epic long shots filled with 1920s cars, for instance; there are just one or two here and there to remind us of the time period. There isn't even much '20s slang being spoken. At moments we may even forget that we are in a period movie, and that is undoubtedly what Kazan and Inge had in mind. It's their way of saying that this story is still happening today.
Splendor in the Grass
is basically about repression, about much that is unsaid and unexpressed due to fear, embarrassment, ignorance and Puritanism. Bud, who comes from a wealthy family with an overbearing father (Pat Hingle), is like James Dean in Rebel Without a Cause. He desperately wants advice, help and guidance, but is unable to get it from his parents or his doctor. The result is a tragic downward spiral as his academic and athletic performance suffer and a promising future gives way to harsh reality. Bud's sister Ginny (Barbara Loden) can't cope with the dysfunction either, and has turned herself into a "bad girl" - the town slut. And Deanie falls off the deep end, too, by suffering a nervous breakdown. Repression, the picture tells us, has serious and tragic consequences.
Through it all, Kazan induces exceptionally intimate and powerful performances from everyone. One might argue that the film is a bit overwrought and even theatrical in its reliance on intense performances (both Kazan and Inge had major theater backgrounds, after all), but in fact the intensity is what saves the story from falling into melodramatic cliché. For young people, hormones and emotions and life itself
are
intense. That's why it makes perfect sense for Inge and Kazan to heighten the drama. They make us feel it, and in so doing we strongly align with the young couple on screen and are made to care about them deeply.
Kazan later wrote that Inge's "story had the one essential, an excellent flow of incident to a true conclusion. Bill was an accomplished storyteller; it's a special talent... The film was typical of Bill's work, a soap opera until suddenly it appears there is a little more depth and humanity there, as well as a balanced view of life. That 'little more' is what gave our film its distinction." Kazan added, "It is not my favorite of my films, but the last reel is my favorite last reel, at once the saddest and the happiest." Kazan was right - it's actually one of the great endings in cinema, guaranteed to moisten the eyes of even the most hardened moviegoer.
At the time she made
Splendor in the Grass
, Natalie Wood was married to Robert Wagner. Nonetheless she embarked on an affair with Beatty, who was here making his big-screen debut. As Kazan observed: "It was clear to Natalie, as it was to me, that Warren was bound for the top; this perception was an aphrodisiac." Kazan acknowledged that the affair "helped their love scenes," but he regretted the pain that it caused Robert Wagner. Wood and Wagner ended up divorcing, then remarrying years later.
Both
Splendor in the Grass
and Wood's
other
1961 release -
West Side Story
- rejuvenated her career, turning her in the industry's eye from something of a washed-up child star into a force to be reckoned with.
Splendor in the Grass
is by far the best movie in Warner Home Video's new box set of her work, but the other five titles do show off her range and versatility to interesting effect. These films are
Bombers B-52
(1957),
Cash McCall
(1960),
Gypsy
(1962),
Sex and the Single Girl
(1964) and
Inside Daisy Clover
(1965). It's a disparate bunch, with
Sex and the Single Girl
(a true '60s time capsule of a comedy),
Inside Daisy Clover
(an interesting misfire directed by Robert Mulligan), and
Gypsy
(more of a Rosalind Russell vehicle) the most notable. It's nice to see Wood getting this recognition. As of 2009, she would be only 70 years old had she not drowned in a tragic 1981 boating accident. She had a lifelong fear of the water, and in
Splendor in the Grass
she has a distressing scene in which she tries to commit suicide in a reservoir. She also ends up flailing around in the water in
Sex and the Single Girl
, where the effect is meant to be comic.
Two other
Splendor
casting notes: writer Inge appears as a reverend in a part that's more than a mere cameo, and Barbara Loden (in the part of Ginny) would later marry Kazan and even direct the influential independent film
Wanda
(1970).
Picture and sound quality are excellent, and each film in the collection comes with a Warner Brothers cartoon.
Splendor in the Grass
is available separately as well as part of the box set.
For more information about
Splendor in the Grass
, visit
Warner Video
. To order
Splendor in the Grass
, go to
TCM Shopping
.
by Jeremy Arnold