DVDs from TCM Shop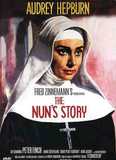 The Nun's Story A headstrong girl fights the... MORE&nbsp> $15.79 Regularly $19.98 Buy Now
USER REVIEWS
See Detailed Ratings
Acting of Lead Performers

Acting of Supporting Cast

Director

Music Score

Title Sequence

Screenplay

Cinematography

Historical Importance

Would You Recommend?

0 Member Ratings
Rate the acting of the Lead Performers

Rate the acting of the Supporting Cast

Rate the Director

Rating of the Music Score

Rating of the Title Sequence

Screenplay

Creatively uses the camera to tell the story

Importance in Cinema history

Would you recommend for fans of this genre
Submit Ratings
Cancel
Write a Review
Read Reviews
NO REVIEWS AVAILABLE
The title has not been reviewed. Be the first to write a review by clicking here to start.
A Non Story

Maybe the doe-faced ex-nun returned to the Congo to consummate the attraction between Dr.F. & herself, then, in a joint venture, they discovered a vaccine that cures the common cold after aiding the resistance in service of the true victors of WWII who founded the United Nations that made a mess of things back in the Congo in the early 1960's!

Unflattering view of Catholic Church

A good thing Maria, Captain Von Trapp and the children were not hiding out in Sister Luke's convent-that Mother Superior would have betrayed them to the Nazis. Not a very flattering view of the Church in terms of willingness to stand up against injustice and oppression.

outstanding

The Nun's Story is powerful and inspirational. Audrey Hepburn deserved an Academy Award for her passionate and remarkable performance. The film should have won best picture as well. It provides powerful insight into life in a roman Catholic convent in the years prior to the Second Vatican Council and the astounding devotion to their spirituality and vows that nuns had to demonstrate in an environment more demanding than basic training in the military. Audrey Hepburn conveys the passion, devotion, self-discipline, humility and endless work of a nun who is also dedicated to her work as a hospital nurse. I have seen this film many times and loved the characters, the plot and the endless quality of performances of each of the actors and actresses that I purchased a copy. It is also a wonderful period piece that captures the challenges of life in Europe in the years just prior to the Second World War. It's a wonderful film on so man levels.

If anyone ever doubts...

On TCM, Sally Field said: 'If anyone ever doubts that Audrey Hepburn was a serious actress,watch 'The Nun's Story'. NO ONE, BUT NO ONE, would ever doubt that Audrey Hepburn was a serious actress, except for, perhaps, a dope like Miss Field!

Spellbinding

Kirsten I Russell

4/20/15

This movie held me spellbound the first time I saw it (when I was going on twelve years old) and has never lost its charm for me in all my subsequent viewings of it. This is the story of an inner struggle, beautifully projected by Audrey Hepburn as Sister Luke, to live by a Holy Rule that dims her humanity. The movie also explores a nun's life in the early twentieth century and shows how some can serenely abide by the Rule and some cannot. Sister Luke dedicates herself to the struggle for many years, through her early trials at the Mother House, through her training to work as a nurse in Africa, through her service at an insane asylum and her terrifying encounter with an inmate, through her years in Africa and her testy working relationship with a brilliant doctor, and through her life-changing ordeal in World War II. Franz Waxman's background music score is largely based on Gregorian chants and lends much of the movie a feeling of quiet contemplation, but it emphasizes intense and profound emotion too. This 1959 masterpiece remains one of the most extraordinary motion pictures I've ever seen.

True Audrey Fan

"The Nun's Story" is a masterful depiction of the internal struggle between choosing that which constitutes us as "good" vs. "free". Though controversial for its time, the film never forces its ideology onto its viewers because its about Gabrielle/Sister Luke's (Hepburn) beliefs and where her decisions will take her. 3.7/5 STARS.

nun's story

Much more radical and quietly condemnatory of the nun's life than I had been led to expect. The last third of the film, especially, is intense in its depiction of holy orders as a kind of cult that demands strict obedience, censorship of one's voice, and inevitably of one's thoughts. And the ending is brilliant. The last scene, where Sister Luke decides to, as she phrases it, "go out," reminds one of a prisoner being "sprung" from jail as she takes the halting walk down a brick lane and away from the institution, into the sunlight of the free world. The lovely Franz Waxman music is missing in this scene. All is silence until Sister Luke turns a corner and gets on with her life. Then the music swells briefly, before the movie ends. Anyone who criticizes Fred Zinnemann for anemic direction should contemplate this ending, which, visually and without a line of dialogue, movingly expresses the film maker's feelings about his subject. Definitely an A.

So Excellent

This is a beautiful movie. Audrey is so pretty and dedicated to be an obedient nun. The story helps you see what a nun's life really was like back then. Movies were so much better back when this one was made. Your TCM channel that brings us these fine movies is very much appreciated.Thank you very much.

Surprised!

While reviewing the comments on this page, I was surprised I had not recorded my comments about this absolutely gorgeous film before now. I first saw this film in 1959 when it first came out. It made a huge impression on me that has lasted until now. I've seen it countless times since then, and always enjoy it when I have another opportunity to view it yet once again. This is one of those classics where I see something new in the film every time I view it. The Roman Catholic denomination has always fascinated me, with all its traditions. For anyone, Protestant, Catholic, unbeliever, or just anyone who loves a great story of faith in the life of a young woman, this is truly a great film, well done in every way. Thank you TCM for showing this gem, from time to time.

Motherless daughter issues

Here's a young Belgum girl with a bright future; a person who has everything, save one important factor - a mother. Gabby lives in a beautiful house with her famous doctor father and her two younger sisters and little brother. She's smart and beautiful and her life is idealic. Gabby loves her family and takes care of them almost as a surgate mother. And here lies the basis for Gabby's demise. Because her father is a widow, she has this overwhelming need to "mother" not just her siblings, but all those poor, needy Congo children in Africa. There's a painting in Gabby's room of a nun and a Congo child looking so serene and happy together. So this becomes Gabby's dream. The 2 1/2 hour movie boils down to the huge mistake made by Gabby at the beginning of the movie. She wants to become a nun and mother the Congo children just like the painting that hangs in her room. Gabby gives up everything from her old life, including her loving father and adoring siblings. Why does she do this? She could have become a nurse and taken care of people that way. Or she could have her pick of any suitor, gotten married and had a whole bunch of children of her own to mother. But no, she goes against her father's advice and joins a convent. The other nuns want her to conform and not stand out. But she is overly capable and can't hide her superior ability under her habit. She realizes her dream of nursing in the Congo, where her medical background helps her to excel in the hospital. The people of the Congo love her as a caring nurse, just as she dreamed. However, she has to struggle against the confinement of the Church rules for nuns. She is miserable when she is sent back to Belgum just as World War II begins. She finally realizes she can not continue to live her life as a nun and is released from her vows. Now she has to start her life anew. I wish there had been a sequel made to this movie. I would love to know where life's path took her after she left the convent.

A Hepburn Masterpiece

I have been a fan of Audrey Hepburn for many years and always, always enjoy watching her movies. She was a beautiful person and her beauty came through in every one of her roles. I raced home from work to see The Nun's Story which I hadn't seen in a number of years; I'm glad I did. What a wonderful portrayal and intense story that provides insight into the lives of women who marry into the church. The emotion and feeling is palpable, and the cinematography gorgeous. A true classic.

Racially insensitive

The characters in this movie repeatedly use racially discriminatory language. The black men that work in the hospital are repeatedly referred to as "boys". The African people are treated in a separate hospital from the Europeans. Even the church scence had the Africans one one side of the church and the Europeans on the other. I was excited about seeing this until I saw the blatant patronizing language and actions in this movie. I was disappointed to say the least.

The Nun's Story

I love this movie, and I also have the book. It is one of my favorites. It took me to a place where I could see what a nun's life was like and it showed how difficult choice that you make can actually be.

A story of sacrifice

I watched the movie and then read the book forty years ago. Audrey Hepburn was wonderful in this movie and embodied the character so well. She is a young girl who wants to help the world, At that time and place, the church was the one avenue for women to receive an education to do this. With the multitude of Belgian colonies at the time, the hospitals and schools were the avenues for women such as Gaby to fulfill this dream. At this time, such opportunities were not given to a large group of women as the church was able to provide. Gaby wanted to make a difference as a researcher/nurse, but struggled with the church's strictness. The story continues into World War II and how it affected Gaby's life forever and her choice not to remain with the church. The movie beautifully gives us a glimpse into a past era and the struggles of a young woman. admired the movie forty years ago and thoroughly enjoyed it again.

The Nun's Story (1959)

Audrey Hepburn excels, the supporting cast is stellar and Fred Zinnemann's direction is outstanding. Excellent camerawork. It is long but it is never boring. Beautifully done drama, and believable presented.

Masterfully tells the story

A great film. It effectively tells the story of the inner struggle we all endure (or most of us anyway) just not in the front and center way as it is with a nun. The women portraying these courageous figures do so well. A nun becomes the sympathetic figure of a servant (of the Mother Teresa mode) rather than the modern, focused social worker with watered down vows. There were so many more Mother Teresa's before we knew all the good stuff there was to have and feel. The tempo of this film matches perfectly with that former time. Comments about belabored reflect not the artists creating this film but the viewer. The comments reflect the time frame of that viewer and demonstrate the change in tempo and expectation making films more technical than story telling. Alas. At least we have this treasure trove.

Masterpeice

I have never been a Audrey Hepburn fan (pretty but to skinny)but this was a masterpeice. The story and the locations and the acting were superb,they had me all the way to the end when you see her walk down the hall and wonder where did she decide to go? They did not make the catholic church look good but you saw a woman who wanted to make a difference in this world including giving away the most things we cherish most.

Boring, lacks entertainment

Director Fred Zinneman and Ms. Hepburn conspire to make a very belabored movie about a young woman becoming a nun. The scenes drag on and on. Case in point: let's say she has to walk to the door. We see her look at the door and decide to walk toward it. Then we see another camera set-up with her still looking at the door. Then she finally steps forward, then she reaches the door, then she pauses and puts her hand on the knob, then she slowly opens it, then she even more slowly walks out. Every moment is so punctuated with purpose in the film it distracts rather than adds. And Hepburn is given very inconsequential dialogue. Mostly she nods and says yes in a flat monotone voice. The best scene is when she and the other women have voice-overs and we hear their thoughts as they write down their vices. The film has a great premise and could've been a lot better. I have a feeling that her failure in the end made Catholic viewers unhappy. But the real problem is that it is not very entertaining. It's a pensive film about making a long drawn out mistake. The only good thing I can say about it is that Hepburn brings sincerity to the role. But she brought sincerity to 'Charade' and less socially conscious films.

THE NUN'S STORY AND THE ADVENT OF FEMINISM

Terrencehiggins@mac.com

2/16/09

SURELY THE HEROISM OF NUNS AND THEIR ABILITY TO FORSAKE THE ROLES OF LAY WOMEN IN THIS PERIOD IS GROSSLY MISUNDERSTOOD. THE INFLUENCE OF WOMEN WHO HAVE REJECTED "THE VAIN GLORIES OF THE SECULAR WORLD" ARE EVIDENT IN ALL OF WESTERN SOCIETY AND MAKE UP THE BULK OF THE WORK DONE IN THIRD WORLD COUNTRIES, WHERE THEY WERE THE FIRST TO INTRODUCE THE CONCEPT OF FEMALE EDUCATION, EMPOWERMENT, AND SELF-DETERMINATION. THE CONCEPT OF CHARITABLE WORK AND HOSPITALS IN THE UNITED STATES IS DIRECTLY LINKED TO THE SISTERHOOD AS WELL AS THE EDUCATION OF THE UNDERCLASSES AS WELL AS WOMEN FROM THE UPPER CLASSES. NO WOMEN'S MOVEMENT COULD HAVE STARTED HAD NOT THEY SPARKED INTELLECTUAL PURSUITS ALONGSIDE THE PERSONAL LIVES OF WOMEN IN TRADITIONAL AS WELL AS MODERN SOCIETIES. DESPITE THE CRITICISM FROM FEMINISTS FOR THE ROLE OF RELIGIOUS WOMEN IN THE DEFENSE OF THE TRADITIONAL CHURCH CONCEPT OF THE FAMILY THAT SPARK OF INTELLECTUAL CURIOSITY COULD ONLY BE FOSTERED BY WOMEN WHO DETACHED THEMSELVES FROM PERSONAL ENRICHMENT IN ORDER TO HELP OTHERS SO DESPERATELY IN NEED, AS WELL AS FOSTERING THE CONCEPTS OF CHARITY IN THE AFFLUENT.

Miss Hepburn's Finest Performance

The legendary Audrey Hepburn is so missed.While her great performances in "Breakfast At Tiffany's", "My Fair Lady" ( where she was unfairly lambasted) and Roman Holiday are singled out, I feel this film is a movie masterpiece and Miss Hepburn's finest performance guided by the sure hand of a movie maestro Fred Zinneman.

Absolutely wonderful

I think this movie is amazing. It shows the true struggle of living a life devoted solely to God and His divine will. This movie seemed very well researched, and the acting is exquisite. Any Audrey Hepburn fan would love her in this piece. She truly is convincing as a nun who tries hard to make sure that everything she does is for the glory of God and not for her own personal gain. An excellent movie.

Gave me Nightmares

This movie gave me nightmares! I was interested to see it because I am a big Audrey Hepburn fan.... But the "arch angel gabriel" seriously gave me nightmares! Aside from that, I really don't think it was very entertaining...
*We protect your personal infortmation and will not provide it to anyone without your consent. For a complete explanation, please refer to TCM's Privacy Policy. By submitting your contribution, you agree to TCM's Terms of Use.