DVDs from TCM Shop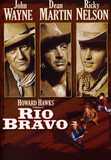 Rio Bravo A sheriff enlists a drunk, a... MORE&nbsp> $9.71 Regularly $14.98 Buy Now blu-ray
Home Video Reviews
Howard Hawks had just returned to Hollywood after four years abroad when he embarked on
Rio Bravo
with John Wayne. They had previously only made one film together,
Red River
(1948), but it had established Hawks as a master of the western and it provided Wayne his first opportunity to stretch as an actor (and, in the process, gain a little respect from his most frequent director and greatest critic, John Ford). Hawks' last film,
Land of the Pharaohs
, had been a disappointment and Wayne was a major star who had not had a hit since
The Searchers
in 1956 and was frustrated by his last film,
The Barbarian and Geisha
. Both men wanted to return to something familiar and the western became their comfort genre. Wayne respected Hawks as a storyteller and a professional, and Hawks understood how effective Wayne could be in a film.
Rio Bravo
is ostensibly based on a short story by one B.H. McCampbell (in fact, Hawks' daughter, Barbara), but according to Hawks, it was born out of his response to
High Noon
, a film he abhorred. "I didn't think a good sheriff was going to go running around town like a chicken with his head off asking for help, and finally his Quaker wife had to save him," he explained in to Joseph McBride in the interview book "Hawks on Hawks." Reacting against
High Noon
and
3:10 to Yuma
, another western about a sheriff asking for civilian help to get a captured outlaw out of town, he simply turned the situation around for
Rio Bravo
.
Sheriff John T. Chance (Wayne) spends the movie turning down the well-meaning offers of townspeople and holes up in the sheriff's office to guard his prisoner with the assistance of a drunk (Dean Martin) and a crippled, crotchety old man (Walter Brennan) as a gang of paid killers gathers in the town. "That's all you got?" asks a well-meaning pal (played by Wayne's real-life pal Ward Bond). "That's *what* I've got," answers Wayne's stalwart Chance. Before the film is over, the well-meaning pal is dead and Chance gets unsolicited help from a cool young gun (Ricky Nelson), a love-struck gambler/showgirl (Angie Dickinson), and the spirited Mexican hotel owner (Pedro Gonzalez-Gonzalez), all of whom prove that, in their own way, they are good enough.
The film opens on a wordless four minute sequence that, with lucid simplicity, introduces the characters of the town drunk Dude (Martin), Chance (Wayne), and the sneering punk Joe Burdette (Claude Akins), who offers the slinking barfly Dude a drink and then tosses a silver dollar into a spittoon. Chance's searing glare at Dude as he reaches for the dollar (shot from a rare low angle that enhances both his physical and symbolic authority), and Dude's shame at seeing his degradation reflected in Chance's eye, hint at a long history that will unfold through the next couple of hours, after Chance arrests Burdette for murder and Dude takes his place as Chance's deputy and tries to shake off the bottle and DTs.
As critics have pointed out, the rich group dynamics recall such earlier Hawks masterpieces as
Only Angels have Wings
(1939) and
To Have and Have Not
(1944). Such specific details as Chance helping redeem his drunk friend in general and the dollar in the spittoon in particular (not to mention a girl named "Feathers"), however, came from the silent gangster picture
Underworld
(1927), written by frequent Hawks collaborator Jules Furthman with uncredited contributions by the young Hawks, at least according to him. In Hawks' own words, "I always liked that story." The direction is leisurely and laconic, creating a film that feels loose even as Hawks explores the relationships through the physical performances and character by-play, the distinctive body language and gestures, and telling glances that communicate more than words ever could.
The part of Chance was all but written for him (the original treatment simply named the character 'John Wayne'). The other roles weren't quite so obvious. Hawks wanted Montgomery Clift for the role of Dude, who turned it down. Dean Martin was not even on the director's wish list, but Martin's agent pushed for the singer/actor. Hawks was so impressed that Martin hired a private plane to fly out for a meeting after performing all night in a Vegas club that he signed him on the spot. It remains Martin's career best screen performance. Dude is no slurring and stumbling drunk stereotype, but a sweaty, jittery alcoholic going cold turkey as his self-respect battles it out with his self-pity, and Martin is all nervous energy and exhaustion as he fights to stay sober and win back his dignity. Hawks creates one of his most effective and evocative bits of screen business to illustrate Dude's torment and Chance's quiet but unflagging support. Dude keeps trying to roll cigarettes, as much to give his hands something to do as to calm his nerves with a smoke, but he keeps tearing them into pieces. As the loose tobacco falls to the floor and Dude's shoulders drop in resignation, Chance is there with another cigarette, rolled as a back-up and offered to his friend without a word.
The role of Colorado, the level-headed young gun who belatedly signs on for the siege, feels like it was written for a young Montgomery Clift. The lightweight Ricky Nelson proves to be no Monty Clift in his big screen debut, but he brings enough confidence and cool to the part to justify the commercially savvy casting of the sitcom and bubblegum rock star. TV proved to be prime casting ground for Hawks, who was fascinated at how quickly it had grown, and grown up, in his four years abroad. Longtime movie character actors Ward Bond and Walter Brennan were headlining hit shows when Hawks signed them up as trail boss Pat Wheeler and Chance's deputy Stumpy, respectively, and John Russell (cast as the heavy Nathan Burdette) was about to start his long-running western series
Lawman
.
Hawks had a knack for discovering young talent, especially actresses. Angie Dickinson was no unknown when he cast her in the role of "Feathers," the sultry, somewhat insolent gambler with a past and soft spot for the gruff sheriff who tries to run her out of town. But after years of bit parts, supporting roles, countless TV guest spots, and even a lead (in Sam Fuller's
China Gate
), she was still awaiting her big break. Hawks gave it to her and took a personal interest in every aspect of her part, right down to the wardrobe, which was designed to show off her curves and her legs ("Hawks said, 'You've got a pretty good figure, but it could be better.' So I got into pretty good shape for that movie," recalls Dickinson). The age difference between the 26-year-old beauty and the 50-year-old Wayne is glaring and the craggy, stocky Wayne looks uncomfortable around the petite Dickinson. Hawks works that awkwardness into the character dynamic, transforming a weakness into a strength: the otherwise rock-steady-sure Chance lose his composure around the sexy young woman. Dickinson, in turn, slips back and forth from aggressive professional standing up to the presumptuous Chance to babbling and blubbering wreck terrified that Chance's inflexible code will get him killed.
The film earned lukewarm reviews – how could critics take seriously a mere western with "singers" Martin and Nelson and no pretense to "important" themes be taken seriously? – but it opened at number one and ended the year in the top ten grossing films of 1959 and re-established the box-office credential of both Hawks and Wayne. It took much longer for critics to see the mastery of Hawks' unforced storytelling, the easy chemistry and natural by-play that Hawks makes look so effortless, the evocative touches in the script and the dialogue, and the themes of friendship and redemption, leadership and respect, that reverberate throughout Hawks' career. It's now considered one Hawks' greatest films, perhaps his masterpiece, and one of the finest westerns of all time. John Carpenter, who has praised Hawks all through his career, paid homage with
Assault on Precinct 13
, a pseudo-remake set in a police station under siege, and more recently Quentin Tarantino cited it as one of his three favorite films of all time.
Warner Bros. is giving
Rio Bravo
two deluxe edition releases. The "Two Disc Special Edition" features a commentary track by filmmaker and Hawks fan John Carpenter and film critic/historian Richard Schickel, who were recorded separately and edited together for an interesting and effective critical byplay. Both of them praise the richness of his storytelling and point out the subtle details in his seemingly simple style. In Carpenter's own words: "Hawks to me is a director whose camera is always in the right place at the right time." The second disc features Schickel's excellent 1973 documentary
The Men Who Made the Movies: Howard Hawks
plus two new featurettes:
Commemoration: Howard Hawks' Rio Brav
and
Old Tucson: Where the Legends Walked
. The "Ultimate Collector's Edition" comes in a slipsleeve that also includes mini-reproductions of the film lobby cards, the original press book, and the Dell comic book adaptation.
For more information about
Rio Bravo (Special Edition)
, visit
Warner Video
. To order
Rio Bravo (Special Edition)
, go to
TCM Shopping
.
by Sean Axmaker