DVDs from TCM Shop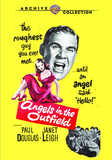 Angels in the Outfield The short-tempered manager of... MORE&nbsp> $17.56 Regularly $21.99 Buy Now
NOTES
The film's working titles were Angels and the Pirates and The Angels and the Pirates. The film included the following written prologue: "Through the kind cooperation of the Pittsburgh 'Pirates' we have used the team and its ball park to tell our story. But we do not depict any real characters or actual events. This could be any baseball team, in any league, in any town in America." In the opening cast credits, Donna Corcoran's name appears last, but in the end credits, she is listed fourth. The film is intermittently narrated by Janet Leigh as "Jennifer Paige."
Like their namesakes in the film, the real Pittsburgh Pirates had not won a National League pennant since 1927; their next pennant victory was in 1960, when they went on to win the World Series against the New York Yankees. Hollywood Reporter news items and M-G-M press releases contained the following information on the film: Richard Conlin was the pen name of Jesuit priest Fr. Grady [first name undetermined], who turned over the proceeds from the sale of his original story to his church. Branch Rickey, then vice-president and general manager of the Pittsburgh Pirates, and producer-director Clarence Brown negotiated to have the picture shot primarily on location in Pittsburgh, PA, where the film's world premiere was held. Clark Gable was originally cast in the lead role and Sheila James was tested for "Bridget White." Angels in the Outfield marked the screen debut of Corcoran, whose father was an M-G-M maintenance department employee.
Wallace Ford was sought for an unpsecified role but was not in the film. Jonathan Cott, Bob Simpson, Bob DeLauer and baseball players Babe Herman and Lee Handley were cast, but their appearance in the released film has not been confirmed. The extensive location filming in Pittsburgh, PA included shots of Pittsburgh streets and Forbes Field, home of the Pittsburgh Pirates. Additional baseball sequences were filmed at Wrigley Field in Los Angeles. Cameo appearances were made by baseball greats Joe Di Maggio and Ty Cobb, songwriter Harry Ruby and actor-singer Bing Crosby, who at that time was a part-owner of the team. The guest stars commented on whether or not angels were helping the Pirates. Some baseball sequences in the film featured players from the Cincinnati Reds, the St. Louis Cardinals and the Philadelphia Phillies baseball teams.
Leigh and Corcoran recreated their roles for a Lux Radio Theatre broadcast on April 6, 1953, but Douglas' role was taken over by George Murphy. The story was remade by The Walt Disney Company in 1994, directed by William Dear and starring Danny Glover and Joseph Gordon-Levitt. That film featured the California Angels baseball team and was set in Anaheim, CA. A 1997, football-themed sequel to the Disney film, entitled Angels in the Endzone, was released as a movie for television.