DVDs from TCM Shop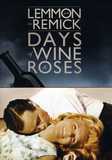 Days of Wine and Roses A husband and wife fight to... MORE&nbsp> $9.71 Regularly $14.98 Buy Now
USER REVIEWS
See Detailed Ratings
Acting of Lead Performers

Acting of Supporting Cast

Director

Music Score

Title Sequence

Screenplay

Cinematography

Historical Importance

Would You Recommend?

0 Member Ratings
Rate the acting of the Lead Performers

Rate the acting of the Supporting Cast

Rate the Director

Rating of the Music Score

Rating of the Title Sequence

Screenplay

Creatively uses the camera to tell the story

Importance in Cinema history

Would you recommend for fans of this genre
Submit Ratings
Cancel
Write a Review
Read Reviews
NO REVIEWS AVAILABLE
The title has not been reviewed. Be the first to write a review by clicking here to start.
Raw, Brutal, Savagely Brilliant Film

Alcoholism. Compulsive addiction. Grotesque, ugly, unflinchingly real. No happy ending. No ending at all, just the never ending struggle to maintain sobriety, and the distant hope of attaining it. I had forgotten, or never noted, that Blake Edwards, was the director. Didn't think he had this hard, raw, unflinching, integrity in him. Comedy is hard, but this is flint hard, sharp brilliance.I always thought that Jack Lemmon, by a long shot, deserved the Oscar for his breakout, dramatic performance, but Gregory Peck, garnered it for his mundane turn as Atticus Finch, in "To Kill a Mockingbird", in a "he deserves it by now" win. He had been nominated may times, and had never won (and had had many better roles and performances). But, C'est la Vie, Such is Life. Hard to watch, but worth every moment.

Addiction Close-Up Still Resonates

Jack Lemmon fires on all cylinders as a talky P.R. guy whose got social drinking down to an art. Or an addiction? His relationship with Lee Remick's character begins soberly enough--she doesn't even drink--but descends into alcoholic madness. What's interesting here (among several themes) is one's inability to enjoy being boozed up unless the other is boozed up. She's not drinking after the birth of their child because she's nursing. He's mean and resentful about it. To appease him, she starts drinking again and burns down their apartment. He can no longer hold a job because he's sloshed. They decide to start over at her father's farm where he runs a tree and floral business. Everything is okay until Jack Lemmon's character hides a back-up bottle in a potted plant in the hot house. The problem is he's so drunk, he can't remember which pot he hid the bottle in. He proceeds to destroy his father-in-law's nursery in search of the bottle. And there you have it. Addiction destroys everything beautiful. As he finally comes to terms with his alcoholism, his wife will not. The road divides there as he fights to stay sober and she fights to remain in a fog. Painful viewing at times, but excellent performances all around.

Lost---

Since I last wrote a review, I have lost my sister, her husband and two of her sons to alcoholism. My last death in the family, my nephew, I told him that if he thinks this is the answer (death), then think twice. Your judgement is in error (drinking yourself into the grave) and if go to your death willingly, it just might be your biggest mistake. If it is your biggest mistake you have no where else to turn because you can't shoot your way back and where ever you are you are there for eternity--period. He ended uo in the grave.

The Days of Stanzas & Boozers

There is something inauthentic about this movie: it was peculiar that kierston suddenly chased after Joe, after flatly rejecting him, as though she were hard up in the dating game & that her looks were hardly affected after years of alcoholism! If the story were really an indictment against excessive drinking, a few more characters should have been included in this examination of addiction instead of giving all others the appearance of having no problem with 'partying' rather than focusing on a single couple's fermented love affair- at least they each took the opposing fork in the road when this long road of a a movie finally got there...! The theme song was sentimentally poetic & recurred so often that it reinforced romance over disease!

A Brilliant Movie Ahead of Its Time

The movie was made at a time when a good deal of American society regarded drinking as just fun'n'games. Prohibition had ended three decades before and the country had gone on a bender it didn't want to end. Anyone speaking out against alcohol abuse was a wet blanket, a fuddy duddy, teetotaler, or similar derisive label. Popular movies and TV shows pictured drunks as lovable characters and the dry martini as the cure for what ails you. Only skid row bums were regarded as alcoholics; middle-class, working-class, and especially the affluent were immune from such criticism. A drunk in a bar was told to 'go home and sleep it off' and no thought was ever given to how if if he'd manage to drive home or whom he might kill on the way. Neglected and abused spouses and children were a 'domestic' problem the larger community wasn't to concern itself with.

Lost My Nephew

Alcoholism is a fact and a dangerous one. My nephew died last year from alcoholism, to me there seems little difference in one ending there life with a gun or a bottle, except the length of time it takes. It is sad to see an individual rush into eternity. I use to say to him, remember if your wrong, this will be your final mistake (dying) and you can't come back to correct it.

Mancini title Song is Brilliant !

This is the perfect title theme for this film. The melody always seems to be ready to breakthrough into some form of happiness but never does. Truly brilliant film. A film like no other. It captures and portrays the unending maze that is alcoholism. I liked Lee Remick - here. She's is so very, very good. Actually all three of the main characters are very strong. I don't believe this film has all of the characteristics that appeal to the average audience so I have to applaud the creators of this film. It actually deals authentically with the great American pastime - "Being Drunk". This is not a film you'd like to watch many times, also. So, cheers to the heroic creators of this, who most likely knew full well, this would be a tough baby for the average film goer to like - completely.

days of wine and roses

Powerful film, but a Blake Edwards movie without humor is like eating kale. You know it's good for you, but it has no flavor. Give it a B plus.

A Must-See

Outstanding drama depicting how alcoholism destroys individuals and families, the lies alcoholics tell themselves, the utter futility of trying to stay in a relationship with an alcoholic plus the difficulty of breaking it off when you love someone and she needs your help but only she can help herself. I agree with other reviewers that Lemmon was a little over the top in the scene where he trashed his father in law's greenhouse and in the mens alcoholic ward at the hospital, but these scenes needed to show the intensity of what the character was going through. Only half of a positive outcome--a third, really, since they had a child who missed her mother. The film also does a fine job of portraying the blame game inlaws and others put on the spouse of an alcoholic. Jack Klugman did an outstanding job as Lemmon's AA sponsor.

Art Imitates Life.

There is nothing wrong with this film, of which I am aware, as an amateur critic. However, it is always painful to watch, and certainly not entertaining because it strikes so many memories of friends and relatives who threw away their lives during my 70 years. This film is like the training films they showed us when we were in the service. You know, the ones that were supposed to warn us of all those evils that lurked out there, and were just as dangerous as the combat you were about to face. Looking back, Alcohol is always there, and add to that drugs that are even easier to get than alcohol. The real agony in watching this film, is that you hope, but know that those who should see this film, will not, or will not pay any attention.

Days Of Wine And Red Noses

Powerful!

Newspaper business

I worked in the newspaper business for thirty one years and watched my fellow workers die one by one from alcoholism, few reached the age of sixty. I wish that someone could discover why people end there lives this way? I might add that some in up in aslyums. Sad!

Jack Lemmon Magnficent in Blake Edwards Film

Jack Lemmon one of the last of the great Studio stars was groomed at Columbia with starring roles opposite Kim Novak, Doris Day, and Judy Holiday. On loanout to WB Lemmon won his first Oscar for John Ford's Mr. Roberts. Then followed a string of box office smash hits that brought Lemmon to the pinacle of stardom: Billy Wilder's masterpiece Some Like It Hot, followed byanother Wilder masterwork The Apartment. After his successes in Comedy little prepared us for the scorching performance Lemmon delivers in Blake Edwards solid treatment of alcoholism in Days Of Wine And Roses. Lemmon lost out that year to Greg Peck as Best Actor ( the award rightfully should have gone to Peter O Toole for his legendary Lawrence of Arabia). Imagine a year when so much great acting was on screen! Lee Remick is brilliant in a role turned down by Kim Novak.Remick was nominated but lost out to Anne Bancroft.That was the Bette Davis swore she had the Oscar in the bag but Joan Crawford campaigned against her. I would have voted for Kate Hepburn in Long Day's Journey Into Night.

Um filme para refletir

Este filme uma das obras primas dirigidas por Blake Edwards e que trata de forma cruel e chocante o drama do alcoolismo e como o lcool pode destruir a vida de um casal. Um classico.

Wow! Great Film..

I saw this film as a Child around 13 years old.. Now at 40 to see it again.. What a film.. It affected me as a kid and again as an adult.. So dark and so sad..as close to true addiction on film as possible. A MUST SEE!! Lemon is GREAT as ALWAYS.. This film and lost weekend fit together so great if your looking for a sobering double feature weekend!

Ray Milland, You've Got Company

Drug dependency and alcoholism have provided many memorable screen dramas, "The Lost Weekend" being the best example. In 1962's "Days of Wine and Roses," Blake Edwards (best known for comedies) helms an adaptation of a TV drama written by JP Miller, who adapted his own teleplay for the big screen. Jack Lemmon, whose Jalem Productions company co-produced with Martin Manulis (of TV's "Dobie Gillis") plays the role originated by Cliff Robertson, that of Joe Clay, a San Francisco public relations agent with a drinking problem. After meeting teetotaler Lee Remick, he drags her down the drain with him as the two of them sink deeper and deeper into addiction. Lemmon and Remick both got Oscar nominations, but Lemmon goes a bit over the top in the heavy-duty dramatic turns (i.e., trashing his father-in-law's greenhouse in a drunken stupor, his scenes in detox). The rest of the cast is solid, and the film ends with no happy resolution, as Remick is reluctant to give up drinking and Lemmon unable to take her back unless she does. Overall, a good film, but slightly dated and a bit simplistic.

A Powerful Drama

What else can be said, Jack Lemmon and Lee Remick wuzrobbed! However, the Academy made up for the blunder byrewarding Jack with his second oscar for "Save The Tiger"which, in my opinion, was so-so. Alcoholism should beconsidered the most harmful drug addiction on the face ofthis earth! TCM, give this movie more than just one showing.

This Film Hits Home

In my own family there was alcoholism. I had an aunt and uncle (he worked for a beer distributor) which made it easy to obtain alcohol. The early days were happy days but everything went down hill quickly. My aunt eventually became mentally unbalanced. The marriage lasted until my aunt died but it was an extremely unhappy one as far as marriages go. others in my family died because of alcoholism. This film is as close to reality as one can get.

Days of Wine and Roses (1962)

Very Powerful drama, brilliantly acted by Jack Lemmon and Lee Remick - in her best performance ever. Believable told and very professionally done. The score is excellent, good cinematography. An amazing film that is very memorable.
*We protect your personal infortmation and will not provide it to anyone without your consent. For a complete explanation, please refer to TCM's Privacy Policy. By submitting your contribution, you agree to TCM's Terms of Use.