DVDs from TCM Shop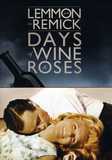 Days of Wine and Roses A husband and wife fight to... MORE&nbsp> $9.71 Regularly $14.98 Buy Now
Home Video Reviews
The original theatrical poster for
Days of Wine and Roses
(1962) had the lurid pitch of a carnie with its exploitive tagline of "It is different. It is daring. Most of all, in its own terrifying way, it is a love story." Yet, the film was truly controversial in nature due to its realistic treatment of a young urban couple destroyed by their growing addiction to alcohol. It was also the first time moviegoers had seen Jack Lemmon, normally cast in comedies, in such an intensely dramatic role.
Days of Wine and Roses
- now on DVD from Warner Video - originally aired as a TV play by J. P. Miller on
Playhouse 90
and starred Cliff Robertson and Piper Laurie in the lead roles. 20th-Century-Fox purchased the property but soon dropped it from their film slate due to the heavy costs incurred by the studio's production of
Cleopatra
(1963). They sold it to Warner Brothers who wanted a bigger box office name than Robertson for the lead character of Joe Clay, an ambitious public relations man who introduces his young bride, Kirsten, to social drinking. Robertson was just a year away from becoming a well known star, thanks to his role as John F. Kennedy in the true-life war drama,
PT-109
(1963) but Jack Lemmon was offered the part instead. Likewise, Lee Remick replaced Piper Laurie as Kirsten, Clay's wife. Charles Bickford, in the role of Kirsten's father, was the only cast member to star in both the television and film versions.
While preparing for their roles, both Lemmon and Remick attended Alcoholics Anonymous meetings numerous times. Lemmon even spent several evenings at the Lincoln Heights jail where he observed inmates in the drunk tank and the dry-out rooms. He later said, "It was frightening, watching those poor souls tortured by delirium tremens. As a result of what I saw we changed several scenes. For instance, we used a dry-out table where you are strapped down, rather than having the guy just wake up in a cell."
Because
Days of Wine and Roses
dealt with such a serious issue, Warner studio executives were concerned about the film's commercial prospects and held a preview screening. To their horror about forty couples walked out on the film during its showing which was a record for the studio. Later they discovered that the preview ad had failed to mention that it was a drama and not the expected Jack Lemmon comedy. When
Days of Wine and Roses
went into national release, it earned unanimous critical acclaim and positive word-of-mouth that helped increase its box-office take. The film also earned five Academy Award® nominations including Best Actor (Lemmon), Best Actress (Remick), Best Art Direction, Best Costume Design, and Best Song (by Johnny Mercer and Henry Mancini) which won the Oscar in its category.
One thing you'll notice immediately from viewing the Warner Video DVD of
Days of Wine and Roses
(an exceptionally good-looking transfer) is the crisp cinematography by Philip H. Lathrop, a reminder of how beautifully expressive the black and white medium can be. The extras on the disc are better than average and include two trailers (one features scenes from the movie interspersed with Jack Lemmon directly addressing the audience about the film's importance - it's a bit over the top as if Jack had too many cups of coffee; the other is a teaser version of the above). Even more interesting is a filmed phone interview (half the screen is blacked out) with Lemmon on the set as he answers questions from a journalist about the film; we only hear Jack's answers. But best of all is the commentary track by Blake Edwards which is unconventional to say the least. Edwards obviously has had little exposure to the DVD phenomenon and his confusion emerges early into the commentary when he interrupts himself to ask the recording engineer, "I don't understand - if I'm narrating this who's gonna pay any attention to me or to the film? I feel like I wanna be quiet for those that...(voice trails off)." In the course of his recollections, Edwards reveals a wealth of fascinating behind-the-scenes details, some of them rather inappropriate, particularly his memory of meeting an almost unrecognizable Lee Remick in the hospital shortly before her untimely death from cancer. But if you have any interest in the film whatsoever, it's a entertaining, often unpredictable ride with Mr. Edwards.
For more information about
Days of Wine and Roses
, visit
Warner Video
. To order
Days of Wine and Roses
, go to
TCM Shopping
.
by Jeff Stafford