DVDs from TCM Shop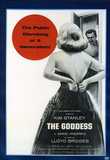 The Goddess Booze, pills and loneliness... MORE&nbsp> $18.95 Regularly $20.95 Buy Now
NOTES
George Justin's onscreen credit reads "This film was under the special supervision of George Justin." The film is broken into three parts that are announced by the following written titles: "Part I...Portrait of a Young Girl...Maryland 1930," "Part II...Portrait of a Young Woman...Hollywood 1947" and "Part III...Portrait of a Goddess...1952." According to a July 1957 New York Times article, the interior scenes of the film were shot at the Gold Medal Studios in the Bronx, New York, and location shooting was done in Maryland and in Hollywood. Location filming was also done at the Beverly Hills Hotel in Beverly Hills and at the Fox Village Theater in Westwood, California. The Goddess marked the first original screenplay by Paddy Chayefsky, who at the time was as known as a playwright specializing in television dramas. The film also marked the screen debut of stage actress Kim Stanley and John Cromwell's return to directing after a seven year hiatus. Although child actress Patty Duke had made her feature film debut in Country Music Holiday, shortly before her appearance in The Goddess, the latter film marked her first onscreen credit. The film was nominated for an Academy Award for Writing.
Many reviewers noted that Marilyn Monroe served as a prototype for the character "Emily Ann Faulkner." A May 1958 news item in LA Mirror News notes that Chayefsky denied the character was based on Monroe after the actress' husband, playwright Arthur Miller, objected to naming Monroe as a prototype for the film's lead character. According to a modern source, Monroe actually considered playing the part. A number of other actresses were also considered for the role. A January 1965 New York Times news item noted that Stanley asked Chayefsky to "lighten up" the character of Emily Ann, but he refused.
According to a February 1973 Variety article, the Internal Revenue Service chose The Goddess as a test case to challenge the long-standing industry policy that allowed indendent producers to depreciate and amortize the cost of the film on their tax return. According to the IRS, because Columbia provided the film's negative costs to Chayefsky's Carnegie Productions, Columbia in effect owned the film project, therefore nullifying Chayefsky's ability to depreciate the film. The outcome of that suit is unknown.