DVDs from TCM Shop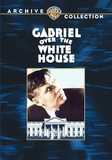 Gabriel over the White House A crooked president reforms... MORE&nbsp> $14.95 Regularly $17.99 Buy Now
USER REVIEWS
See Detailed Ratings
Acting of Lead Performers

Acting of Supporting Cast

Director

Music Score

Title Sequence

Screenplay

Cinematography

Historical Importance

Would You Recommend?

0 Member Ratings
Rate the acting of the Lead Performers

Rate the acting of the Supporting Cast

Rate the Director

Rating of the Music Score

Rating of the Title Sequence

Screenplay

Creatively uses the camera to tell the story

Importance in Cinema history

Would you recommend for fans of this genre
Submit Ratings
Cancel
Write a Review
Read Reviews
NO REVIEWS AVAILABLE
The title has not been reviewed. Be the first to write a review by clicking here to start.
Irony of history

What struck me about this movie is the irony of what is happening today in our own election 84 years later. The quest for self-serving power, Dictatorship and corruption in Government and the WH will always be with us. It's as strong today as it was then. I would not consider this a comedy. Walter Huston is great in this role as his character as President, with the help of a mystical force, he ends up using his power for good for the country instead of darkness.

Interesting

Interesting this old movie is about what is happening in our nation right now. Not confident of a happy ending either.

Gabriel over the white house

I saw this movie a long time ago n loved itn when Donald Trump started running 4 president there were parts that reminded me of him especially the end where he said every one has 2 pay back what they owe n he made friends with them--I LOVED THIS MOVIE N BOUGHT IT ON DVD!iI must have watched it 50 times already n made some friends watch it they were so amazed!

A chilling but fascinating film

This is an absolutely chilling film, but fascinating as well.The President's assumption of dictatorial powers and blatant suppression of civil liberties is portrayed as being in the national interest.As such it is a cautionary tale for our time.The cast is excellent but Walter Huston as the President towers above everyone else,what a magnificent actor.''Gabriel over the White House'' was released in February, 1933 but MGM withdrew the movie from release after only two weeks.Release coincided with the Reichstag fire which Adolf Hitler used as a pretext for seizing dictatorial powers.MGM clearly feared being acussed of deciminating fascist propaganda.A must see.

Gabriel Over the White House

This movie did hold my interest. I came in on it when President Hammond said that keeping the citizens on welfare from the government just weakened them, insured their votes. So I viewed the movie thinking that it rebuked the liberal idea of government and socialism. But going to the internet, I read Wikipedia and wow, what a completely different slant it gave to the movie.After reading the reviews, I'm not sure of Wikipedia's analysis.......I chose to view it as putting down corruption, greed and left wing politics.......Although there is a hint of a one-world-government intent.

You call this movie a comedy?

Fred C. Wilson III

9/12/13

TCM got is all wrong naming this movie a 'Comedy.' Far from it; this movie echoed true in the early 1930's during the Great Depression the subject matter is true in today's world. I think copies of this prophetic masterpiece be sent to every lawmaker in America.

Jaw-dropping Movie

This movie was fascinating. After the president came out of the coma, I thought he would just turn into a good-hearted, folksy Will Rogers type president. Wrong, Wrong, Wrong. After he gets his personal brown-shirt army and starts lining the "criminals" up against the wall, I kept expecting some crusading reporter from a liberal newspaper to show up and reveal to the American people the terrible destruction of their civil liberties. Wrong again! This movie CELEBRATES this rogue president. Everyone today should see this move. Show it again, TCM!

1930s Political Film Still Resonates

'Gabriel' still haunts me after my first viewing last evening. Walter Huston was a credible President in all respects, although we had to suspend disbelief (no Vice President on the scene and no Congress exercising its Article I powers as it absolutely would then and now). That said, what comes through the screen was a magnificent tale of a man transformed by fate from a grasping, weak and superficial figure head to a powerful leader who fully understood and used the 'powers of his office as President...' If only we had such a President today, this film is relevant in 2012! As several comments have said, no wonder MGM held back release in 1932 until AFTER FDR was inaugurated in 1933, they understood in full the serious indictment of the Hoover years. What brought the Hollywood magic to the tale was the suggestion of divine intervention to this Everyman to make him accomplish great tasks, on behalf of the American people and lead him to do wonderful things for us, and then sadly, die. Beautifully portrayed by all actors on the screen. I will purchase this DVD for future viewings.

Humorless, but hysterical

TCM's Daily Schedule has this movie, shown tonight, listed as a comedy. I did laugh at it, with Huston's character demanding billions from Congress "to stimulate the economy" and his opening a "United States Government Liquor Store." The woeful "Washington Covenant" (pre-Pearl Harbor Japan signed first!) is ripe for ridicule. Great Britain's leader declares "peace and prosperity for the world" (and a few years later real life Chamberlain signed a piece of paper with Hitler just before WW2). The real whopper was Huston's prez, after having assumed dictatorial powers (and using cartoonish mini tanks), being lauded as having "proved himself one of the greatest men who ever lived." He did say something serious, that if you can't pay your debts "you have gone into moral bankruptcy."

So timely!

I was fascinated by this film originally labeled a "Comedy", since I found nothing funny about it. I can see why MGM hid the film-it is very timely for today-and at the same time a little frightening.A MUST see film-I sincerely hope they run it again SOON!

Gabriel Over the White House

Fascinating! The Bonus Army March of 1932 in which destitute WWI veterans were run out of Wash. DC at bayonet point (a young army officer named MacArthur led that operation) had shamed a Depression-ravaged nation a year earlier. FDR's New Deal and Keynsian stimulus spending to create employment were still in the near future in 1933. The parallels to today are striking. Walter Huston is, as always, top-notch.

Frightening

This is a difficult film to rate. Walter Huston is excellent in his role as the President and we do get to see all the machinations that politicians engage in. It is easy to see why they are corrupted. That being said, the idea of a President of our country declaring martial law and dismissing Congress is extremely implausible and very chilling as well. Martial law was declared & habeas corpus was suspended by Abraham Lincoln during the Civil War and we know how much chaos ensued. If nothing else, this film should be a cautionary tale for every American voter. We should delve into the backgrounds and the political leanings of all candidates before we go to the polls and vote. It is easy to do in this age of computers and the internet but so many people just vote a party and pay no attention to the people running of office. How dangerous this can be is illustrated by this film!

AMAZING

MUST SEE film for the ages.

gabriel over the white house

too bad we cant have a president like this now!! this movie is not of my regular taste, but after the first 15 minutes I was hooked, and suggest anyone that hasn't seen it, to do so.

Amazing Period Piece

What makes Gabriel Over The White House so fascinating is the way it so perfectly reflected the state of flux that America was in at the time (1933) of its release----but that time didn't really last for long, and whatever consensus there may have been at the time of this picture quickly fell apart. Within a year, one of the movie's biggest backers, William Randolph Hearst, was calling FDR (whom he'd endorsed in 1932) a "Communist," while in the meantime FDR has helped save capitalism from itself by introducing such measures as Social Security and the WPA. Just as President Obama today seems to drive Republicans into a state of irrational apoplexy, so did Franklin Roosevelt during the Depression. Gabriel Over The White House wasn't really trying to call for "dictatorship" so much as it was attempting to portray the corrupt state of the shady relationship between politics, gangsterism and Big Business. It did so in a way that resonated with the audience 1933, which had only to pick up a newspaper to see the truth of that statement.

Gabriel Over the White House (1933)

Fascinating depression era film. Walter Huston gives a sincere and great performance as the president. It is dated, but that is what make it so fascinating. Fine supporting cast. An impressive classic.

Liberal Fascism: The Movie

I refer you to Jonah Goldberg's book, "Liberal Fascism", pp. 302-303, wherein he has a facinating passage on this film. It turns out that the script was personally reviewed by then-presidential candidate FDR, who made important suggestions to improve the story. Undoubtedly this is the only film in movie history to be personally shaped by a president, except maybe the notorious "Mission to Moscow" (1943), a sycophantic paean to Stalin that could have been scripted by Pravda apart from the fact that the screenwriters were communists anyway so it didn't matter. Anyway, "Gabriel" is the most fascist film ever made in the United States. Dictatorship, statism, nationalization of business, suspension of the constitution, executions are lauded. Anyone who thinks the solutions in this film are great is, by definition, a fascist.

The benevolent dictator

A great and relevant movie. Why couldn't Bush have been knocked on the head 8 years ago and been truly visited by an Angel from God. How dare him even set foot in a church claiming to proclaim the gospel of Jesus Christ. The nightmares we suffer now are the result of a completely ignorant morally bereft president. This movie shows what could have been.

Um, the Hero is a Fascist Dicator!

What makes this movie topical (especially given some of the adoring reviews) is that it illustrates how people can be seduced by fascism without realizing the danger. It was made just as Hitler, Mussolini, and Franco were entering public consciousness -- and their "we'll restore order and make the trains run on time" message was appealing to many. In 1933, there were a sizeable number of people in this country who viewed a fascist dictatorship as a reasonable alternative to democracy (just as others viewed communism as a viable solution).What's scary is the movie was a hit in 1933 -- people were so desperate that they identified with the hero (and William Randolph Hearst, who had the movie made), instead of seeing it as a cautionary tale.

Important message for today!

75 years ago, they made a movie that is still pertinent today. It describes our current political malaise and offers a spiritual solution that I yearn for. This is what I love about movies that were made in the 30's. The special effects are not what grabs you - it's the story.Many of the scenes and the dialogue seem radical for the period when this movie was shown. It has a message that strikes hard at corporate values and crooked politicians. It is Utopian, which is why it was removed from theaters and locked away. I commend TCM for showing this film.

Amazed!!!

I could not believe what I was seing, It was asif this movie was made in the present, Everyting that is happening now and the solutions that are made in today's economy were being presented right there and now.Is it because history repeats itself?I can't wait until I am able to buy this movie.

Timely!

Re: Jill's review. I caught it today 10/11/08....I am a huge Walter Houston fan, which may be why I tuned in. I was stunned to hear the film discuss the HIGH unemployment rate, home forclosures, high crime rate, etc...yep...1933!The films overall message is World PeaceWhile it is in some ways simplictic and a fantasy there IS a stong and timely message here.Worth viewing....Thanks, TCM

An Essential Depression Era movie

I tuned in late to the Sept. 08 screening of this film - I'm not usually interested in the "angel comes down to Earth" theme - and was very sorry I hadn't been recording it. It was fascinating! TCM had no way of knowing the economy of today would be in such a state when they scheduled this film, but Pres. Hammond's remarks about the 1933 economy sounded eerily applicable for today, especially when he said there ought to be a moratorium on mortgage foreclosures! I am sure glad TCM is broadcasting this movie again in October, so I have another shot at seeing it in its entirety!

What we need is a dictator!

This movie offers a glimpse back to a time before Hitler and Stalin, when people here thought what we needed to get this country straightened out was a dictator! It offers a suprisingly positive view of a president who, after a bump on the head, assumes dictatorial powers, and sets off to solve the nation's problems.I do not think Hollywood likes to admit that at one time their films encouraged such politically incorrect behavior!
*We protect your personal infortmation and will not provide it to anyone without your consent. For a complete explanation, please refer to TCM's Privacy Policy. By submitting your contribution, you agree to TCM's Terms of Use.