DVDs from TCM Shop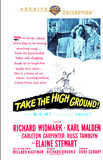 Take the High Ground! A tough drill sergeant... MORE&nbsp> $17.56 Regularly $21.99 Buy Now
NOTES
The working title of this film was The Making of a Marine. The opening credits were preceded by a title reading "Korea May, 1951" and a brief scene depicting the character "Sgt. Thorne Ryan" in combat. The opening credits also acknowledge the "thousands of fighting men at Fort Bliss" and contain the following written prologue: "An Infantryman once said, 'There was a time I wanted to kill my drill sergeant, but later in combat I thanked God for what he taught me. I found out that a drill sergeant, tough as he was, wasn't as tough as the enemy.'" The closing credits, which differ in order from the opening credits, appear over footage of each of the principal actors. The order of cast members in the opening credits is as follows: Richard Widmark, Karl Malden, Elaine Stewart, Carleton Carpenter and Russ Tamblyn.
According to a December 7, 1953 article in Life, producer Dore Schary was first inspired to make a film about military training after reading a photo essay in the October 8, 1951 issue of Life titled "How to Make Marines." The article, which featured eight pages of photographs shot by Mark Kauffman, documented boat Platoon 268 throughout eight weeks of training at Parris Island. (Mark Kauffman's relationship to Take the High Ground screenwriter Millard Kaufman is undetermined.)
The film was originally to be shot at the U.S. Marine boot camp in San Diego, CA, according to an May 8, 1952 Hollywood Reporter news item. The December 1953 Life article asserts that "the Marines refused to cooperate because they did not want to stir up old controversies over the toughness of their training program." The Army, however, cooperated fully with the studio, and location filming took place at Fort Bliss in El Paso, TX. According to pre-production Hollywood Reporter news items, James Arness, Ralph Meeker, James Whitmore, Keefe Brasselle, William Campbell, Richard Anderson, Horace McMahon, Russ Saunders and Dick Morris were cast, but they were not in the film. Hollywood Reporter news items include Dean Miller, Fritz Apking, William Coughlin, Guy Way, Ray Saunders, Fred Shellack and George Rubotham in the cast, but their appearance in the final film cannot be confirmed. Take the High Ground! was nominated for an Academy Award for Best Story and Screenplay.