DVDs from TCM Shop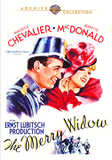 The Merry Widow A prince from a small kingdom... MORE&nbsp> $18.95 Regularly $21.99 Buy Now
NOTES
A French-language version, La veuve joyeuse, which was released in France in 1934, was produced simultaneously with the English version. According to a June 19, 1934 Variety news item, four versions of the film were being shot simultaneously by director Ernst Lubitsch for American, French, English and Belgian markets. The article states that while only two languages, French and English, were being used, certain scenes in the picture were being "emphasized for the English speaking audiences and others played down for foreign consumption."
An article in a 1934 Picturegoer Weekly Supplement adds the following information about the film's pre-production history: M-G-M acquired the rights to Franz Lehar's operetta in 1923 and made a silent screen version of the story in 1925. After sound was introduced to movies, the studio made plans for a "talking" remake of the operetta but lost their screen rights in a court battle. In 1928, M-G-M repurchased story rights from Lehar and his partners and announced that Sidney Franklin would direct and Albert Lewin and Ernest Vajda would write a sound adaptation, which was scheduled to be released in 1930. Although the studio owned the story, to which changes were made to avoid lawsuits from a real-life Prince Danilo, who had sued M-G-M after the release of the 1925 film, the filmmakers were restricted legally in their use of the operetta's score. In addition, Erich von Stroheim, the director of the 1925 film, claimed ownership of particular story points from the silent version and threatened legal action if they were used in the sound version. Overwhelmed by these obstacles, M-G-M halted activity on the production for three years until legal matters were addressed satisfactorily. A January 1933 Film Daily news item announced that Paramount was considering buying the rights to the story from M-G-M to produce a French language version of Lehar's operetta, to be directed by Lubitsch and to star Jeanette MacDonald. Lehar reportedly had been approached by Paramount about writing additional music for the film, which was to be shot at the Joinville studios in France. This Paramount version never was made, however. In the fall of 1933, Lubtisch and M-G-M's Irving Thalberg became involved in a contract dispute over salary requirements, which was resolved in early October 1933, according to a Hollywood Reporter news item.
When they were assigned to The Merry Widow, composer Richard Rodgers and lyricist Lorenz Hart were at the end of a one-year contract with M-G-M, which according to Rodger's autobiography, contained a "whither thou goest I will go" clause. Consequently, Rodgers is credited on screen as a co-lyricist with Hart, even though only Hart wrote for the production.
A July 1933 Hollywood Reporter news item stated that Maurice Chevalier, after signing a contract agreeing to participate in the production, backed out of the project because he wanted "to get away from the charming prince and lieutenant roles" and asked instead for a "down to earth and human story." By late August 1933, Chevalier was, according to Hollywood Reporter news items, apparently re-instated in the cast, but an October 1933 Hollywood Reporter news item announced that John Gilbert was seriously being considered for Chevalier's role. According to Hollywood Reporter, Chevalier's contract with M-G-M gave him the right to approve his feminine co-stars. In September 1933, Joan Crawford, Jeanette MacDonald and Grace Moore were announced in Film Daily as possible co-stars for Chevalier. Modern sources state that Chevalier wanted Grace Moore for the widow's role, but Moore's lack of box-office success in two previous M-G-M films crippled her chances, and MacDonald was selected. A contract dispute between MacDonald and M-G-M, however, postponed the start of production, and the studio announced in Hollywood Reporter in late January 1934 that British actress Evelyn Laye was being considered for the lead. Then, in early February 1934, Gloria Swanson was announced in Hollywood Reporter as a possible co-star for Chevalier. Although modern sources contend that Chevalier was less than enthusiastic about MacDonald, with whom he had appeared in three Paramount productions, two of which were directed by Lubitsch, he announced in a February Hollywood Reporter news item that he had "washed his hands" of the casting problem and was leaving the final decision up to producer Thalberg. A March 1934 Hollywood Reporter news item noted that for his portrayal of "Danilo," Chevalier received $150,000.
A Hollywood Reporter production news item listed Joan Gale in the cast, while Hollywood Reporter production charts included Earl Oxford, Florine McKinney and Arthur Jowett in the cast. Their participation in the final film has not been confirmed. According to a December 1933 Hollywood Reporter news item, Thalberg was "mulling over" the possibility of filming the story in three-strip Technicolor. A June 1934 Daily Variety news item announced that a copy of the film's soundtrack was being shipped to Lehar in Vienna for his approval and comment. The article notes that while the lyrics of the operetta were updated for the screen, Lehar's score was unchanged. In addition, M-G-M representatives in Europe were arranging to film a promotional short with Lehar. Modern sources note that the trailer for the film included footage of Lehar conducting an orchestra. For the "Merry Widow" dance number, M-G-M hired over five hundred extras, according to a Hollywood Reporter production news item. According to Picturegoer, Adrian's two dozen gown designs for MacDonald required four months and twelve seamstresses to execute. Forty-four sets, which included a full-scale construction of a vintage 1885 train and a re-creation of a period French village, were built. One thousand gas chandeliers, which took two hours to turn on, were used on the sets. Prior to this film, Lubitsch worked with German costume designer Ali Hubert on the 1919 picture Passion. Cedric Gibbons and Fredric Hope won an Academy Award for Best Interior Decoration for their work on the film.
According to files in the MPPA/PCA Collection at the AMPAS Library, some deletions in the film were ordered by Joseph I. Breen, the director of the Studio Relations Office of the AMPP. Although at first reluctant to demand the changes because of costs to M-G-M, Breen instructed M-G-M distributing executives in a memo dated October 29, 1934 to make the following eliminations from all release prints: "Marcelle takes garter off her leg, close up of garter, the line 'She jumped into a cold bath, and you'd be surprised, Captain, what cold water can do,'" as well as other lines and bits of action. Various states and Canadian territories objected to the inscription on the garter, which read, "Many happy returns," and the lines, "I know what to do but am too old to do it" and "Have you ever had diplomatic relations with a woman?" All of these lines and bits, however, were in the cutting continuity for the release print. Modern sources contend that in all television prints and some theatrical prints of the film five censorship cuts, including the garter inscription, were made.
According to modern sources, the production cost M-G-M nearly two million dollars and lost $113,000 at the box office. Modern sources add Gabriel Scognamillo to the art direction and set decoration credits, and credit Joe Lefert as a co-assistant director and Eric Locke as the film's business manager. Modern sources also note that during the filming of the song "Tonight Will Teach Me to Forget," MacDonald lip-synced to a pre-recorded soundtrack for the first time in her career.
A one-reel version of Lehar's operetta, starring Alma Rubens, was filmed in 1912 by Reliance-Majestic. The 1925 von Stroheim version featured Mae Murray and John Gilbert. Cedric Gibbons and photographer Oliver Marsh worked on both the 1925 and 1934 versions. According to a March 1934 Hollywood Reporter news item, Roy D'Arcy, who played the villain in von Stroheim's film, was slated to reprise his role in the Lubitsch version, but was eliminated from the cast when Thalberg ordered the "heavy" part cut from the script. In 1952, Curtis Bernhardt directed Lana Turner, Fernando Lamas and Una Merkel, playing the part of Sonia's companion, in an M-G-M Technicolor remake of the operetta. Modern sources state that to avoid confusion with the 1952 remake, the title of the 1934 film was changed to The Lady Dances for broadcasting on American television. According to modern sources, prints of the 1934 film that were distributed through M-G-M's "Golden Operetta" series were cut to 103 minutes.