DVDs from TCM Shop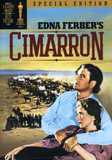 Cimarron A husband and wife fight to... MORE&nbsp> $15.79 Regularly $19.98 Buy Now
Home Video Reviews
Cimarron
tells the story of the opening up of the Oklahoma territory to settlers. In 1889 President Harrison signed the order that would bestow land grants on white settlers in the new territory. The film opens with a mind-boggling recreation of the Oklahoma land rush, with thousands of potential settles tearing across the countryside in buggies, on horseback, and by any other means they can find in order to secure that precious tract of land. Among them is Yancey Cravat (Richard Dix), who seems to be known to everyone around the country due to his constant wanderings. He has already surveyed the countryside to find the exact place he wants, and he's just about to achieve it when a woman named Dixie Lee takes a spill on her horse and Yancey stops to help her. While he is taking care of her horse, she commandeers his and claims the very tract that he had chosen for himself.
Defeated in the land rush, Yancey returns to Wichita to the home of his inlaws where his wife is staying in his absence. The family is appalled to learn that Yancey still intends to move to Oklahoma, unswayed by his firm believe that Oklahoma is where all the growth and excitement in the country is going to happen. Yancey and his wife Sabra (Irene Dunne) put together two wagon loads of the belongings and head west, along with their baby boy Cim, and Isaiah, the African American boy who helps around the house. Their destination is Osage, and when they get there it turns out to be a boom town in more ways than one: the population of Osage soared to 10,000 in just six weeks. The Main Street is mud and is swarming with pedestrians and people who appear to be in a constant state of celebration. Sabra is horrified by her first glimpse of the town Yancey intends to make their home, and flat-out refuses to raise their child there. But Yancey placates her with the promise that it will calm down, and that it'll be the perfect place to re-start-up his newspaper, the Oklahoma Wigwam.
Once they have established themselves and started the paper, Yancey proves himself something of a jack-of-all-trades. He volunteers to preach in the town's makeshift church, and makes the service particularly memorable when he shoots an outlaw in the middle of the sermon. He single-handedly engages in more than one shootout with gangs of outlaws, picking them off one by one until they're all dead. And at the same time he and Sabra manage to get out a daily paper – and have a second child, this one a daughter.
After four years in Osage, Yancey's wanderlust kicks in again when the president signs a new order opening the Cherokee strip to settlers. Despite Sabra's angry protests about not wanting to pull up stakes and wanting to stay in the home she's come to love, Yancey decides to at least take part in this land rush. So he sets out again, and long after the run is over he still hasn't returned. Unable to resist a challenge, he gets involved in fighting in the Spanish-American war. In his absence, knowing his nature Sabra never once ceases to believe that he's still alive, but his absence still stings. It isn't until five years have passed that he returns home. He's welcomed warmly, if not exactly with open arms, but soon they have re-established their relationship.
Several years pass before Yancey gives into his need to travel. In his absence this time, Sabra achieves local prominence and comes to national attention for her editorials on the political situation. Though she is getting old, her sharp mind and understanding of politics leads her to become a congresswoman, which seems to delight everyone including men. She is touring an oil field when she very unexpectedly is reunited with Yancey that turns tragic.
The first Western to win the Oscar®,
Cimarron
is a sprawling, episodic epic with a strong script (based on the novel by Edna Ferber), an equally strong story, and some truly wonderful visuals. But the main reason it works is because it tells it's sprawling story by focusing on one couple. The more I see of Irene Dunne, the more I think she could do no wrong. She gives a first-class performance, infusing the role with a range of emotions (and a sense of weariness that would be impossible to duplicate). Richard Dix as Yancey gives a more one-note performance, which seems no less than what the role calls for: he is slightly bombastic but despite his expertise in seemingly everything, Dix manages to play Yancey without a hint of ego. Dix's role is difficult, since the fact that he leaves he wife for years at a time does not make him particularly endearing. But again, Dix is capable of playing him as enough of a lovable rogue that he doesn't lose audience sympathy.
Dunn and Dix are are given fine support by Edna May Oliver as Mrs. Tracy Wyatt, a widow who befriends the Cravats when the move into town.
The vintage of the film (1931) pretty much ensures that the source material will not be in great condition, and it's not: there are a lot of scratched, general wear, and some damage. But the film is still eminently watchable. The audio is also showing signs of deterioration. The disc includes the vintage musical short "The Devil's Cabaret," and the classic cartoon "Red Headed Baby."
For more information about
Cimarron
, visit
Warner Video
. To order
Cimarron
, go to
TCM Shopping
.
by Fred Hunter