DVDs from TCM Shop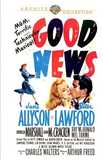 Good News A football hero falls in love... MORE&nbsp> $14.36 Regularly $17.99 Buy Now
NOTES
This film marked the directorial debut of Charles Walters, a former actor and dancer who had previously worked as a dance director on several M-G-M films of the early 1940s. The film also marked the first screenplay written by Betty Comden and Adolph Green, who began their long collaboration first as performers when they formed the group "The Revuers" with singer/comedian Judy Holliday. The Revuers were seen was very briefly seen in the 1944 Twentieth Century-Fox film Greenwich Village (see below). Comden and Green went on to write a number of popular Broadway and film musicals, including On the Town (see below).
Pre-production news items in Hollywood Reporter indicate that actress Gloria De Haven was originally set for the part played by Patricia Marshall, a stage actress who made her motion picture debut in the film. While a March 7, 1947 Hollywood Reporter news item noted that De Haven had been dropped from the cast due to "differences over the script," a news item appearing in Hollywood Reporter two weeks later announced that De Haven refused the role and, as a result, was dropped from the M-G-M talent roster. De Haven was suspended for only a brief time, however, and went on to appear in several M-G-M films. Actor Jackie Cooper was tested for a role in February 1947, but he was not cast in the picture. A song entitled "An Easier Way," by Roger Edens, Betty Comden and Adolph Green, was deleted from the film before its release. The cut song, sung by June Allyson, was preserved, however, and was shown on the Turner Classic Movie channel as part of a marathon screening of M-G-M musicals, with songs that were cut from them.
Good News opened to generally favorable reviews, although the New York Times reviewer noted Peter Lawford's weakness as a dancer and singer and wrote that Allyson "can't sing worth a fig." (In fact, singer Patt Hyatt dubbed the songs "Just Imagine" and "The Best Things in Life are Free" for Allyson.) Roger Edens, Ralph Blane and Hugh Martin received an Academy Award nomination for the song "Pass The Peace Pipe," which was not in the Broadway musical version of Good News and was originally written for the film Ziegfeld Follies (see below). A biography of director and lyricist Arthur Freed provides the following information about the film: Robert Alton staged the film's two production numbers. Van Johnson was initially cast in the role of "Tommy Marlowe," and Mickey Rooney was considered for the part before it went to Lawford. Lawford protested his assignment to the film, arguing that his English accent would be inappropriate for the part of an American college student. The film was completed under budget, at a final cost of $1,666,718, and grossed nearly $3,000,000 in its initial release.
Good News was the second M-G-M adaptation of the Broadway musical. The first adaptation, in 1930, was directed by Nick Grinde and starred Mary Lawlor and Stanley Smith (see AFI Catalog of Feature Films, 1921-30; F2.2190). Although a June 1943 Hollywood Reporter news item announced that producer Sam Coslow planned a revamped and updated version of the 1930 film, that project was never made.