DVDs from TCM Shop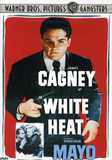 White Heat A government agent infiltrates... MORE&nbsp> $14.95 Regularly $19.98 Buy Now blu-ray
USER REVIEWS
See Detailed Ratings
Acting of Lead Performers

Acting of Supporting Cast

Director

Music Score

Title Sequence

Screenplay

Cinematography

Historical Importance

Would You Recommend?

0 Member Ratings
Rate the acting of the Lead Performers

Rate the acting of the Supporting Cast

Rate the Director

Rating of the Music Score

Rating of the Title Sequence

Screenplay

Creatively uses the camera to tell the story

Importance in Cinema history

Would you recommend for fans of this genre
Submit Ratings
Cancel
Write a Review
Read Reviews
NO REVIEWS AVAILABLE
The title has not been reviewed. Be the first to write a review by clicking here to start.
mountain prophet

while he did not get the academy award for his performance..it would help to put it in the hands of others who came down the line.

White Heat

Hard not to like this movie, while not the last gangster film, it kind of feels like the last hurrah of that era of films celebrating the criminal as romantic anti-hero. James Cagney is terrific in a role that serves as a bookend to his break out performance in "The Public Enemy". Cody Jarrett isn't the kind of character you can cheer for, but he's mesmerizing nevertheless. Iconic scenes include him going berserk in the prison mess hall, his grimly funny ventilation of the car trunk and the finale, going out on top in a blazing fireball. Also enjoyed Margaret Wycherly as his equally cruel mother, reminding me of the wicked step mother you might find in a Disney film. Edmond O'Brien as the police mole and Virginia Mayo as Cagney's shallow and treacherous wife are also worth mentioning. A good cast can carry a weak movie a long way but in this case they have an absorbing and distinctive script to work with. Raoul Walsh's gritty direction keeps it all moving on a crisp trajectory. Four stars.

White Heat

James Cagney deserved an Oscar for his prison lunchroom scene, but I heard that back in those days if you played a gangster and Oscar was out of the question. James Cagney deserved a lot of Oscars for his performances, I guess Hollywood was blind back then.

Powerful Cagney performance

James Cagney's performance as psychotic criminal Cody Jarrett is one of his best. This performance could have been one note. But Cagney is able to bring complexity to the character. Cagney's Jarrett is ruthless and violent. But we also see hints of the human being with vulnerability without any sticky sentiment. Cagney is always believable whether he is sitting on his mother's lap after a painful headache episode to killing someone in cold blood, to confiding in his supposed friend over talking to his deceased mother. No matter if the scene is disturbing and violent or subtle, James Cagney's performance is always brilliant and worth checking out.

Tops !

If the most notorious Criminal could act he'd be James Cagney. There's never been a more accurate portrayal of a "Tough Guy".

white heat

My favorite movies are the ones that combine probing character studies with lots of action. This is among the best of such movies. It's the pinnacle of both Cagney's and Raoul Walsh's careers and the screenplay by Ivan Goff and Ben Roberts aint bad, either. That it garnered but one, dinky Oscar nomination (for Virginia Kellogg's story) is quite possibly the biggest single screw up in the entire idiotic history of the Academy Awards. Give it an A.

Wow!

Never saw this outstanding film until today - thanks to TCM! For some reason, this picture never appealed to me. I mistakenly assumed it was just another typical WB gangster flick but boy oh boy was I wrong! This is truly one of the finest films of its genre ever made! Actually it's one of the finest films ever made - period! My wife and I just happened to catch the movie as it was starting and as happens with all great films, is engaged us immediately and sustained our interest all the way to the thrilling ending. Cagney, of course, was terrific...but we were very impressed with Virginia Mayo's excellent supporting performance as Cagney's duplicitous wife. If you haven't seen this outstanding picture, please treat yourself. It is surprisingly contemporary in its violent episodes and not the least bit dated. It's a serious movie with extraordinarily modern psychological implications! Rightly Oscar nominated for best story but it could have been nominated in many categories, but time has proven that this "gangster" film has stood the test of time and has honestly earned its place on the National Film Registry's list of great movies.

Top of The World Ma!

Brilliant tour de force by Cagney who pulls out all the stops as criminal Cody Jarrett. Nothing beats having your dear old Ma along for the ride and blonde beauty Virginia Mayo for eye candy. Can anyone ever outdo Virginia as the double-crossing gangbanger girlfriend? I think not. Cody's penchant for strawberries sends Ma to the grocery where the Coppers pick up the trail. Long story short, Cody lands in jail on a lesser charge where he gives the performance of a lifetime in the mess hall. Really cool police technology scenes with some impressive search techniques. And nothing beats the closer atop the gasoline tank. Top of the world, Cagney!

White Heat

One of the all time Greats. I have watched this film many times over and over. Cagney never a dull moment and outstanding cast included. To bad the younger generation are missing out on this and other great films

Top of the world, Ma

One of the best ganster films of all time and Jimmy Cagney's greatest performance.

Talbot is a moron

Don't take my word for it. Read his review.

LOOK QUICK!

Check out the great Jim Thorpe in some of the prison scenes---you will see him in the mirror behind the bars mouthing the words so the guards don't see him---also in the 'chow' scene before Cagney goes nuts upon hearing of "Ma's" death, Thorpe is one of the cons who pass the word that she is dead. Word has it that Jim was also in 'King Kong' as one of the tribesman. He was also in 'Knute Rockne-All American'---he sticks his head in the door at halftime to tell the coach..."Two minutes COACH! FYI

A Walk in the Park!

This film should be shown in every highschool in the United States as a requirement for highschool graduation. It correctly shows how to correctly live your life. You firstly should always be eternally grateful to your MA for bringing you up and giving you life as Cote Jarrett was devoted to his MA. This is a good example for all of us. Secondly you should assemble a team of professionals to help you achieve success in life. Take and don't apologize for taking your slice of the cake. Third loyalty should be rewarded while treacherous behavior should be dealt with savagely and permently.Without a doubt the greatest How To Film ever made. It will put you on TOP OF THE WORLD!

An Unforgetable Film Classic

James Cagney.....in all his glory.

WHITE HEAT

Legend has it, that James Cagney looked over the White Heat script and said, oh no, Not Another G.D gangster picture. I don't want to do this. Weve done it to death, over and over. It was His idea to build Cody into a mother fixated psycho and working with the writers, he literally built the character from the ground up. He had a knack for being able to work with directors like Raoul Walsh who appreciated his in put. Watch how he works with Virginia (hold the) Mayo. I think this was her Best film along with the Iron Mistress. There should have been a few Oscar nominations for this great film, but I suspect the McCarthy witch hunts, again, had a lot to do with this and a lot of other great films being left out. I love the back ground late 40s early 1950s L.A. stores, cars, golden age of drive in movies. I was a kid about 7 or 8 years old at that time and it brings back a lot of memories. Yes, they had phones in cars back then. Catch the Bing Crosby radio show, where he and Al Jolson discuss phones being distractions, hazards on the L.A Freeway. Sound familiar out there? Another James Cagney classic. One of many.

Cagney & Walsh Triumph

Christine Hoard-Barre

5/22/13

I can't really add anything new to WHITE HEAT that hasn't already been said. I'll just say it is a must-see for classic film lovers and it certainly is my favorite Cagney performance. Great direction, script, acting, lighting and another terrific score from Max Steiner. Action-packed from start to glorious finish.

PSYCHODRAMA

It's so good it's scary.Want can be added to what's already been said.A must see.Easily stands next to Cagney's breakout film,The Public Enemy.He may be older,but he could still be convincing as Cody,and he blows most everyone else off the screen.

Deranged!

Over the top even by today's standards! One of the best films ever!

the very best

Aong with the godfather and goodfellas, this is my favorite movie. Yet, I had never seen or heard of it until I picked it up for $5 about 7 years ago. The late 40s/early 50s ambience, the pacing, the acting, and the story content are all top notch -- one of the most perfect movies. When I first saw White Heat, I had to look at it ten minutes at a time. I could hardly believe how excellent it was. Why is this movie not shown or mentioned anywhere?????

White Heat

The last great gangster film from "Warner Bros." that starred Cagney. Cagney is perfect hamming it-up as a psychotic, mother-obsessed hoodlum, Wycherly & Mayo are great as his mother & wife respectively and O'Brien cannot be ignored either. Director Walsh, along with creating dynamic action scenes, also explores the complexities of psychology. Both a taunt & economical film with an unforgettable ending. I give it a 4.5/5.

"Cody ain't human"

The scene where a piano plays as Virginia Mayo's character skips down the stairs away from Big Ed was clever, for it symbolizes her destiny and that of her fellow low lifes: a quick descent to detainment or death. Edmond O'Brien does a fine job as a super spy among the animals, and the super-sized wedding ring on top of the police car is an indelible image.

Iconic role, superior performances throughout

"White Heat" is a film that even those who aren't fans of this genre can savor. The stars down to the smallest supporting players are carefully chosen, and deliver the crisp dialogue wonderfully as it grabs you and won't let you go. Along with the truly iconic performance from Cagney, and the spot-on support from Mayo and Wycherly and Cochran, I'd like to add a genuine tribute to Edmund O'brien, a fine actor who gets lost in the sheer believeability he imparts to his role. Much as he did in many others of the period, including "The Killers" and "DOA," he contributes admirably to the fiber of the film, and was destined to be an Oscar winner himself.

acting at ti best.

White Heat is one of James Cagneys best because we see two sides to the character. One side whom he shows the love that he has for his mother and the other side the tougness that he shoes as a leader of the gang. The black and white film brings out the perfect detailing in the background of the street scenes.

Maybe not necessary!

It may be a waste of time reviewing this film. It is shere perfection, and most movie-watchers have seen it. Everything works. The plot is well developed and intricate enought to be interesting, while palatable at the same time. Margaret Wycherly is amazing as the "Ma Barker" type character. The settings add dramatic effect, one of the best examples being the hide-out cabin where Fred Clark makes a surprising appearence. Also, the car chase is so brilliantly shot, being a slow speed version, with close-ups of Wycherly looking in the rear mirrow and smiling coyly when she loses the cops. So many perfect touches...every time I watch it, I pick something else up.Enjoy!!

White Heat

Why waste words? Magnificent.

A True Classic!

James Cagney and the stunningly beautiful Viginia Mayo both give oscar worthy performances in this film. Cagney as the deranged psychotic leader of a gang and Mayo the cold and treacherous mobster moll. The film received 1 Oscar for writing, but should have received awards for best actor, best actress, and best picture. I love the way Cagney and Mayo play off each other in the movie. A true classic!

Cagney at his best!

This is one of my favorite Cagney movies. He just nails this role. He should've been nominated for an Academy Award that year........I never tire of watching it, even if I only catch part of it, I'll stay tuned 'til the end. Great job by Virginia Mayo and all the rest. They don't make 'em like this anymore and that's too bad.

White Heat (1949)

Outstanding gangster film, expertly played by James Cagney. Intense, fast pacing and visually impressive. Raoul Walsh's direction is detailed and excellent. This is Virginia Mayo's best performance. Margaret Wycherly stands out as well as Cagney's mother. A true classic with numerous well known scenes.

Tough SOB

Thing I love about this movie just how damn tough Cagney plays he role yet he has that certain vulnerablity

Classic

Cagney put on one of his better performances in this one

Suprisingly Amazing

I figured this movie would be good but this movie had me nailed to my seat the whole time

James Cagney

It is amazing that Mr. Cagney only received 1 Oscar. I understand about the gangster movies and how you shouldn't glorify it with awards, oscars, etc. Give me a break, who else gave so much of him in a performance or performances in a number of films Jim made.Between Jimmy Cagney & Humphrey Bogart they should have locked up the 40's with their films & performances. Can you tell who was as powerfull as those 2 guys were in that 10 year period......

Cagney is Hot

Think Tom Powers if he hadn't died in The Public Enemy. Cagney definitely deserved an Oscar nod for this one (and for many others). So many iconic Cagney moments here. One of his best. Virginia Mayo is perfect as his moll and his evil mother is just right.

Cagney Snubbed By Oscar

I saw it again last night on TCM. This to me is Cagney's all-time best screen performance. He should have been nominated for Best Actor and should have won! It has excellent acting and direction, and an electric intensity that few gangster films of any era have been able to come close to. My two favorite scenes are in the prison mess hall when Cody loses it after hearing that his mother is dead, and of course the final scene on the oil tank when he yells "made it Ma, top of the world!" just before he and the refinery explode in a giant ball of fire.If you have not seen it, I recommend you check it out ASAP, especially if you are a gangster film fan or Cagney fan (which I am both), or even if you aren't.

One of Cagney's best

Next to Yankee Doodle Dandy, this has to be my favorite James Cagney movie. Not only should Mr. Cagney should have been nominated for an Oscar. But Margaret Whycherly should have been nominated for best supporting actress.
*We protect your personal infortmation and will not provide it to anyone without your consent. For a complete explanation, please refer to TCM's Privacy Policy. By submitting your contribution, you agree to TCM's Terms of Use.