DVDs from TCM Shop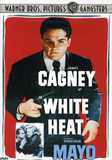 White Heat A government agent infiltrates... MORE&nbsp> $14.95 Regularly $19.98 Buy Now blu-ray
Articles
SEE ALL ARTICLES
White Heat (1949)
SYNOPSIS

Brutal, psychotic criminal Cody Jarrett trusts no one, least of all his unfaithful wife Verna and overly ambitious right-hand man Ed Sommers; no one, that is, except his equally criminal mother, the only one who can soothe the blinding migraines that plague him. Sent to jail on a charge he fakes to avoid conviction for the more serious crimes of train robbery and murder, Cody takes into his gang smalltime crook Vic Pardo, who is in reality undercover cop Hank Fallon, sent to infiltrate the Jarrett gang. Cody controls his gang from prison via instructions passed to his mother. Later, in the prison mess hall, Cody learns of Ma Jarret's murder. He goes berserk, and it takes several guards to restrain him and drag him screaming from the room. He's put into a straitjacket and placed in the prison clinic, from which he engineers an escape, taking "Pardo" along with him. After a botched payroll-robbery at an oil refinery, Cody learns Pardo is a special agent and tries to kill him.

Director: Raoul Walsh
Producer: Louis F. Edelman
Screenplay: Virginia Kellogg (story), Ivan Goff, Ben Roberts (script)
Cinematographer: Sidney Hickox
Editor: Owen Marks
Art Director: Edward Carrere
Original Music: Max Steiner
Cast: James Cagney (Cody Jarrett), Virginia Mayo (Verna Jarrett), Edmond O'Brien (Vic Pardo/Hank Fallon), Margaret Wycherly (Ma Jarrett), Steve Cochran (Big Ed Somers), John Archer (Philip Evans).
BW-114m. Closed captioning. Descriptive video.

Why WHITE HEAT is Essential

An exciting, dynamic film in its own right, White Heat also stands out as the flaming finale to the era of stark, fast-paced crime films made famous by Warner Brothers and James Cagney (among other stars) from the 1930s on ­ films in which the focus was on the often violent but charismatic gangster rather than the law enforcement officials who hunt him. It was also the apotheosis of Cagney's brilliant career, a kind of summing up of the memorable outlaw characters he had created. His projects that followed in the 1950s were mostly lackluster affairs, and the cocky, pugnacious star audiences had come to love was glimpsed infrequently in such films as Love Me or Leave Me and Mister Roberts (both 1955). His last big film before retirement was the Billy Wilder Cold War comedy One Two Three (1961). He returned to the screen twenty years later as the turn-of-the-century New York police chief in Ragtime and made one more film, the TV drama Terrible Joe Moran (1984) before his death in 1986.

White Heat, then, is a chance to catch Cagney one last time as the no-holds barred gangster he created in such pictures as The Public Enemy (1931) and Angels with Dirty Faces (1938). Here, however, the character has been pushed to the extreme, and the progression to Cody Jarrett can be traced through a trio of gangster films made by director Raoul Walsh, of which this was the last. In The Roaring Twenties (1939), Cagney's criminal is seen in the context of history and society, a man whose ambition and drive is put to service on the wrong side of the law by the circumstances of time and place. In High Sierra (1941), Walsh cast Humphrey Bogart as Roy "Mad Dog" Earle, a troubled man on the run, the gangster as the last individual in an increasingly soulless world. With White Heat the archetype is pushed to the very edge, depicted as a vicious man gripped by insanity. It's fitting that the image Cagney was so identified with should go out with such a bang.

In some ways, White Heat is also a swan song for Warner Brothers, the studio that had become known for quickly produced, gritty action-oriented pictures with a social conscience. By the time this film was released, the Supreme Court had forced the big Hollywood studios to divest themselves of their lucrative theater chains, and the stock company that had made Warners so successful in the 1930s and early '40s had either left the studio or were on their way out. Several stars had already made their last movies under their long-term contracts: Ida Lupino in 1947, Olivia De Havilland in 1946, Ann Sheridan in 1949 and "Little Caesar" Edward G. Robinson in Key Largo (1948). Humphrey Bogart's last Warners picture would be The Enforcer (1951), and Errol Flynn would exit in 1953. Even 'Queen of the Lot' Bette Davis was history, storming out of her contract after the over-the-top melodrama Beyond the Forest (1949), and not to return until Whatever Happened to Baby Jane?(1962).

Cagney had already quit the studio after his Oscar®-winning turn as George M. Cohan in Yankee Doodle Dandy (1942). "Movies should be entertaining, not blood baths," he said in the last days of his Warners contract. "I'm sick of carrying a gun and beating up women." He formed his own production company with his brother William, and for the next five years their pictures were distributed by United Artists. There were, however, only four films in those years, none of them very successful financially. So Cagney returned to Warner Brothers with a degree of autonomy (his production company remained intact) and made the kind of "blood bath" he had turned his back on seven years earlier. "It's what people want me to do," he grumbled. "Someday, though, I'd like to make just one picture kids could go see."

For all his grumbling, though, White Heat remains one of the crowning achievements of Cagney's career. It's hard to imagine another actor of the time convincingly pulling off this all-stops-out portrayal of Cody Jarrett. And this is no mere farewell or throwback to another era. It has the volatile dynamism of the best gangster flicks of the '30s and '40s, but it mixes in important tendencies taking shape in post-war cinema. The train robbery heralds the attention to the logistical details of a crime that would play such a vital element in films like John Huston's The Asphalt Jungle (1950) and Stanley Kubrick's The Killing (1956). It displays elements of the documentary style made popular by Naked City (1948) and similar movies. And it shares something of the film noir style in its often shadowy cinematography and focus on its lead character's twisted psychology.

By Rob Nixon
back to top
---
White Heat (1949)
Pop Culture 101 - WHITE HEAT

Cody Jarret's final defiant shout, "Made it, Ma. Top of the world!" has become one of the most familiar lines in film history, although often erroneously quoted as simply "Top of the world, Ma!"

The prison scenes in White Heat were spoofed in Naked Gun 33 1/3 (1994). Scenes from the movie were also edited into the comedy Dead Men Don't Wear Plaid (1982), in which, through an incredible editing feat, Steve Martin as a '40s private eye interacts with various tough guys and shady characters from classic Hollywood films.

In the black comedy, Fade to Black (1980), Dennis Christopher plays a movie-obsessed fan who retreats into a fantasy world, eventually becoming a homicidal killer. There are numerous movie references throughout the film such as his recreation of the famous wheelchair murder scene from Kiss of Death (1947), as well as an ending copied from White Heat ­Christopher goes up flames atop Grauman's Chinese Theatre in Hollywood.

The climax of the film noir thriller, Odds Against Tomorrow (1959), is an homage to White Heat ­ both Robert Ryan and Harry Belafonte have a shootout on top of an oil storage tank and both perish in the explosive fire that follows.

By Rob Nixon
back to top
---
White Heat (1949)
Trivia and Other Fun Stuff on WHITE HEAT

White Heat was not James Cagney's last gangster role but it is generally considered his most extreme and enjoyable performance as a trigger-happy criminal; he would again play mobsters in Kiss Tomorrow Goodbye (1950) opposite Barbara Payton and Love Me or Leave Me (1955), which earned him an Oscar® nomination for Best Actor as the gangster boyfriend of real-life singer Ruth Etting (portrayed by Doris Day in the film).In the film Each Dawn I Die (1939), Cagney had a prison freakout scene that would help prepare him later for the even more emotional outburst he has in White Heat. Wrongly convicted and incarcerated, Cagney is driven by the brutal conditions of the prison to the point of hysterical nervous collapse. "I'm gonna get outta here if I have to kill every screw in the joint!" he screams at the warden.

Director Raoul Walsh was one of the 36 founders of the Academy of Motion Picture Arts and Sciences, which among other things gives out the annual Academy Awards®.

Cagney and Walsh made three other films together: The Roaring Twenties (1939), Strawberry Blonde (1941) and A Lion Is in the Streets (1953).

Cagney and Virginia Mayo followed their turn as the murderous married couple in White Heat with a very different kind of picture, the musical The West Point Story (1950).

"Tough guy" James Cagney's first job as an entertainer was as a female dancer in a chorus line.

Edmond O'Brien had been promised equal billing with Cagney, but at the last minute the studio decided against it. Since Cagney hadn't made many movies since leaving Warner Bros. in the early '40s, publicists thought if audiences saw "Cagney" and "O'Brien" billed together, they would assume it was a reissue of one of the six movies Cagney made with Pat O'Brien between 1934 and 1940 and avoid the film. Cagney and Pat O'Brien made one final film together many years later ­ Ragtime (1981).

Screenplay authors Ivan Goff and Ben Roberts remained writing partners for the rest of their careers, turning out scripts for such movies as Come Fill the Cup (1951), which also starred Cagney; the Clark Gable film Band of Angels (1957); and the thriller Midnight Lace (1960), with Doris Day. The two were also the writers/producers responsible for the crime-oriented TV series Mannix, Charlie's Angels and Nero Wolfe.

Margaret Wycherly (Ma Jarrett) presented a very different (and far more traditional and heart-warming) image of motherly love opposite Gary Cooper in Sergeant York (1941).

Supporting player John Archer (federal agent Philip Evans) was once married to actress Marjorie Lord, who appeared opposite Cagney in Johnny Come Lately (1943). She is best known as Danny Thomas' wife on the TV series Make Room for Daddy (1957-1964). The couple's daughter is actress Anne Archer, who appeared in Fatal Attraction (1987), Patriot Games (1992) and Robert Altman's Short Cuts (1993).

By Rob Nixon

Famous Quotes from WHITE HEAT

Cody Jarrett: Stuffy, huh? I'll give it some air. (Cody talking to man in trunk as he prepares to shoot holes in the car).

Cody Jarrett: A copper, a copper, how do you like that boys? A copper and his name is Fallon. And we went for it, I went for it. Treated him like a kid brother. And I was gonna split fifty-fifty with a copper!

Cody Jarrett: Made it, Ma! Top of the world!

Verna Jarrett: Always "somebody tipped them off." Never "the cops are smart." (Verna making a reference to Cody's paranoid nature).

Cody Jarrett: You know something, Verna, if I turn my back for long enough for Big Ed to put a hole in it, there'd be a hole in it.

Verna Jarrett: I'd look good in a mink coat, honey.
Cody Jarrett: You'd look good in a shower curtain.

Hank Fallon: You put it on a pole, wind a spool of silk thread around it, and you hold the pole over the water. Then you sit under a nice shady tree and relax. After a while, a hungry fish comes along, takes a nip at your hook, and you've got dinner. For the next two weeks, I'm not gonna think about anything except the eternal struggle between man and the fish...

Engineer: What's this, a hold-up?
Cody Jarrett: Naw, naw, you're seven minutes late. We're just changin' engineers.

Zuckie Hommell: Sounds bad, Cody.
Cody Jarrett: Why don't you give 'em my address too...
Gas Station Attendant: Wise guys, didn't even buy gas.

Roy Parker: You wouldn't kill me in cold blood, would ya?
Cody Jarrett: No, I'll let ya warm up a little.

Cody Jarrett: If that battery's dead, it will have company!
Reader: That's a phone call that will cost more than a nickel!
Cody Jarrett: Next time bring the gun.


back to top
---
White Heat (1949)
The script for White Heat was based on a story written for the screen by Virginia Kellogg. She followed this film with another stark and brutal prison drama, with the added twist of setting it in a women's institution: Caged (1950).

In his autobiography Cagney by Cagney (1985), the actor said he found the script for White Heat "very formula...the old knock-down-drag-'em-out again, without a touch of imagination or originality." Finding Cody Jarrett to be "just another murderous thug," Cagney said he suggested to the writers to pattern the character of Jarrett and his mother after the legendary outlaws Ma Barker and her boys and to make Cody a psychotic. It has also been said that Cagney improvised some of his dialogue and decided to play Jarrett as a man plagued by blinding migraines (that only his mother could soothe).

In a memo dated May 5, 1941, during pre-production of Yankee Doodle Dandy (1942), James Cagney's brother William (the film's associate producer) and screenwriter Robert Buckner told Warner Brothers producer Hal Wallis that during story conferences they could find no way to sustain the close relationship between the character of George M. Cohan (Cagney's Oscar®-winning role) and his family. Apart from several other reasons, the memo said, "it would be hard to swallow Jimmy Cagney as a guy with a mother or father complex." But Cagney with a mother complex is exactly the key to his performance in White Heat.

By Rob Nixon
back to top
---
White Heat (1949)
Although James Cagney found White Heat to be a good picture on a number of levels, in his 1985 autobiography Cagney called the film "another cheapjack job" because of its limited shooting schedule and the studio's decision to "put everybody in it they could get for six bits." Cagney was particularly irritated by the fact that he pressed them to cast his old friend Frank McHugh in the small role of Tommy in order to bring a touch of humor and lightness to the otherwise heavy piece. According to the star, Warners repeatedly agreed to do it, putting Cagney off until the first day of shooting when he was told McHugh wasn't available. Cagney found out later McHugh had never even been asked.

Cagney took credit for having the idea for the scene in which Cody sits in his mother's lap. He said he told director Raoul Walsh, "Let's see if we can get away with this," and Walsh agreed. But in his 1974 autobiography Each Man in His Time (which film writer Leonard Maltin has called "highly entertaining fiction with an occasional nod at the truth"), Walsh took credit for the idea and said the scene worked because Cagney and Margaret Wycherly made it so convincing.

The spectacular ending aside, the most famous scene in the picture is undoubtedly the one in which Jarrett gets the news in prison of his mother's death. The news is passed down from inmate to inmate at the prison mess hall tables until it finally reaches Jarrett, who explodes into psychotic grief, staggering around the room landing punches on everyone who gets in his way while letting out a kind of strangled, primal cry. Cagney was once asked by a reporter if he had to "psych" himself up for the scene. Cagney responded, "You don't psych yourself up for these things, you do them," reiterating his very non-Method philosophy that working on inward emotional motivation is a waste of time leading to a performance solely for the actor himself. According to Cagney, an actor shouldn't psych himself up to be the character, he should simply understand the character and play it for the audience. His only preparation for the scene, he later said, was remembering a visit as a youngster to see a friend's uncle who was in a psychiatric hospital. "My God, what an education," he said. "The shrieks, the screams of those people under restraint. I remembered those cries, saw that they fitted, and I called on my memory to do as required."

When Cody gets the news of his mother's death, Cagney plays his first reaction merely looking down, building into the emotional explosion. Years later, he explained to Los Angeles Times film critic Charles Champlin, "That first agony is private. If I'd looked up right away and started bellowing, it would have been stock company, 1912."

Walsh said of his star: "Jimmy, I can honestly say, was the best actor I ever directed."

Edmond O'Brien was also rather in awe of his co-star. In the book Cagney, author Michael Freedland said O'Brien found out how generous an actor and gentle a person Cagney could be. In a close-up the two were playing together, O'Brien felt Cagney standing with increasing pressure on the top of O'Brien's right foot, forcing the younger actor to move in that direction. O'Brien realized if he had not done so, he would have been out of frame and Cagney would have had the scene to himself. Freedland also relates how when the cameras were rolling, Cagney would look like "an angry tiger," but as soon as the director yelled cut, the star would quietly go up to O'Brien with a poem he had written and ask him in a whisper, "Would you mind telling me what you think of this?" When it came time to return to work, Cagney would plead, "Please, don't tell anyone about it."

Location work was done in the California towns of Van Nuys and Chatsworth (in a railroad tunnel). The explosive finale was shot in Torrance, Calif.

By Rob Nixon
back to top
---
White Heat (1949)
Brutal, psychotic criminal Cody Jarrett trusts no one, least of all his unfaithful wife Verna and overly ambitious right-hand man Ed Sommers; no one, that is, except his equally criminal mother, the only one who can soothe the blinding migraines that plague him. Sent to jail on a charge he fakes to avoid conviction for the more serious crimes of train robbery and murder, Cody takes into his gang a smalltime crook named Vic Pardo, who is in reality undercover cop Hank Fallon, sent to infiltrate the Jarrett gang. Eventually Cody, Pardo and several others escape from prison and regroup for futher criminal activities. But after a botched payroll-robbery at an oil refinery, Cody learns that Pardo is a special agent and tries to kill him.

An exciting, dynamic film in its own right, White Heat also stands out as the flaming finale to the era of stark, fast-paced crime films made famous by Warner Brothers and James Cagney (among other stars) from the 1930s on, films in which the focus was on the often violent but charismatic gangster rather than the law enforcement officials who hunt him. It was also the apotheosis of Cagney's brilliant career, a kind of summing up of the memorable outlaw characters he had created.


White Heat, then, is a chance to catch Cagney one last time as the no-holds barred gangster he created in such pictures as The Public Enemy (1931) and Angels with Dirty Faces (1938). Here, however, the character has been pushed to the extreme, and the progression to Cody Jarrett can be traced through a trio of gangster films made by director Raoul Walsh, of which this was the last. In The Roaring Twenties (1939), Cagney's criminal is seen in the context of history and society, a man whose ambition and drive is put to service on the wrong side of the law by the circumstances of time and place. In High Sierra (1941), Walsh cast Humphrey Bogart as Roy "Mad Dog" Earle, a troubled man on the run, the gangster as the last individual in an increasingly soulless world. With White Heat the archetype is pushed to the very edge, depicted as a vicious man gripped by insanity. It's fitting that the image Cagney was so identified with should go out with such a bang.


The spectacular ending aside, the most famous scene in White Heat is undoubtedly the one in which Jarrett gets the news in prison of his mother's death. The news is passed down from inmate to inmate at the prison mess hall tables until it finally reaches Jarrett, who explodes into psychotic grief, staggering around the room landing punches on everyone who gets in his way while letting out a kind of strangled, primal cry. Cagney was once asked by a reporter if he had to "psych" himself up for the scene. Cagney responded, "You don't psych yourself up for these things, you do them," reiterating his very non-Method philosophy that working on inward emotional motivation is a waste of time leading to a performance solely for the actor himself. According to Cagney, an actor shouldn't psych himself up to be the character, he should simply understand the character and play it for the audience. His only preparation for the scene, he later said, was remembering a visit as a youngster to see a friend's uncle who was in a psychiatric hospital. "My God, what an education," he said. "The shrieks, the screams of those people under restraint. I remembered those cries, saw that they fitted, and I called on my memory to do as required."

Director: Raoul Walsh
Producer: Louis F. Edelman
Screenplay: Virginia Kellogg (story), Ivan Goff, Ben Roberts (script)
Cinematographer: Sidney Hickox
Editor: Owen Marks
Art Director: Edward Carrere
Original Music: Max Steiner
Cast: James Cagney (Cody Jarrett), Virginia Mayo (Verna Jarrett), Edmond O'Brien (Vic Pardo/Hank Fallon), Margaret Wycherly (Ma Jarrett), Steve Cochran (Big Ed Somers), John Archer (Philip Evans).
BW-114m. Closed captioning. Descriptive video.

by Rob Nixon
back to top
---
White Heat (1949)
AWARDS & HONORS:

Although many (including co-star Virginia Mayo) thought Cagney's performance should have earned him a second Academy Award®, the only nomination White Heat received was Virginia Kellogg's for Best Story. Kellogg and screenplay writers Ivan Goff and Ben Roberts were all nominated for an Edgar Allen Poe (mystery writers) Award.

The Critics Corner on WHITE HEAT

"Red-hot box office. Raoul Walsh's direction has kept the pace sharp and exciting for the nearly two-hour length." ­ Variety.

"Mr. Cagney, representing a homicidal maniac whose favorite girl is his dear old two-gun mother, comes up with a performance so full of menace that I hereby recommend him for whatever Oscar® is given an artist for rising above the asininity of his producers." ­ John McCarten, The New Yorker.

"To let the kids see Cagney as he was in happier days, Warner Brothers has produced a wild and exciting mixture of mayhem called White Heat.... They screech with joy when the hero begins pummeling society with both hands and both feet, a tigerish snarl on his lips. The old Jimmy is back again." ­ Life.

"Cagney plays it with such dynamic arrogance, such beautiful laying out of detail, that he gives the whole picture a high charge.... Director Raoul Walsh has gathered vivid acting from his whole cast. Miss Mayo, in fact, is excellent as the gangster's disloyal spouse ­ brassy, voluptuous and stupid to just the right degree. Edmond O'Brien does a slick job.... Steve Cochran is ugly as an outlaw, John Archer is stout...and Margaret Wycherly is darkly invidious as the gangster's beloved old 'ma.'" ­ Bosley Crowther, The New York Times.

"White Heat is in the hurtling tabloid tradition of the gangster movies of the '30s, but its matter-of-fact violence is a new, postwar style." ­ Time.

"Fred Astaire dancing, Wallace Beery squinting one eye. Garbo's sniff. Clark Gable's silly smile and Cagney's lightning fist are things you remember in a decade's film going ­ and Cagney's fist (bless it) is here with us again after years of rest." ­ Paul Holt, London's Daily Herald.

"Mr. Cagney is never less than an actor of experience and competence who knows precisely what he is doing. The trouble is that this particular part is one he knows all too well." ­ The Times (London).

"This Freudian gangster picture...is very obvious, and it's so primitive and outrageous in its flamboyance that it seems to have been made much earlier than it was. But this flamboyance is also what makes some of its scenes stay with you.... [Cagney] does his most operatic acting in this film, and he has his wildest death scene: he literally explodes." ­ Pauline Kael, 5001 Nights at the Movies.

"The most gruesome aggregation of brutalities ever presented under the guise of entertainment." - Cue.

"This searing melodrama reintroduced the old Cagney and then some: spellbinding suspense sequences complemented his vivid and hypnotic portrayal." - Halliwell's Film & Video Guide.

Compiled by Rob Nixon
back to top
---