DVDs from TCM Shop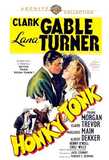 Honky Tonk A young girl falls for a... MORE&nbsp> $14.95 Regularly $17.99 Buy Now
Articles
SEE ALL ARTICLES
Honky Tonk (1941)
At the age of twenty, Lana Turner was riding high at MGM and had just completed work on two major releases, Dr. Jekyll and Mr. Hyde (1941) and Ziegfeld Girl (1941), and signed a new contract upping her salary to $1,500 a week. And if that wasn't enough to convince her that she had suddenly been propelled to top stardom, the studio gave her a plum role and equal billing with her new co-star, none other than the king of Hollywood himself, Clark Gable.


Turner had twice missed the chance to work with the actor she had admired since she was a young girl. She was one of dozens of hopefuls, stars and unknowns alike, who tried out for the role of Scarlett opposite Gable's Rhett in Gone with the Wind (1939). Surviving footage of Turner's screen test reveals a green actress well suited for the young, petulant Scarlett but totally out of her league in the more complex, mature aspects of the role. At 17, the woman who would soon become Hollywood's leading blonde actress was being considered as a possible replacement for MGM's recently deceased platinum blonde bombshell, Jean Harlow. Gable and Harlow had made a string of sharp, sexy hits together in the 30s, and the studio was hoping Turner could jump into the successful franchise. Inexperienced and very nervous to be making a screen test with her idol, Turner did poorly. "She couldn't read lines," Gable later said. "She didn't make them mean anything; it was obvious she was an amateur." Three years later, however, she had the experience and the box office appeal, and an obvious chemistry with Gable despite their 20-year age difference, to make the barroom-and-boudoir Western Honky Tonk (1941), one of the studio's biggest hits of the year.


In Honky Tonk, Gable plays con artist Candy Johnson, the kind of lovable rogue character that was a staple of the actor's career. Arriving with his cronies in the town of Yellow Creek, he ingratiates himself to the townsfolk by building a firehouse, school, and, of course, a saloon. He also marries Elizabeth (Turner), the pretty young daughter of the town's crooked judge, Candy's confederate in scamming the citizenry. But the judge (Frank Morgan, the title character in The Wizard of Oz, 1939) is suddenly stricken with a conscience...and a heart attack. His death causes his daughter to miscarry her child and reveal her misgivings about her marriage. Jolted by events, Candy leaves town, determined to give up his criminal ways. But realizing the strength of her love, Elizabeth goes after him.


The pairing of Gable and Turner proved to be a sensation. Recognizing what they had on their hands, the studio's publicity hacks cranked out ads saying, "Clark Gable kisses Lana Turner and it's screen history" and "Let's be specific, they're terrific." Quite taken with his young co-star, Gable sent Turner flowers on the first day of production with a note referring to their earlier screen test: "I'm the world's worst talent scout, Clark." Turner said the two of them had a remarkable "chemical rapport" and admitted being smitten with the King but vehemently denied for the rest of her life ever having an affair with him. That may be partially thanks to Gable's wife at the time of production, the beautiful and talented actress Carole Lombard. Knowing her husband had an affinity for blondes and aware of Turner's reputation as a party girl, Lombard went straight to MGM chief Louis B. Mayer and demanded Lana be told Gable was off limits. Lombard's presence on the set during filming of a steamy bedroom scene so unnerved Turner, she fled to her dressing room and didn't come out until Gable's wife had gone home, apparently satisfied she'd headed off any sexual relationship between the co-stars.


Honky Tonk was such a hit, MGM paired Gable and Turner again immediately in Somewhere I'll Find You (1942). They made two more films together, Homecoming (1948), and Betrayed (1954). Honky Tonk was remade as a TV movie in 1974 with Richard Crenna and Margot Kidder in the Gable and Turner roles.


Director: Jack Conway
Producer: Pandro S. Berman
Screenplay: Marguerite Roberts, John Sanford
Cinematography: Harold Rosson
Editing: Blanche Sewell
Art Direction: Cedric Gibbons, Eddie Imazu
Music: Franz Waxman
Cast: Clark Gable (Candy Johnson), Lana Turner (Elizabeth Cotton), Frank Morgan (Judge Cotton), Claire Trevor ("Gold Dust" Nelson), Marjorie Main (Rev. Mrs. Varner), Albert Dekker (Brazos Hearn).
BW-105m. Closed captioning.

by Rob Nixon
back to top
---