DVDs from TCM Shop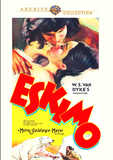 Eskimo An Eskimo family fights to... MORE&nbsp> $18.95 Regularly $21.99 Buy Now
NOTES
The onscreen credits contain the following statement: "The Expedition to the Arctic began in April 1932...In November of 1933, the record was complete. Excepting the characters of the Canadian Police, there are no actors in this record...entire story told by primitive Eskimos in Native tongue, in Native custom...The Books by Peter Freuchen were notable for their discussion of the Moral Code of the Eskimos...this record attempts to present that Code...a strong, primeval Creed belonging to the farthest wilderness of the endless North...." Sub-titles were used in the film to translate Eskimo dialogue. In spite of the film's "no actor" claims, the Eskimo performers appear to be well-trained and "made up" for their parts. An unidentified contemporary source in the AMPAS files states that Mala, a genuine Eskimo, came to Los Angeles a year or two before the production began to work as a cameraman. Originally hired as a guide for Eskimo, he convinced the filmmakers of his acting talent and was cast in the lead. According to modern sources, producer Hunt Stromberg was so impressed with Mala's performance in the film that he signed him to an M-G-M contract. In his later films, Mala usually portrayed Polynesian characters. Lotus also made her screen debut in this film. She later changed her name to Lotus Long and, like Mala, played Asian characters.
A late July 1932 Hollywood Reporter news item announced that location shooting for the production had begun in the Arctic. According to an informal production newsletter, which was edited by author Peter Freuchen, the film crew had its camp in Teller, AK. An October 1932 Hollywood Reporter news item claimed that the Eskimo crew was "iced in" during shooting and had to be rescued by a dog sled team. Film Daily news items indicate that Van Dyke completed the direction of the film in May 1933, and that other members of the crew, including still photographer Roy Clark, returned from the Arctic in April 1933, after a ten-month stay. The location camp chef, Emil Ottinger, was hired from the kitchen of the Roosevelt Hotel in Hollywood, according to an unidentified contemporary source found in the AMPAS files. The same source also noted that the production cost $1.5 million and employed forty-two cameramen and technicians and six airplane pilots.
The film's preview running time was 160 minutes, indicating that a large amount of footage was cut for the final release prints. According to a Hollywood Reporter news item, Freuchen spent several weeks lecturing throughout the country in connection with the film's opening. Conrad Nervig won an Academy Award for Best Editing for his work on the production. Modern sources add Edward Hearn as "the Captain's mate" to the cast. Hearn was an assistant director on the production.