DVDs from TCM Shop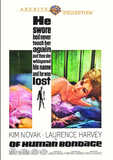 Of Human Bondage A medical student risks his... MORE&nbsp> $18.95 Regularly $21.99 Buy Now
USER REVIEWS
See Detailed Ratings
Acting of Lead Performers

Acting of Supporting Cast

Director

Music Score

Title Sequence

Screenplay

Cinematography

Historical Importance

Would You Recommend?

0 Member Ratings
Rate the acting of the Lead Performers

Rate the acting of the Supporting Cast

Rate the Director

Rating of the Music Score

Rating of the Title Sequence

Screenplay

Creatively uses the camera to tell the story

Importance in Cinema history

Would you recommend for fans of this genre
Submit Ratings
Cancel
Write a Review
Read Reviews
NO REVIEWS AVAILABLE
The title has not been reviewed. Be the first to write a review by clicking here to start.
KIM NOVAK IS CAPTIVATING

When the movie Of Human Bondage was first released, it shocked audiences and critics alike. It was panned and thrashed left and right. And condemned by the Catholic Church. Kim Novak, once again, gave them something (plenty) to talk about. As a young man I discovered Miss Novak via this film and became and instant fan of the star. I was captivated not just by her timeless beauty, but more so by her courage to take on a role that Betty Davis had made iconic. Well, Davis fans: Kim shines in this widely unappreciated gem! When she's on the screen she overshadows the rest of the cast and dares you to take your eyes off her. The role of Mildred Rogers now belongs to Kim Novak, sexy, subtle, quiet and bombastic all at the same time. A tour de force by an actor truly ahead o f her time. I continue to watch this film every time it's on and never tire of it. Never tire of Kim Novak: Actor, Artist and Great Beauty. Inside and out!

Kim Novak wipes Laurence Harvey off the screen?!?

The 1934 version of Of Human Bondage with Bette Davis is the best version by far. But the 1964 remake is worth a look, if only for the moody cinematography and Kim Novaks Mildred. Harvey walks through his role like a robot. But Novak is a surprise. She made a real stab at the role and wins acting honors easily. She isn't as shrewish in the role as Davis was and is easily more sympathetic than Harvey. Film is definitely worth a look.

Vote for the DVD!

(If you cannot see the "vote now" button, click on "more reviews" at the bottom of the screen. A new TCM page will appear, where you can vote for the DVD.) The 1964 version of "Of Human Bondage" is excellent. Beautiful Kim Novak gives a superb, poignant performance. The Edwardian sets and costumes are lavish. The black and white cinematography is dramatic. I hope a DVD is released soon! Five stars!

Kim Novak,one of a kind

To me Kim Novak has an aura unlike any other actor. Her stunning beauty mixed with honest acting in Human Bondage and many other films was under appreciated when they came out. I thought I would give the Bette Davis version a look after seeing Kim's version the other night. I had trouble sticking with it comparing it to Kim's movie.Bette is over the top. Kim gives a wonderful performance. She "makes" the movie even though she is supported by big British stars. I absolutely loved it. After that I was motivated to watch "Middle of the Night" with Kim Novak and Fredrick March. This was another gem. Kim was perfect.I think it's safe to say that Kim is an extraordinary actress matched only by her beauty.

Of Human Bondage

I wish they would put this on DVD. I had heard this movie recieved bad reviews but I loved this movie.

What a nice surprise!!!!

For years I had heard how bad this movie was and how terrible Kim Novak was in the part of Mildred. And for years we have been told how great Bette Davis was in the 1934 version. For years the Davis version was only available on horrendous public domain versions. I had seen one of these years ago and was not overly impressed. Finally seeing a decent DVD of this landmark film, I can only say that as much as I love Bette Davis she was totally over the top and her accent was none too great either. Like most early 30s films the direction was barely adequate (although John Cromwell would do other later remarkable films.) But Davis never looks like a woman that any man would lust after for years. Her big speeches "wiped my mouth" etc seem totally overdone. Probably her performance was more appreciated in 1934 with all the great lady acting (Norma Shearer, Irene Dunne) so drearily applauded. I saw the 1946 version with Eleanor Parker and she too was over the top but she was so physically attractive that you could see why Paul Henried was mad for her. Eleanor Parker was/is a wonderful actress and she was fairly impressive in the role. Henried was the miscast actor being too old to be very convincing. Now we come to Kim Novak and the 1964 version. I was in college when this version came out and the popular conception was "please Kim Novak trying to redo a Bette Davis role!!!" Plus I was never a fan of Kim Novak back in the day. (My opinion has changed greatly.) So last night I just sat there and decided to watch this much maligned film. To my utter shock, Kim Novak was really wonderful. She was relaxed on screen and she was utterly believable. No over the top chewing the scenery just a very believable performance of a poor wretched creature who seemingly can't help tormenting any man who loves her. Kim's accent was fine and she seemed less forced and much more natural than her two predecessors. I apologize to Kim! You and film are very good.

Ending scene signicance???

A wonderful version (64).. But, it strikes me that the burial scene, in a train yard, at the end was a far cry from a "proper funeral for a Lady", as Mildred so requested in her last breath. Could it have been Philip's purposeful intent to not grant her final request, as an expression of vindication, given her humiliating cruelty toward him.....

The TRUE Superior Version of Of Human Bondage

You just showed it. 1964. With Kim Novak and Lawrence Harvey. The movie totally does me in whenever I get a chance to view it, which is rare. Who cares if Kim's Cockney accent slips: the rest of her performance is gripping and engrossing. The look in her eyes when she's aiming to betray Philip is flirtatiously cunning and she was so physically beautiful that the carnality of a common waitress takes on the sexual power of a royal courtesan. Laurence Harvey almost matches her, as he humiliates himself time and again because of his love: you want to scream at the screen, get away from this woman, but you end up understanding why he would be drawn in, up to the bitter end. And Kim's death scene is one of the best ever done: "Promise me ... I want a proper funeral ... like a lady." Your commentator at the end seemed to disparage the movie, saying that common wisdom had it that Novak and Harvey were miscast and that their careers suffered because of it. Wisdom??? Then you have the outstanding portrayals of Victorian London: the tea parlors, the dance gazebo, the medical school ... but most haunting and poignant, the streets of prostitution. What really, really bothers me is that this movie is not available on DVD. Only used VHS, though you can buy a streamed version on Amazon ... but I want it the way TCM showed it: crisp, clean, every frame as I remembered it when I first saw it. Congratulations on finally giving us all an opportunity again to enjoy this truly classic movie in pristine form.

Of Human Bondage 1964

IluvLawrence Harvey

8/6/13

This is the best version of this movie. Lawrence Harvey is magnificent as Philip and Kim Novac is wonderful as Mildred. This version really shows Philip's anguish and heartache.Kim Novak is superb in her role as the nasty, ever needy ****,who was so responsible for his heartache. WONDERFUL

Better Movie of both!

This movie had a honest review in Time Magazine, I remember about the critic giving tremendous review specially to Kim Novak's performance. Some other critics did not like it because immediately they compared to Bette Davis work on the other version, 30 years before. Kim is wonderfully more expresive than any other of her movies, she's been accused of her cold personality that reflects even in her acting. But not in this movie. Anyone can understand why Philip got obsessed with Mildred. I read the book many years ago, and the image he has of her is a cold, inocent working girl, Kim in the movie is not so cold much less inocent, but she is perfect for the role. She is believable. Unless Harvey who was supposed to desdain Kim because according to him he was using him, as if he was Lawrence Oliver, gave a low performance acting job. He looks more like a gigolo rather than a person who is confused about the feelings he has, and the internal struggle to make out of his tragic life something with more sense.This movie is a delightful experience and somebody should make the DVD version since I think, it is one of the best Kim Novak's movies. I would dare to say She is even better than in Vertigo. But I would say they are too different.

Of Human Bondage - 1964

When will this title be available on DVD. I is the best release of this movie by far.

Of Human Bondage 1964

For Many years I Have been a great Kim Novak fan since July 1985 with the Hollywood

Kim Novak is Superb!

Kim Novak's career deserves re consideration when one sees her fine performances in an array of great films such as "Verigo", "Picnic", "Moll Flanders" etc. Miss Novak was considered a blonde beauty but not much of an actress when she was #1 at the Box Office. I am glad TCM is devoting a day in August to her Work.This film was a remake of a great Bette Davis classic. and when Kim was announced it was thought no one could top Davis. I think Kim Novak does in this movie. It is a different interpretation, where Bette Davis was clearing manic in her portrayal Kim Novak portrays a more basic and realistic performance, and seen today in retrpospect Kim Novak's is the correct interpreation. This MGM film was wracked with problems, with Henry Hathaway either fired at Kim Novak's insistence or quitting on his own, but frankly Hathaway a shoot em up guy seems the wrong person to direct a kitchen-sink drama. Ken Hughes replaced the veteran Director. And Novak and her co star Laurence Harvey hated each other. An unhappy set. Novak at one time quit the film too, but was persuaded to return. Lucky for us she did. A Kim Novak film series of Kim in "Picnic" "Vertigo" "Moll Flanders" "Of Human Bondage" and her fun role in "The Mirror Crack'd" where she spoofs her image would be a good opportunity to see a fine actress at work. Kim Novak in her days of high stardom worked with among others Billy Wilder, Jack Lemmon, Rita Hayworth, James Stewart, Elizabeth Taylor, George Sidney, Rock Hudson, Alfred Hitchcock, Jane Wyman, Bill Holden, Joshua Logan, Frederic March, and Walther Matthau who credited the fine actress with teaching him more of film acting than anyone else in Hollywood.

oops

I meant few teenagers not few people all together

Loved It

I'm 17 years old and I'm pretty sure I'm one of the few that loves classical movies. I watched this one today and I just keep thinking that I gotta get that DVD. Don't know if that was a good review but the movie was just great.
*We protect your personal infortmation and will not provide it to anyone without your consent. For a complete explanation, please refer to TCM's Privacy Policy. By submitting your contribution, you agree to TCM's Terms of Use.