DVDs from TCM Shop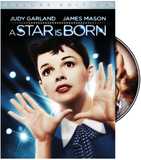 A Star Is Born A falling star marries the... MORE&nbsp> $16.95 Regularly $19.98 Buy Now
USER REVIEWS
See Detailed Ratings
Acting of Lead Performers

Acting of Supporting Cast

Director

Music Score

Title Sequence

Screenplay

Cinematography

Historical Importance

Would You Recommend?

0 Member Ratings
Rate the acting of the Lead Performers

Rate the acting of the Supporting Cast

Rate the Director

Rating of the Music Score

Rating of the Title Sequence

Screenplay

Creatively uses the camera to tell the story

Importance in Cinema history

Would you recommend for fans of this genre
Submit Ratings
Cancel
Write a Review
Read Reviews
NO REVIEWS AVAILABLE
The title has not been reviewed. Be the first to write a review by clicking here to start.
yuck

There are too many versions of this movie and all are just Hollywood actors praising themselves and their lifestyles. Back to back showing of these different versions is just too much.

The Film That Got Away

This version of A Star is Born is similar to 1936's The Great Ziegfeld in that it couldn't decide between being a Tour de Force for Judy Garland's immense talent or remaking a drama of a couple whose careers are going in different directions. The studio may have blotched cutting the original film, but some of the musical numbers and other sequences were much too long and needed trimming. This reconstruction's use of sepia photo stills to bridge gaps in a color movie is especially unnerving and weakens what little continuity there was to begin with. This film didn't need to be reconstructed as much as it needed to be re-edited.

Note to PJ

I believe Amanda Blake is the redhead next to the starlet Lola (Lucy Marlow) in the benefit show sequence at the beginning of the movie.

Where is Amanda Blake?

Wonderful movie all the way around. The credits state that Amanda Blake portrays "Susan Ettinger" in this film, but I have watched this movie many times and can not spot her. Which character is Susan Ettinger?

A Big Plus With Lose That Long Face

I saw it again last night on TCM (6/21/18). I've seen it about 10 times, including at the Chinese Theater. This time I was very taken with how much better the movie is with the inclusion of the song "Lose That Long Face." I had seen the song included before in restored versions, but this time it really hit me that it was a huge loss when Warner Brothers cut if out in 1954 after about two weeks of showings. Wonderful that it is back in. Some book writers have said that the song being cut out was a major factor in Judy Garland not winning the Best Actress Oscar in 1954. The Moss Hart script is also fantastic. I wouldn't think that any remake could be any better unless it heavily uses his script.

A Star is Born (1954) 3 hr

I've loved this movie since I was a kid. I loved watching it with Mom she weekends. The story was amazing and the cinematography was superb. I learned the songs by heart and sang with Judy and cried with her and was afraid and angry with her as well. Well this 3 hr version, I understand what they are trying to do by letting us try to see what the movie WOD have been like if the original reels were found and restored but honestly in placing those stills and pictures only messes up the flow of the film immensely and it completely looses it's magic. This version is best reserved for like the b-side of the blu-ray edition or something along those lines. I honestly hated it and it made me have to change the channel as I could not sit and watch something I have loved for ever get mangled like this.

This movie is a winner!

I watched A Star Is Born from beginning to end and I loved it. I agreed with lots of people that Judy deserved that Oscar for this movie, but lost it to Grace Kelly. I loved the scenes that were inserted with photos along with the dialogue and her Born In A Trunk performance was outstanding. James Mason was also outstanding . I cannot believe some people hated this wonderful movie. Te scenes when Norman was listening to Esther talking about quitting were heartbreaking. I loved the scenes when Esther was trying to show her scrapbook to the people. And especially the scene where those movie people put the rubber on her beautiful nose and all that heavy makeup on her lovely skin, and Norman took it all off.I enjoyed the older version but this one was the best in my opinion.

Judy Gives Oscar Performance

Yes the movie is long, and should have been edited. Judy's performance is most memorable and she deserved to win the Oscar. I think I'll make my own edited version for my own personal use, as much as I like Garland's talent, the musical numbers that are associated with Miss Lester's movie parts should be eliminated, as well as the inserted photograph scenes. Overall the sets, and color are wonderful with a fine cast.

to put it simply.

ironic.

Another Barely Watchable 'Star is Born' Movie?

Guess I should stay with shot'em up bang, bangs. This version is unwatchable. The mid 30s version is barely watchable.

A Star Is Born

A great showbiz storyline of one star going up and one star going down "A Star Is Born" of 1954 with Judy Garland and James Mason is the best and most literate of the "Star Is Born" movies from Warner Brothers. Director George Cukor was always good at directing women as we see Judy making moves to enhance her career and her husband James Mason going to alcohol. Judy should have won the Oscar but Grace Kelly won that year. Years later Judy's daughter Liza Minnelli did win for "Cabaret" and that was something Judy could have done if she were younger. But this 3 hour film takes in the Hollywood landscape well and shows the ups and downs of stardom.

a star is born

Judy's comeback! A lush, beautifully shot movie that was suppose to herald the return of Judy Garland to the big screen (that it didn't revive her film career fault can be laid at the feet of Warner Bros studio head Jack Warner0 it is never the less a great movie with two superb performances delivered by Judy and her leading man, James Mason. Watching Judy sing "The Man That Got Away" is enough reason to catch this tearjerker. Wonderful musical sequences supported by sturdy script and excellent supporting cast (Jack Carson, Charles Bickford) catch this movie that tells the tragic tale of a fading matinee idol and at the same time the rise to fame of his protge turned wife. Thanks to the late Ron Haver we have an almost completely restored version don't watch the mangled shorter film that Jack Warner rereleased a few week s after the original (all in the name of commerce). One of my top ten faves

A STAR IS REBORN

THIS IS THE REAL JUDY GARLAND. WHAT YOU WOULD SEE IN PERSON,ON STAGE. NOT THE RUN AWAY NERVIOUS TRAIN WRECK, IN SO MANY MOVIES, AS DISCRIBED BY ONE CRITIC. THE MAN THAT GOT AWAY, OUTSTANDING SOME OF THE OTHER SONGS WERNT THAT GREAT, BUT SHE PUT THEM OVER LIKE ONLY SHE COULD. JAMES MASON WAS GREAT EVEN THOUGH I THOUGHT AN AMERICAN VAUDEVILLIAN OR STAGE TYPE ACTOR.MIGHT HAVE BEEN BETTER SUITED FOR THE PART. JACK CARSON OUTSTANDING ALSO. AS AL JOLSON COMPLIMENTED, AND HE DIDNT HAND OUT COMPLIMENTS,UNLESS THEY WERE WELL EARNED,SHE IS THE GREATEST FEMALE SINGEROF THEN TWENTIETH CENTURY

Find an Unedited Copy

I love Judy Garland and what she does. I like "A Star Is Born" but I wish they had not tried to recapture the original by inserting the photographs. It ruins a great movie with great music. I wish there was a print out there somewhere in someone's possession or vault that shows the movie was before it was edited and restored with the photographs. Maybe there is a copy of the original before editing in the Hutchinson, Kansas Salt Mines. It is a work of art and Judy Garland was robbed of the Oscar. The three stars is not for the movie but for the hatchet job editing and inserting the still photographs. Take out the photographs and you got five stars.

Highlights not to be missed

This long, long movie has highlights not to be missed. The big one is Judy Garland singing "The Man that Got Away." That, performed on the stage, would be a showstopper. I like James Mason reacting to that performance--I can believe he feels what the character he's playing feels about it. He's not giving her conventional compliments, he's making weird comparisons in his effort to convince her of the brilliant star he sees in her. But the song is also about their tragic love affair, and there are dialogue lines that echo the poignancy of that song, like James Mason's line repeated long after he first delivers it: "I just want to look at you."

A Star is Born

This movie is absolutely fabulous! I have seen the one with Gaynor and Marsh ,this one was better. The love story is sooooo beautiful ! James Mason and Judy Garland are brilliant together. This is a tearjerker. Garland was at her absolute best. James Mason was sooo sexy ,funny and just terrific!! Jack Carson ,Charles Bickford and Tom Noonan were good too. Just a wonderful movie!! I cry every time I see it. Old Hollywood what a bygone era!!!

Classic

Best of the four ASIB related films. A near masterpiece in its restored version. Couple of good books about this film and the other three.

Not A Fan

Judy is an amazing talent but this version of the classic fails to engage me. The earlier version has a great deal more magic.

Brilliant Star Turn For Judy Garland

Admittedly, I'm not as enchanted by this film as most viewers and reviewers seem to be. Too long and filled with too much fluff musical, the concept of Hollywood showing "Hollywood" on the screen is brilliant. Garland is terrific as a singer plucked from obscurity by a famous actor (James Mason). Mason takes charge of building her career, and even ends up marrying Garland. However, her fame as a star quickly eclipses his career, sending him on a downward spiral with tragic consequences. The musical numbers create too much time-filler (unless you absolutely are in love with Garland's voice), taking away from the building drama of the story. Mason is great as a self-destructive drunk and Jack Carson, who co-stars, is reliable as usual. But this film belongs to Garland and is the perfect film to capture why she is truly immortal.

A Star is Born

A great musical drama that revived Garland from a stand- still career. Garland earned a well deserved nomination, as did Mason who gives an equally powerful performance. My only complaint for the film is for what makes it better, it's length, I found it too long for a musical. A powerful story that's beautifully mixed with amazing art direction, costumes & cinematography. I give it a 4/5.

Garland!!!

This is Judy Garland's film from the beginning to the end. She is superb and there is nobody that could have played her part back then. The one thing I do not like about this film is the casting of James Mason as Judy's love interest and then husband. Firstly, he's English and that accent just doesn't cut it in this film. Secondly, he was too old for the part. I understand that he is supposed to be a fading movie star but you can be that and not be Mason's age which was 45 when this film was released. (William Holden and Tony Curtis come to mind as available choices back then!) We see young stars' careers explode and fade all the time in real life. Back to Judy... It's worth watching the film just to hear her sing so many fantastic songs. What a voice! Her acting here is extraordinary and expressing her vulnerability could be heartbreaking to some viewers. It's a bravura performance worth seeing!

Sound Track

I wonder why Turner Classic Movies hesitates going Hi Def? This film "A star Is born" is one film that can only be appreciated in Hi Def this would insure a better sound track and this film depends almost totaly on it's sound track.

One Of Judy Garland's Best

The 1954 remake of "A Star Is Born" offers on of Judy Garland's very best performances as a rising film star trying to deal with both her newfound fame and her alcoholic husband (James Mason in a terrific performance), a has-been matinee idol whose career has at the same time hit the skids. The songs and dances are great, and Judy gives the role of Vicky Lester/Esther Blodgett her usual energetic effort. However, the film suffers a little because in some scenes photo stills are substituted in place of the footage that could not be found when the film was restored. In spite of that, it's a very entertaining musical. There are two other versions of "A Star Is Born", the 1937 original with Frederic March and Janet Gaynor, and the 1976 second remake with Barbra Streisand and Kris Kristofferson, but the 1954 version with the great Judy Garland is by far my favorite. Four Stars.

Sound track problems

When this film came out, I worked for Warner Brothers at there theater in Philadelphia. This film had an multi-sound track but since it's release for television the sound track has been awufull. I am not sure why. This movie depends on the best sound track, since most of it's entertainment is based on it's sound. I hope with this new release that Turner is braging about, it includes a sound track improvement

Judy Garland is SUPERB!!!

This is Judy Garland's greatest film. She is superb. No one can even come close to her performance. "The Man That Got Away" is one of the greatest songs ever to be put on film. Judy should have won that Academy Award. The supporting cast is wonderful, especially Charles Bickford as Oliver Niles. The cinematography is magnificent. I love the 1937 Janet Gaynor film and Barbra Streisand's film, but Judy's is my favorite. Judy was beautiful in the picture and I'm proud to have it.

Outstanding Unparallelled Performance

Judy Garland is stupendous. Very few talented people in Hollywood today or of yesteryear could come close to this outstanding performance. It has poignancy, sorrow, light comic moments and heartbreak into a fully integrated musical dramatization.

A Star Is Born (1954)

Although this version of the classic story is outstanding, I still like the earlier 1937 version best. Judy Garland is truly amazing. When she sings "The Man That Got Away", it sends chills up your spine. There are so many classic scenes and great songs. The cinematography is unique and quite good, the production is so lavish, the art direction and costumes are amazing. Good work by James Mason. A great film, but at close to three hours, it can be tedious at times.

Good Remake

It is a good remake, as remakes go. I love Judy Garland in whatever she does, and James Mason is just a pleasure to listen to. However, I truly prefer the 1937 version and the simplicity of the story. This version seemed to be more of a Judy Garland musical vehicle rather than a true remake of the story. To hear Judy "belt out" the songs the way only Judy Garland could, is indeed a treat, but I think the studio had just too much Judy which seemed to deter from the story a bit too far. James Mason was superb as Norman Maine and to hear that he was pretty much the last choice for the part is disheartening. Along with George Sanders, James Mason has the kind of voice that is so beautiful and melodic that you could listen to him tell you the world was ending and want him to say more.

Spectacular At Times

Unfortunately this movie is too long and at times laughably bad.Some of Judy's numbers should have been cut. Others are too long.Even the Saratoga Trunk number is too long and silly at times.On the other hand, the Saratoga Trunk number has moments that are as good as I've ever seen in a musical. Judy Garland was on her game. James Mason was outstanding as a good guy gone drunk. James Mason's walk into the ocean is heartbreaking. I'd watch this movie again and again because of the spectacular musical and emotional highs. With better editing, oh what this movie could have been.

How could she lose?

I thought that Dorothy Dandridge was great in Carmen but unfortunately at this time she didn't have a chance. Judy Garland was magnificant and How she could lose to Grace Kelly is the biggest farce of all times.

A Performance Lost in the Stars

If there has ever been a greater miscarriage of justice in the film industry (aside from Edward G. Robinson never being nominated)it escapes my recollection.Judy Garland delivers a once in a lifetime performance, and Hollywood proves again that the Oscars are nothing more than a popularity contest.Grace Kelly winning best actress of 1954 (The Country Girl) instead of Judy, is unconscionable.Oh, "what might have been", if Judy had received the Oscar she most richly deserved. It could have changed her life and it's tragic outcome.To think that this great film almost went the way of 50% of those made before 1950 (we did lose some of it) that are lost forever, adds to the tragedy.On a positive note: The late, great James Mason at least was nominated for the film, though he didn't win.So much for justice.

I hope this movie plays again soon

I have been looking forward to seeing this version of A Star is Born after seeing and loving the original, but about 45 minutes into the movie it went from being a movie to being a series of stills with a few frames of film. The voice dubbing was out of synch following what I am hoping was just a technical difficulty and not a sort of special effect that is supposed to be there. Please TCM, play it again soon.

JUDY GARLANDS FINEST PERFORMANCE!!

This great film is a five star ***** masterpiece in its completed restoration version done in the 1980's. Judy's performance is perfect in every way and is ageless. When she sings the Man who Got Away it breaks my heart and pushes every emotional button. James Mason also gives a suburb performance and I think over the years people have finally notice this as at the time he was over shadowed by the attention that Ms Garland received. I would say that her Oscar loss was a highway robbery similiar to when Whoopie Goldberg and Oprah Winfrey lossed their respective Oscar nominations for film debut and performances in Steven Speilberg's The Color Purple in 1985. I am very pleased that TCM is finally airing this film so that their viewers will appreciate this fine film. ThanksMarilyn Young Vancouver, B.C.Canada

great movie!!!!!

This is the best Judy movie made. The best example of her range of talent and singing she could deliver, outside of live performances.

Judy Garland Delivers

Judys performance in this film is amazing. Judy sings, dances and acts her heart out, and it shows. Granted, Warner Bros. certainly did mess this one up by cutting out so much, but this is still an excellent peice of work. The story, which has already been told in the earlier version, is brought to life with the addition of music in the film. A Star is Born is definatley one of my all time top 10 movies, and certainly worth picking up.
*We protect your personal infortmation and will not provide it to anyone without your consent. For a complete explanation, please refer to TCM's Privacy Policy. By submitting your contribution, you agree to TCM's Terms of Use.