DVDs from TCM Shop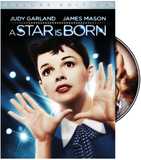 A Star Is Born A falling star marries the... MORE&nbsp> $16.95 Regularly $19.98 Buy Now
Articles
SEE ALL ARTICLES
A Star Is Born (1954)
SYNOPSIS

Norman Maine, a screen star whose alcoholism is beginning to interfere with his career,discovers Esther Blodgett, a singer with "that little something extra,"star quality. He shepherds her through the birth of her career even as hisown is falling apart, and as he does so, their love grows. But soon itbecomes clear that his problems are ruining her life and Maine performs a final, desperate act to free Esther from her commitment to him.

Director: George Cukor
Producer: Sidney Luft
Screenplay: Moss Hart
Adapted from the Screenplay by Alan Campbell, Dorothy Parker and RobertCarson and the Story by Carson and William A. Wellman
Cinematography: Sam Leavitt
Editing: Folmar Blangsted
Art Direction: Malcolm Bert, Irene Sharaff
Music: Harold Arlen
Cast: Judy Garland (Esther Blodgett/Vicki Lester), James Mason (NormanMaine), Jack Carson (Matt Libby), Charles Bickford (Oliver Niles), TommyNoonan (Danny McGuire), Lucy Marlow (Lola Lavery), Amanda Blake (SusanEttinger), Irving Bacon (Graves), Strother Martin (Delivery Boy), GradySutton (Carver), Joan Shawlee (Announcer), John Saxon (Usher),
C-176 m.

Why A STAR IS BORN is Essential

A Star Is Born (1954) marks the apotheosis of Judy Garland's career, amulti-faceted role exploiting her talents for song, dance, comedy andtragedy alike as none of her other films ever did. In a sense, it wasplanned that way. Screenwriter Moss Hart drew on his knowledge of Garland andher career to re-structure the story for the 1954 version.

A Star Is Born marked the start of two profitable collaborationsfor director George Cukor. Special Visual and Color Consultant GeorgeHoyningen-Huene, one of the nation's leading fashion photographers, andproduction designer Gene Allen would play a major role in shaping hisdirectorial vision as he moved into directing in color. They would work withhim on most of his later films, making notable contributions to the visual lookof Bhowani Junction (1956) and Les Girls (1957) in particular.

Thanks to Huene and Allen's influence, and Cukor's immaculate taste,A Star Is Born was one of the first films to indicate how theCinemaScope process could be used artistically. Introduced only a yearearlier, the wide-screen process had helped draw audiences to epics likeThe Robe (1953), the first film shot that way, but had stymied directors,who found the new image unwieldy. Director George Stevens suggested it wasonly good for photographing snakes. But by playing with color andcomposition, Cukor showed that it could actually enhance a film'seffectiveness.

Ronald Haver's 1983 restoration of A Star Is Born was the firsthigh-profile project of its nature, thereby raising public awareness offilm preservation issues. It sparked a movement to rescue other lost films, with his innovative use of stills and soundtrack to fill in for scenes that no longer exist. Certainly, it opened new doors for film preservationists. Later projects that followed in the wake of Haver's A Star is Born restoration have included Frank Capra's Lost Horizon (1937), Raoul Walsh's Sadie Thompson (1928), Erich von Stroheim's Queen Kelly (1929) and Greed (1923-25).

Haver's search for missing scenes from the film, some illegally held bycollectors, also increased public and industry awareness of piracy. In theyear following the restoration's successful re-issue, legal action against private film collectors who had ignored the law and police raids on their homes increasedsignificantly.

by Frank Miller
back to top
---
A Star Is Born (1954)
The story for A Star Is Born derived from 1932's What PriceHollywood?, in which Constance Bennett stars as a young actress whoachieves stardom with the help of once-great director Maximillan Carey (Lowell Sherman). Whenhis alcoholism starts to threaten her career, he kills himself. The film was directed by George Cukor and produced at RKO under David O. Selznick.

When Selznick decided to attempt a new version of the story for his ownproduction company in 1937, he gave Cukor first shot at directing it, butthe director turned him down, feeling he had nothing to add to the story.William Wellman, who also collaborated on the story, directed the film.For this version the young actress (Janet Gaynor) was helped by a fadingstar (Fredric March) who married her before realizing that his alcoholism wasruining her career and personal life.

Hollywood legend has suggested several models for the character ofNorman Maine. Some claim the story was inspired by John Gilbert's marriageto stage actress Ina Claire, who enjoyed a spurt of popularity in the earlydays of talking pictures just as his career was sinking. Others havesuggested that Maine was modeled on John Barrymore. The most likelycandidate, however, is film director Marshall "Mickey" Neilan, whosepromising career was destroyed by drinking and other scandals. He, too,had a wife whose success eventually eclipsed his, silent actress BlancheSweet.

One sequence in both the 1937 and 1954 films was indeed inspired byJohn Barrymore's life. In 1937, Barrymore was in a sanitarium because ofhis drinking. Cukor visited him there to discuss his playing a role inCamille (he eventually cast Henry Daniell instead) and was struck bythe place's failed attempt at homeyness. Rather than a hospital, it wasjust an old house that had gone to seed. When Barrymore took him into thesitting room, he asked one of the attendants, "Can we sit in here, Kelly?Nobody's going to come through and disturb us by pretending he's Napoleon."Cukor reported this scene to Selznick, who used it as the basis for thescene depicting Norman in the sanitarium.

In 1976, Barbra Streisand remade A Star Is Born, this timesetting the story in the music business. She starred as rising singerEsther Hoffman, with Kris Kristofferson as her self-destructive mentor,John Norman Howard (a role turned down by Elvis Presley). The filmreceived mixed reviews but scored a hit at the box office and broughtStreisand and Paul Williams an Oscar® for Best Song for the picture'stheme, "Evergreen."

For the past few years, there have been discussions of a new version ofA Star Is Born, with rapper-turned-actor Will Smith in the Judy Garland role. The reversed-gender production would feature Smith as a rising star helped by aself-destructive diva.

by Frank Miller
back to top
---
A Star Is Born (1954)
Director George Cukor had crossed paths professionally with JudyGarland twice before. After he was fired from Gone With the Wind,and he spent a week directing tests for The Wizard of Oz. His maincontribution to that film was changing Garland's look as Dorothy bydiscarding her blonde wig and getting the makeupdepartment to give her a more natural look. That experience inspired thescene in which studio makeup artists completely change Esther's appearance for herscreen test. Cukor was also considered as the director for Meet Me in St.Louis (1944) and even spent a few months working with the screenwriters beforethe film was assigned to Vincente Minnelli, who would become Garland'ssecond husband.

The crowd shots of the Motion Picture Relief Fund benefit at the film'sopening combined footage shot for the film with newsreels from the worldpremiere of The Robe, the picture that had prevented Richard Burton fromplaying Norman Maine.

The shots of dancers backstage at the Shrine Auditorium were modeled onthe Degas' painting Dancers Adjusting Their Slippers.

The beach house scenes were actually shot on the studio sound stage.Cukor created the illusion that the ocean was right outside by asking thespecial effects department to superimpose the reflection of the ocean onthe glass doors. They also created a light breeze to move Garland's scarf.Since a regular fan would have been too noisy and required post-dubbing,the crew built a wind tunnel to pump in air from outside while alsomuffling the sound of the fans.

One day when Garland refused to leave her dressing room, Cukor, whohated summoning actors, decided to see what he could do to get her on theset. When he walked into the room, she was the picture of dejection. "Isanything wrong?" he asked. Then he realized how absurd the question wasand started laughing. Garland laughed too and said, "This is the story ofmy life. I'm about to shoot myself, and I'm asked if there's anythingwrong." Then she came out to film the scene.

When Cukor complimented Garland on the intensity of her performance intwo takes of her temperamental scene after Norman's suicide, she quipped,"Oh, that's nothing. Come over to my house any afternoon. I do it everyafternoon. But I only do it once at home."

A Star Is Born was the only Judy Garland film to be released instereo.

A Star Is Born was the first film to have its premiere telecastnationally. The live telecast was so well received that it was repeated thefollowing evening. This program is now available on the most recent VHSand DVD releases of the film.

Film projects offered to Garland as a result of her performance in AStar Is Born included Carousel, South Pacific, TheThree Faces of Eve and musical versions of Alice Adams,Saratoga Trunk and All About Eve. She also was mentioned forfilm biographies of Helen Morgan, Sophie Tucker, Laurette Taylor, GertrudeLawrence and Fannie Brice. She never appeared in any of these. In fact,she would not make another film for seven years, when she won an Oscar®nomination for Best Supporting Actress for Judgment atNuremberg (1961).

FAMOUS QUOTES FROM A STAR IS BORN (1954)

" There are certain pleasures you get - little jabs of pleasure. When a swordfish takes the hook, or when you watch a great fighter getting ready for the kill, see?...If you had everseen a bullfight in your life, you'd know a great bullfighter the moment heset foot to the ring -- from the way he stood, from the way he moved -- or,or a dancer. You don't happen to know about ballet? That little bell ringsinside your head, that little jab of pleasure. And that's what happened tome just now. You're a great singer!" - James Mason as Norman Maine.

"You've got that little something extra that Ellen Terry talked about.Ellen Terry, a great actress long before you were born. She said that thatwas what star quality was -- that little something extra. Well, you've gotit." - James Mason as Norman Maine.

"Do you know the only thing I can think of right now? The only thought thatcomes into my mind is the way I wash my hair. You see, when anythinghappens to me, good or bad, I make straight for the shampoo bottle." - JudyGarland as Esther Blodgett.

"I can remember my first job singing with the band. And then one-nightstands clear across country by bus. Putting on nail polish in the ladiesrooms of gas stations. Waiting on tables. Wow! That was a low point. I'llnever forget it. And I'll never never do that again, no matter what. But Ihad to sing. I somehow feel most alive when I'm singing." - Judy Garland asEsther Blodgett.

"Listen, Esther, a career is a curious thing. Talent isn't always enough.You need a sense of timing -- an eye for seeing the turning point -- orrecognizing the big chance when it comes and grabbing it. A career can reston a trifle. Like -- like us sitting here tonight. Or it can turn onsomebody saying to you, 'You're better than that. You're better than youknow.' Don't settle for the little dream. Go on to the big one...Scared?Scared to take the plunge?" - James Mason as Norman Maine.

"He gave me a look at myself I've never had before. He saw something in menobody else ever did. He made me see it too. He made me believe it." - JudyGarland as Esther Blodgett.

"If you'll be kind enough to glance between my shoulder blades, Mr. andMrs. Gubbins, you'll find there a knife buried to the hilt. On its handleare your initials." - Jack Carson as Matt Libby.

"You know, Oliver, I sometimes think I was born with a genius -- anabsolute genius -- for doing the wrong thing." - James Mason as NormanMaine.

" I know most of you sitting out there by your first names, don't I? I made a lot o' money for you gentlemen in my time through the years, didn't I? Well, I need a job now. Yeah, that's it...that's the speech. That's the -- I need a job. That's what Iwanted to say. I -- I need a job. It's as simple as that. I -- I need ajob, that's all. My talents, I may say, are not confined to dramatic parts.I can play comedy, too." - James Mason, as Norman Maine, interrupting hiswife's acceptance speech at the Oscars®.

"...sometimes, I hate him. I hate his promises to stop, and then thewatching and waiting to see it begin again. I hate to go home to him atnights and listen to his lies...I hate me cause I've failed too." - JudyGarland as Esther Blodgett.

"I shall have to introduce myself all over again to a lot of people. Theywon't know me when I'm not drinking." - James Mason as NormanMaine.

"Friends, my eye! Listen. I got you out of your jams because it was my job,not because I was your friend. I don't like you. I never did like you. Andnothing made me happier than to see all those cute little pranks of yourscatch up with you and land you on your celebrated face." - Jack Carson asMatt Libby.

"Sympathy? That's not what you're getting from me, baby. You don't deserveit! You know what a great monument to Norman Maine you are? He was a drunk,and he wasted his life, but he loved you. And he took enormous pride in theone thing in his life that wasn't a waste -- you. His love for you and yoursuccess, that was the one thing in his life that wasn't a waste, and heknew it. Maybe it was wrong to do what he did, but he didn't want todestroy that -- destroy the only thing he took pride in. And now you aredoing the one thing he was terrified of. You're wiping it out! You'retossing aside the one thing he had left. You're tossing it right back intothe ocean after him....You're the only thing that remains of him now, andif you just kick it away, it's like he never existed. Like there never wasa Norman Maine at all." - Tommy Noonan as Danny McGuire.

"Hello everybody -- this is -- Mrs. Norman Maine." - Judy Garland asMrs. Norman Maine.

Compiled by Frank Miller
back to top
---
A Star Is Born (1954)
Judy Garland was considered washed up in Hollywood after she was firedby MGM in 1950 on grounds of "unreliability." When her personal manager and, eventually, third husband, Sid Luft, engineered her comeback as a concertentertainer at New York's Palace Theatre and the London Palladium in 1951,however, Hollywood's interest in her piqued. Luft was convinced that Garlandwould return to movies as an even bigger star, and the vehicle he knewwould do it was a musical remake of the 1937 film classic A Star IsBorn.

The role of screen newcomer Esther Blodgett was nothing new to Garland.She had played her in a 1942 radio adaptation for Lux RadioTheatre. Before she left MGM, she had pitched a musical remake toLouis B. Mayer as a follow-up to Summer Stock (1950), but he rejectedthe idea, claiming that her fans would never accept her as the wife of analcoholic. When Luft proposed the project to her in September 1951, shejumped at the idea.

The original film's producer, David O. Selznick, had put re-make rightsup for auction in the '40s when his production company, SelznickInternational, went out of business. They were picked up by EdwardAlperson. He joined Luft and Garland to create Transcona, their ownproduction company, to market the project.

Transcona sold A Star Is Born to Warner Bros. as the first partof a nine-picture deal that included three films starring Garland and sixothers produced by Luft without her. The deal was announced in December1952.

Transcona's contract included a list of acceptable directors andco-stars for the film. At the top of the former list was George Cukor, one ofHollywood's best directors of female stars. They never had to go anyfurther down the list. Luft called Cukor to arrange a meeting at the BrownDerby. Before they could even sit down, the director told him that if hewas looking for someone to direct Garland, he'd be happy to do it. Cukorwas paid $6,250 a week for his work, but since he was under contract to MGMat the time, he only got $4,000 a week from his home studio.

Finding a leading man was much harder. Laurence Olivier was the firstname on the list, but he wasn't interested. Richard Burton was next, buthe was already committed to make The Robe at 20th Century-Fox.Tyrone Power was too expensive. Stewart Granger read for the role, butafter two rehearsals decided that he didn't like Cukor's approach to film acting. Cukor suggested Humphrey Bogart, who was a huge fanof the first film, and Frank Sinatra, who desperately wanted the role.Studio head Jack Warner felt Bogart was too old and Sinatra, who had notyet made his own career comeback in From Here to Eternity (1953), was considered too difficult. Errol Flynn also campaigned for the role, but Warner blackballed him from negative past experiences.

One name on the list that interested everybody was Cary Grant. Thethought of Hollywood's most debonair actor sinking into alcoholic despairon screen was irresistible. Accounts differ as to why he turned down therole. Luft, who courted him avidly for the part, says that Warner refusedto give Grant a percentage of the gross. Cukor, however, suggests morepersonal reasons. Grant had misgivings from the start, but finally Cukorgot him to consent to a private reading, with the director reading all theother roles. Grant was brilliant, and Cukor enthused, "Can there be anydoubt? This is the part you were born to play!" "Of course," Grantreplied. "That is why I won't." Apparently, the role struck too close tohome and his refusal to do it triggered a rift between the longtime friends thatwould last for years.

When Grant turned down the role, Luft and Garland turned to the actorthey'd always considered their fallback, James Mason. The British star wasalready a respected actor with acclaimed performances in such films as Odd ManOut (1947). He'd also revealed a brooding romantic side in art-house hitslike The Wicked Lady (1945) and The Seventh Veil (1946). In addition, heand Garland had become friends when he'd first moved to Hollywood to starin Madame Bovary (1949), directed by her ex-husband Vincente Minnelli. He wasthrilled at the chance to work with her.

To complete the production team, Luft signed Moss Hart, an acclaimedplaywright and Oscar®-winning screenwriter, to adapt the script; HaroldArlen, who had written "Over the Rainbow," to write the music; and IraGershwin to do the lyrics.

In tailoring the screenplay for Garland's talents, Hart transformed Esther Blodgett from aNorth Dakota farm girl who becomes a star in costume dramas to a seasonedsinger who leaves her current job with a band to become a Hollywood musicalstar. They also combined aspects from two characters from the original - Esther's grandmother and an assistant director - to create the role of Danny, theband leader who stands by Esther after Norman's death.

The Production Code Administration, Hollywood's self-censorshiporganization, was concerned that the film not romanticize Norman's suicide.In particular, when Esther's friend, Danny, tries to talk her out of herdepression after Norman's death, they demanded that Hart cut the line "Ittook guts to do what he did when he found out he couldn't lick it. But hedid it." Instead, Danny says, "Maybe he was wrong to do what hedid."

Since this would be his first color film, Cukor enlisted noted fashionphotographer George Hoyningen-Huene as a special visual and colorconsultant. During production meetings, Cukor was impressed with one ofset designer Lemuel Ayres' staff, Gene Allen, and elevated him to aposition as production designer. He would continue to collaborate withHuene and Allen through the rest of his career.

by Frank Miller
back to top
---
A Star Is Born (1954)
Filming started on October 12, 1953, with the train station sequence,in which the newly signed Esther doubles for a star by waving ahandkerchief out a train window.

The first major delays were technical. Cukor had started making thefilm in WarnerScope, a wide-screen process Warner Bros. had designed tocompete with CinemaScope. But even studio management knew the processwasn't perfected. Albert Warner, who supervised the studio's technicalside, was negotiating for the use of CinemaScope as the film startedshooting. After two weeks of filming, he asked that they test the process,so "The Man That Got Away" number was shot in two versions, one inWarnerScope and one in CinemaScope. It was obvious the latter version wassuperior, so they had to start the film over, at a cost of $300,000. Theyalso had to redo the number to make better use of the new screen size. Asa result, the film fell behind schedule a total of 18 days.

At first the limitations of working in CinemaScope presented an obstacle to Cukor.There was a whole set of rules about what would and would not work in thenew system. The so-called experts advised against certain camera moves,certain colors, tight close-ups and too much quick cutting. Finally he andhis two consultants on the film, production designer Gene Allen and colorconsultant George Hoyningen-Huene, decided to ignore the rules and make upnew ones as they went along. As a result, A Star Is Born was one ofthe first films to make truly creative use of the CinemaScopeprocess.

Garland's musical mentor, Roger Edens, came over from MGM to supervisethe arrangements of her numbers.

Garland was on her best behavior during the early days of shooting, butshe slowly lost control. She first called in sick on November 9, whichkept her off the film for four days. She got sick again shooting outdoorlocations and missed three more days. She was sick again for two days inDecember. Then they had to postpone a scene because she didn't like hercostume. Other days, she had to leave early because she was too tired orsick to go on. By February, they were 41 days behind schedule. In lateMarch, she took two weeks off to get herself off all prescriptionmedications. Ultimately, the production would drag on for ninemonths.

Making matters worse was the fact that Garland wasn't always homeresting when she was sick. She'd take a day off, then Cukor would read inLouella Parsons' column that she had spent the night singing at anightclub. She'd leave early and go to the races. None of this wasreleased to the press. Instead, the Warners PR department attributed thedelays to Garland's relentless perfectionism.

Cukor was an expert on pushing actresses to an emotional brink and thencapturing it on film. For Garland's breakdown scene in Esther's dressingroom, he drove her so hard that she threw up before the first take. Thenhe made her do the scene over and over until he had it just right. But hewas also an expert in easing tension on the set through humor. After the final take,Garland was sobbing uncontrollably. He came up to her quietly, put hishand on her shoulder and said, "Judy, Marjorie Main couldn't have done thatany better!"

In March, studio executives viewed a rough-cut of everything that hadbeen completed up to that point. Cukor wasn't happy with the footage, buteveryone else was delighted.

One addition Luft and Warners felt necessary was a number todemonstrate Esther's triumph in her first big film. Rather than take achance on a new number that might not go over, Luft convinced Warner toauthorize a medley of standards. The sequence would become the "Born inthe Trunk" number, including performances of "I'll Get By," "You TookAdvantage of Me," "Black Bottom," "The Peanut Vendor Song," "MelancholyBaby" and "Swanee." The number would add 18 minutes to the already longfilm and cost an additional $250,000. Cukor, who objected to the sequence,had already planned his annual vacation to Europe, so Warners took him offsalary and the film's choreographer, Richard Barstow, directed it instead.Allen and Huene personally oversaw the shoot in order to protect Cukor's vision.

For the last two weeks of production, during which the "Born in aTrunk" number was completed, Jack Warner approved a night-time shootingschedule to better accommodate Garland's "body clock." This added stillmore to the budget, as the unions required extra payments for eveningwork.

Shooting finally ended on July 28, 1954, with retakes of the "PeanutVendor" song from the "Born in a Trunk" sequence. The first preview wasonly five days away. The film's final budget was $5,019,770, making itWarner Bros.' most expensive film and the second costliest in Hollywoodhistory, just behind David O. Selznick's Duel in the Sun (1946), whichhad cost just $205,000 more.

The film's completion was particularly joyous for Garland and Luft, whohad just learned that she was pregnant for the third time.


The first preview, on August 2, 1954, was a triumph for Garland. Asshe left, fans shouted at her "Don't cut a single minute of it." Thesecond preview, on August 3, was equally successful. At this point thefilm ran 196 minutes.

Shortly before the premiere, Cukor cut the film down to 181 minutes.Among the footage removed was a segment from the "Born in the Trunk" number (Garland's duet with her father to "When My Sugar Walks Down the Street" - a number she had performed at the start of her career with the Gumm Sisters); Norman's return to the Shrine Auditorium to try to learn Esther's name; Norman and Esther planning the beach house; and a montage of scenes fromNorman Maine's leading roles. The musical number is included in the mostrecent DVDs of the film but the other footage has never beenrecovered.

A Star Is Born premiered at the Pantages Theatre in Hollywood onSeptember 29. The New York premiere on October 11 was so big it had to beheld at two theatres, the Victoria and the Capitol.

In October 1954, after the film had opened and been reviewed, HarryWarner, head of the studio's business side in New York, decided that thepicture was too long. He ordered another half-hour of cuts so thatexhibitors could get in one more showing per day. By this time, Cukor wasin India filming Bhowani Junction, so he was unable to influence the re-editing of the film. The cuts included an entire sequence in whichNorman and Esther lose touch with each other while Norman is on location. Acomic scene of her getting sick on the way to her first preview was also deleted,along with two complete numbers, "Here's What I'm Here For," the songEsther is recording when Norman proposes to her, and "Lose That Long Face,"the number she does before and after she breaks down in her dressing room.The cuts represented most of the scenes that developed Norman and Esther'srelationship. To make matters worse, the studio melted the negative fromthe cut scenes to retrieve the film's silver content. Word of the cuts hitthe press and generated such a strong backlash against the film thatattendance dropped precipitously. As a result, despite the film'spromising opening, it ended up losing money.

With the film's box-office failure, Garland and Luft were broke. BothJack and Harry Warner had advanced Luft money against his share of theprofits. With they failed to see their money returned from ticket sales, they both ended up suingLuft to get their money back. And the Lufts' contract with Warners forfuture pictures was cancelled.

In 1974, film historian Ronald Haver was doing a Cukor retrospective atthe Los Angeles County Museum of Art. For the showing of A Star IsBorn, he put together a brochure featuring stills from the cut scenesand descriptions of what was missing. This triggered interest at WarnerBros., where an apprentice film editor discovered the complete three-hoursoundtrack in the sound department's storage vaults. Haver wanted tocreate a restored version using the soundtrack with stills filling in forthe missing scenes, but was unable to raise the budget through the LA CountyMuseum.

In 1981, Haver enlisted the help of writer Fay Kanin, president of theMotion Picture Academy® and a member of the National Committee for FilmPreservation. She pitched the restoration project to Warner Bros. chairmanRobert Daly, who gave Haver the go-ahead. Haver went through film storagevaults on both coasts and dug up leads about private, illegally obtainedfootage held by private collectors. He even had to call the police totrack down one collector who had a 35mm negative of "Lose That Long Face.Eventually he assembled about 20 minutes of the missing half-hour,including both cut musical numbers and the proposal scene. Along the way,he also found a negative and print of the 1932 version of The AnimalKingdom, a film long thought lost; a pristine 35mm print of the 1934Of Human Bondage and the original negatives for the 1937 A StarIs Born, along with costume and photographic tests for the 1954version. Other treats he found included newsreel footage and kinescopes ofthe film's premieres in Hollywood and New York and the first CinemaScopeversion of "The Man That Got Away."

Ultimately, Haver put together a 176 minute restored print, featuringthe newly discovered footage, restored footage from the shorter version andstills to fill in for the sequences nobody could find.

Haver showed the restored version to Daly on January 24, 1983. Dalywas so impressed that he authorized a theatrical reissue through WarnerClassics. Haver had invited Cukor to this screening, but the director diedthe day before.

The restored A Star Is Born received its world premiere at theRadio City Musical in New York on July 7, 1983. As soon as the lostmusical numbers appeared, the audience started applauding. At the end, theaudience gave the film a standing ovation. Both of Garland's daughters,Liza Minnelli and Lorna Luft, were in the audience. Afterwards, they hadto be taken to a dressing room, where it took them 20 minutes to stopcrying.

by Frank Miller back to top
---
A Star Is Born (1954)
Judy Garland made perhaps the most triumphant of all movie comebacks in Warner Bros.' A Star Is Born (1954), directed by George Cukor and released four years after Garland appeared in her final film at MGM, where she had been dismissed after more than a decade as that studio's reigning musical-comedy star. Sid Luft, then Garland's husband, oversaw her spectacular return to the screen by serving as producer of the film, which had a troubled production history in part because of Garland's illnesses and stormy temperament.

The story of a singer whose star rises at the same time her alcoholic husband (James Mason) sees his own movie career disintegrate, A Star Is Born gave Garland not only her most intense dramatic role but a brilliant Harold Arlen/Ira Gershwin score that provided her with a signature tune - "The Man That Got Away." Other songs include "Gotta Have Me Go with You," "It's a New World," "Somewhere There's a Someone" and "Born in a Trunk." The latter song was built into an elaborate production number for Garland that was filmed without Cukor's approval after he had finished his work on A Star Is Born.

Garland's performance was met with superb notices, including Time magazine's rave as "just about the greatest one-woman show in movie history." The movie won seven Academy Award nominations for Best Actress (Garland), Actor (Mason), Art Direction, Set Decoration, Costume Design, Musical Score and Song ("The Man That Got Away"). It was widely anticipated that Garland would win the award itself, and on the night of the ceremonies, television cameras were set up in her room at the hospital where she had given birth to a son, Joe Luft. In later years Garland loved telling a bitterly funny anecdote about how unceremoniously she was treated by the television crew when it was announced that the winner was instead Grace Kelly for The Country Girl (1954). At the time, Garland friend Groucho Marx decried her Oscar loss as "the biggest robbery since Brink's." A Star Is Born did not win in any category.

After the initial roadshow engagement, Warner Bros. cut some 45 minutes from the movie, much of which was replaced in a 1983 restoration by Ronald Haver. A Star Is Born was remade most recently in 1976 with Barbra Streisand and Kris Kristofferson. Predating the Garland version is a 1937 version starring Janet Gaynor and Fredric March. The inspiration for all versions is most likely a movie called What Price Hollywood? (1932), which was directed by Cukor and has a strikingly similar story line.

Producer: Sidney Luft, Vern Alves (associate)
Director: George Cukor
Screenplay: Moss Hart, from original screenplay by Dorothy Parker and Alan Campbell, story by Robert Carson and William A. Wellman
Production Design: Gene Allen
Cinematography: Sam Leavitt
Original Music: Harold Arlen, Ray Heindorf (uncredited)
Lyricist: Ira Gershwin
Musical Direction: Ray Heindorf
Editing: Folmar Blangsted, Craig Holt (restored version)
Costume Design: Jean Louis, Mary Ann Nyberg, Irene Sharaff
Principal Cast: Judy Garland (Esther Blodgett/Vicki Lester), James Mason (Norman Maine), Jack Carson (Matt Libby), Charles Bickford (Oliver Niles), Tommy Noonan (Danny McGuire), Lucy Marlow (Lola Lavery).
C-176m. Letterboxed

by Roger Fristoe
back to top
---
A Star Is Born (1954)
AWARDS & HONORS

Judy Garland received Best Actress awards from Look magazine,Film Daily and Box Office Publications. She and James Masonalso received the Golden Globes for Best Actor and Actress in aComedy/Musical.

A Star Is Born received six Oscar® nominations: Best Actress (Garland),Best Actor (Mason), Best Art Direction, Best Song ("The Man That GotAway"), Best Scoring of a Musical Picture and Best Costumes. It might havescored more had Warner Bros. not decided, based on its declining box officefigures, to not place any trade ads promoting the film.

By Oscar® night, Garland was eight months pregnant, which made herperformance of the number "The Man That Got Away" impossible, if not in poor taste.She had ordered a designer maternity gown, but went into labor early anddelivered her son, Joey, by caesarian section the day before the awards.To capture her anticipated victory in person, NBC had a special platformconstructed outside the window of her hospital room and sent a crew to waitfor the announcement of Best Actress.

When Grace Kelly was announced as the Oscar®-winner for TheCountry Girl the crew, which had been joking with Garland before theceremonies, silently packed up and went home.

A Star Is Born did not win a single Oscar®. James Mason lost the BestActor Academy Award to Marlon Brando for On the Waterfront, while the Best Songaward went to the title number from Three Coins in the Fountain.Industry insiders have suggested that the major problem was Warners'failure to get behind the film. By contrast, Kelly had both ParamountStudios, which had released The Country Girl, and her home studio,MGM, behind her in the race. Others have suggested that word of Garland's behaviorduring filming also helped cost her the award.

Garland put on a good front for the press, reminding them that she hadwon a special Oscar® for The Wizard of Oz (1939) years earlier and thather real award was her infant son, but she really was heartbroken andthought her Oscar® loss proved she was hated in Hollywood.After the awards, Groucho Marx sent her a telegram that captured thefeelings of many fans over the years: "Dear Judy, this is the biggestrobbery since Brink's."

A Star Is Born was voted a place on the National Film Registryin 2000.

by Frank Miller

The Critics' Corner on A STAR IS BORN

A Star Is Born had a promising theatrical opening, but attendance dropped seriously once the press reported that Harry Warner ordered 30 minutes cut from the film, damaging its structure. As a result, it lost money at the box office, taking in only $5.9 from U.S. and international markets during its initial release. It would take ancillary markets andthe re-issue of the 1983 restoration to push it into the profitcolumn.

"The year's most worrisome movie has turned out to be one of its best. Init, one time teenage star Judy Garland, now 32 and out of movies for fouryears, not only makes a film comeback almost without precedent, but putsherself right in line for an Oscar®....A brilliantly staged, scored andphotographed film...principal credit for the success of A Star IsBorn goes to [the] imaginative, tireless, talented Judy." - Lifemagazine.

"A remarkable range of entertainment is developed upon the screen. GeorgeCukor gets performances from Miss Garland and Mr. Mason that make the heartflutter and bleed....It is something to see, this A Star Is Born." -Bosley Crowther, The New York Times

"Judy Garland gives what is just about the greatest one-woman show inmodern movie history. She has never sung better. Her big, dark voicesobs, sighs, sulks, and socks them out like a cross between Tara's Harp andthe late Bessie Smith." - Time magazine.

"A star is shorn...every cut leaves a gaping hole. Not only the emotionalpattern but the very sense of the thing is lost." - Bosley Crowther,commenting on the film's re-editing in The New York Times


back to top
---