DVDs from TCM Shop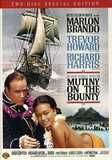 Mutiny on the Bounty Lavish remake of the classic... MORE&nbsp> $21.56 Regularly $26.98 Buy Now blu-ray
USER REVIEWS
See Detailed Ratings
Acting of Lead Performers

Acting of Supporting Cast

Director

Music Score

Title Sequence

Screenplay

Cinematography

Historical Importance

Would You Recommend?

0 Member Ratings
Rate the acting of the Lead Performers

Rate the acting of the Supporting Cast

Rate the Director

Rating of the Music Score

Rating of the Title Sequence

Screenplay

Creatively uses the camera to tell the story

Importance in Cinema history

Would you recommend for fans of this genre
Submit Ratings
Cancel
Write a Review
Read Reviews
NO REVIEWS AVAILABLE
The title has not been reviewed. Be the first to write a review by clicking here to start.
Brando almost sinks another movie

Much to commend in this movie. Trevor Howard, the girls, scenery and general presentation. Replacing Brando would have been a big improvement.

oh ..what relief it is.

just go to the bathroom ..make a dooty in the commode and flush it. when you watch it go..you will have watched something better than this movie.

Original Is Better (1935)

Oh my...save yourself the agony and watch the 1935 version or read about it in your European 18th century history book; as this remake in no way comes close to the delightfully wicked performance of Charles Laughton as Captain Bligh, or the spirited Clark Gable as Fletcher Christian in the 1935 Mutiny version. However, the one bright note is the performance of Trevor Howard as Captain Bligh.

Mutiny On The Bounty

A spectacular sea story that was remade from the 1935 Academy Award film with Clark Gable and in literature took in a 3 book saga of "Mutiny on the Bounty"- "Men against The Sea"- "Pitcairn Island"- the classic "Mutiny on the Bounty" was remade in 1962 with Marlon Brando as Fletcher Christian and Trevor Howard as Captain Bligh and lavishly put to the screen with colorful photography taking in the Tahiti scenery. The Bounty has to pick up breadfruit plants and take them to Jamaica. On the way to Jamaica Fletcher Christian takes over the ship due to Captain Bligh's inhumane tactics with the crew with brutal consequences and creates a mutiny though some seamen left with Bligh. They finish at Pitcairn Island where the men burn the ship and Christian dies. But this was an example of too big a budget and then the movie didn't recoup expenses. In 1984 Mel Gibson did his version of "The Bounty" but it didn't cost as much as this one.

bounty 62

This film can serve as a cautionary tale on the dangers of allowing one's "star" to have "creative control" of the production. The result, as could have been predicted, is a movie that is completely out of control and not particularly creative. Give it a C. P.S. Tarita is another in the long, grey line of untalented actresses with no last name.

I Agree With Alec Baldwin

I agree with Alec Baldwin on this one. It's a great film. However, the "essential" aspect is extremely subjective and compared to the widescreen epic masterpieces Ben-Hur and Lawrence of Arabia, it's an inferior picture. But it's not deserving of the harsh criticism it's received over the years. Shot in stunning Camera 65 the cinematography is superb. Even though composer Miklos Rozsa (Master of the Epic) turned down the job, Bronislau Kaper's score captures well the era and the ever-changing moods of the sea. The biggest area of contention about this movie is Brando's avant-garde treatment of the Fletcher Christian role which I particularly like. He's no Gable. But that's OK. His almost effeminate approach makes his Bohemian character even more annoying to Trevor Howard (Capt. Bligh) who's all navy. "I've been looking for an excuse to take the strut out of you, Mr. Christian!" And their frequent tit for tats are brilliant. And there are numerous memorable lines from these confrontational exchanges e.g. Christian: "Our little errand for groceries." Bligh: "Cruelty with purpose is not cruelty - it's efficiency." As an aside, I'm still trying to figure out why El Cid remains a programming enigma. It's only been shown on TV one time since it was released to television for a short run circa 1970. The only other time was an NBC special in 1994 (the remastered version). TCM needs to show El Cid!

C'om on Man!

The moviegoers in this country are predicable. They tend to be superficial in their response to a good movie with a bad ending. Those who saw the 1935 version of Mutiny loved it, and hated the 1962 version in which Fletcher Christian gets burned to death. They hated Marlon Brando's effeminate behavior and speech "impediment" not realizing that it was a difficult to accomplish and important aspect of the movie. They forget the effort that went into making this excellent movie and looked for a multi-million dollar version of the Clark Gable/Charles Laughton milk and honey version of the story. Someone needs to write a book on the critics/fans choices of American movies, using the two Mutiny movies as a prime example. I might just do that, although the last time I wrote a book on movie and television entertainment, it just didn't sell. Damn this country's movie and television viewers!

Mutiny

There is so much more to this film than Brando. I think some people get to hung up on him. Really, I think some of these reviews are too harsh. Brando's character was a fop and he played a fop and man with a gentler dispostion than Bligh. This was a huge production for any time period especially the 60's. Visually this is a dynamic acheivement and so few movies are made without a computer anymore. The supporting cast was great and it was especially good to see Richard Harris. I think some people do a disservice to Trevor Howard in being critical of his perfomance because of Brando. Trevor Howard was fine actor capable of holding his own in any film and tougher than to be disheartened by someone else's performance. Too much credit is given to Brando's affect on the other actors. Let's not project our own insecurities and biases onto Mr. Howard or anyone else. Brando was difficult, so what is new? We should not care about a budget from 1962 or if Brando's behavior does not fit our expectations. It is ridiculous. To blame Brando for this high budget of 22 mil is also very unfair. They wanted him and they knew what they were getting. Many period films do not do well at the box office, it doesn't mean they should not be made. I enjoyed this film.

Boring in the extreme!

From 1962, when Brando starred in this atrocity, and 1972, when he made "The Godfather," Brando didn't make one decent film! Brando mumbled his way through all ten years on film and this one is no exception. How anyone could even compare this film to the Gable/Laughton pairing is simply unfathomable. I gave this film one star and that one was only because of the lush cinematography.

Not Essential, Mostly Listless

The 1935 film is much better in almost every way, including and especially the performances. Trevor Howard is good but lacks movie star charisma. Brando is a captivating presence but so brooding and mysterious and strange that he seems to be acting in a separate meeting. His voice and accent are both hard to listen to. Overall an odd, slow, unpleasant movie with overblown music, pretty images and stultifying dialogue.

Mutiny on the Bounty

An overblown, epic remake of the 1935 Best Picture winner. Of all the things Brando could do, ace an English accent wasn't one of them, however his character's changes makes this film interesting. Magnificent cinematography is the visual highlight of the film, a film with story that has some present flaws. Entertaining at times, but slow for the most part. I give it a 3/5.

Mutiny on the Bounty

I have to agree with Robert Osborne on his assessment. This version of the story isn't an essential and is nowhere near as good as the Clark Gable-Charles Laughton version, which IS an essential. I agree that the cinematography is beautiful. I like Trevor Howard's understated performance as Capt. Bligh. I understand Alec Baldwin's appreciation of Brando as an actor, in other roles, especially in "Streetcar"--he would know more than I about the talent it took to turn out the fine performances in other films like "Streetcar" and "On the Waterfront", but Brando was foppish and uninspiring in this role. I also think it's nice that Alec was allowed to choose a film he liked as an essential even though Robert disagreed with his assessment.

Filme de alto nível

Eu gosto muito deste remake com o Marlon Marlon. Acho o filme uns dos melhores por causa das locaes e O FILME RECEBEU 7 indicaes ao Oscar provando que a qualidade dele excelente.

Brando Bummer

I watched "Mutiny On The Bounty" (the 1962 remake) on TCM Essentials 6/5/10 and I don't get why MGM felt they had to do a remake of their 1935 classic starring Clark Gable and Charles Laughton. It's definitely no improvement on the original, and I agree with Bob Osborne that it's not an essential film and surprised at Alec Baldwin thinking that it is. It's especially ironic because the far superior 1935 original version was aired on TCM Essentials in May of 2009. I am a huge Marlon Brando fan, and his performance as Fletcher Christian in my opinion rates as one of the worst of his career. Brando is so outrageously over-the-top that it seems he's trying to give the same method acting interpretation to the role of Christian that he did with the characters in his early films. It just doesn't work, and it can't begin to compare with Gable's fine performance in the original. Baldwin also commented that he thought "Mutiny On The Bounty" marked the beginning of the weakest part of Brando's career, and I have to agree with him there - the first few films Brando made, "A Streetcar Named Desire", "The Wild One" and "On The Waterfront" are considered among his best. In fact the 1950's is probably his best film period. Starting with the 1960's the quality of his films and performances declined somewhat. Also, the '62 remake of MOTB was a very troubled production, mainly because of Brando's tempermental attitude, and Lewis Milestone replaced Carol Reed as director. Maybe if a British actor was cast as Christian (Brando was the only American in the cast), the '62 version of MOTB could have been a pretty good film. Very mediocre - two stars.

Agree with Robert Osborne - NOT an essential

Alec Baldwin has let his Brando Worship influence his brain in calling this film an essential. Brando ruins an otherwise OK film. Trevor Howard's performance is understated but great. Brando is so weird that it's hard to watch this movie. Anyone else giving an OK portrayal as Fletcher would have resulted in a middle of the run film. But with Brando's performance it was hard to sit through the whole movie & I'm a TCM fanatic. Couldn't find anything else to watch so I stuck it out & watched the whole thing this time, I've had to switch the channel other times I've tried to watch it. Awful movie! I don't care about any controversy about the making of this movie. I'm judging the mediocre results.

Mutiny on the Bounty (1962)

I can understand why Alec Baldwin considers this film an "Essentials." I saw it at 8 years old in '62 and though I can see the missteps people note in it, there's a mesmerizing quality about it. It may be attributed to Surtees' cinematography of fine vistas in paradise, or Milestone's direction of Christian's foppishness to Bligh's insecurity of his class to perpetrate horrors upon the crew to make himself appear superior - morally and by education. It should be noted that certain crew members in this version have a different profile either enhanced or subdued.And, I have viewed both the Gable/Laughton version of '35 and Gibson/Hopkins version of '84...many times, and each of them has qualities that are not replicated by the others.Perhaps more time has to pass before people who have no knowledge of the back story of the '62 production will be able to look upon the film for its merits or deficiencies to determine if it does the book justice or works to its detriment.[Besides: Alec is seeing a little of his own acting prowess every time he looks at the body of work of his birthday buddy - Marlon Brando.]

Critical Mutiny Unjustified

I remember all the controversy during the filming of this movie; Brando was unprofessional; he was tempermental; ran the film overbudget, etc. Nevertheless, Brando is something to behold. His remarkable, (if bizarre) interpretation of Fletcher Christian is riveting. What is interesting is what it took to push Christian over the edge. Bligh's verbal abuse? Withholding food and drink from the crew? The lashings? The killings? No . . . Captain Bligh's kicking the water ladle out of Fletcher's hand that pushed him to mutiny. Was this Milestone's idea; or Brando's? Who cares. It worked. It was entirely within the character that Brando created from the outset. Whatever; this is a beatifully filmed movie and very entertaining.

Brando horrid

This movie is very hard to watch. Brando is horribly miscast, terrible, and just plain ridiculous. His acting stands out like a sore thumb against the other professionals in the cast, and there is no sense of chemistry with any of them. Even Trevor Howard, usually a fine actor, seems disheartened and gives a subpar performance. Brando seemed to either make or destroy movies.

Munity on the Bounty (1962)

A great version of a classic tale of adventure, desperation & love on te high seas. In this spin on the conflict between Fletcher Christian and Capt. Bligh, Marlon Brando delivers a great performance as the young aristocratic Fletcher, whose aloof nature & casual devotion to duty are put to the test as he falls in love with a young girl from Tahiti, all while enduring the insufferable tyranny of his Captain. I find this version to be the best of the three films made to date about this mutiny. Perhaps it's the cinematography or the performances, but it stands out as an all time classic.
*We protect your personal infortmation and will not provide it to anyone without your consent. For a complete explanation, please refer to TCM's Privacy Policy. By submitting your contribution, you agree to TCM's Terms of Use.