DVDs from TCM Shop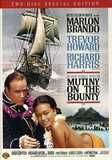 Mutiny on the Bounty Lavish remake of the classic... MORE&nbsp> $21.56 Regularly $26.98 Buy Now blu-ray
Quotes
Captain Bligh


Now don't mistake me. I'm not advising cruelty or brutality with no purpose. My point is that cruelty with purpose is not cruelty - it's efficiency. Then a man will never disobey once he's watched his mate's backbone laid bare. He'll see the flesh jump, hear the whistle of the whip for the rest of his life.

Fletcher Christian


I was just thinking, sir, that our little errand for groceries might wind up in a page of naval history if we succeed in negotiating The Horn in the dead of winter.

Captain Bligh


Why shouldn't we succeed? Admiral Anderson did.

Fletcher Christian


Yes, but of course he didn't choose to attempt it in a ninety-one-foot chamber pot. In any event, his was the only ship to do it and I believe he lost fifty percent of his crew.

Captain Bligh


It is a matter of supernatural indifference to me whether you contaminate the natives or the natives contaminate you. I have but one concern - our mission. Let one of you provoke an incident which endangers it and I shall cause that man to curse his mother for giving him birth.

Captain Bligh


While our mission remains unfulfilled I'm not in any port, Mr Fryer, I'm command where you may find one day it's always lonely. You see, command allows no intimacies. You can hardly expect unquestioning obedience from last night's partner in a debauch.

Captain Bligh


I wonder why an alleged gentleman should give his first loyalty to ordinary seamen.

Fletcher Christian


Instead of to other alleged gentlemen?

Captain Bligh


Impertinence noted.It shall be logged. Do you care to enlarge the entry?

Fletcher Christian


Yes, only with this observation, which I will report to the Admiralty in any case: in my years of service I have never met an officer who inflicted punishment upon men with such incredible relish. Sickening.

Captain Bligh


Then go and be sick in your cabin, Mr Christian. I have never met a naval officer who was so proud of a weak stomach.