DVDs from TCM Shop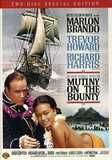 Mutiny on the Bounty Lavish remake of the classic... MORE&nbsp> $21.56 Regularly $26.98 Buy Now blu-ray
Articles
SEE ALL ARTICLES
Mutiny on the Bounty (1962)
SYNOPSIS

In December of 1787, H. M. S. Bounty sets sail from Portsmouth, England. The destination is Tahiti, and the crew's mission is to transplant thousands of breadfruit plants from that island to Jamaica in the hope that the plants will become a food staple for plantation slaves. The vessel is commanded by William Bligh, an experienced but tyrannical captain who quickly arouses the ire of the crew. His first officer is Fletcher Christian who tries to intercede on his behalf but soon turns against him over his cruel treatment of the men and eventually leads a mutiny against him. After setting Bligh and his supporters adrift in the sea, Christian and his crew seek refuge on an uncharted Pacific island, knowing that the British navy will try to hunt them down and prosecute them.

Director: Lewis Milestone
Producer: Aaron Rosenberg
Screenplay: Charles Lederer
Based on the novel by Charles Nordhoff and James Norman HallCinematography: Robert L. Surtees
Editing: John McSweeney, Jr.
Art Direction: George W. Davis, J. McMillan Johnson
Music: Bronislau Kaper
Cast: Marlon Brando (Fletcher Christian), Trevor Howard (Capt. William Bligh), Richard Harris (John Mills), Hugh Griffith (Alexander Smith), Richard Haydn (William Brown), Tarita (Maimiti), Gordon Jackson (Edward Birkett), Chips Rafferty (Michael Byrne), Eddie Byrne (John Fryer), Frank Silvera (Minarii), Henry Daniell (Court Martial Judge), Torin Thatcher (Staines).
C-179 m.

Why MUTINY ON THE BOUNTY Is EssentialFollowed by 20th Century-Fox's Cleopatra (1963), another epic production that lost money on its initial release, Mutiny on the Bounty marked the end of Hollywood's golden age. Its box office failure signaled that the days in which individual studio productions would rule at the box office were long past.

For all of its flaws and the bad press it received, the film's epic scale and drama is truly powerful, representing the height of studio filmmaking in terms of design and technical effects.

Mutiny on the Bounty was one of the films -- some would say the key film -- that destroyed Marlon Brando's position as one of the world's greatest actors in the '60s. His reviews were devastating, and accounts of his behavior on set did a great deal to damage his popularity and bankability.

For Brando's supporters, his attempts to create a character from a consistent viewpoint about class and environment, despite the fact that he was never given a complete script, is a testament to his inventiveness as an actor that more than balances stories of his on-set behavior. Overriding two experienced directors while making the film, he became the film's true auteur with a performance that dominates the picture and shapes its meaning on the most basic levels. His character's transition from bored dilettante to man of honor gives the film a humanistic message that was very important to an actor who would eventually devote much of his life to the fight for civil and human rights for minorities.

Mutiny on the Bounty was the last Ultra Panavision film shown in the 2.76:1 aspect ratio. Later movies using the process were shown in narrower formats.

by Frank Miller
back to top
---
Mutiny on the Bounty (1962)
After his experience working with Marlon Brando on Mutiny on the Bounty, Trevor Howard didn't think twice about turning down the next big-star epic offered him, Cleopatra (1963). When Peter Finch had to withdraw from that film because of delays caused by Elizabeth Taylor's illness, the role of Julius Caesar was offered to Howard before going to Rex Harrison.

Eventually, Marlon Brando wrote a long letter apologizing to Howard for his behavior during filming. The two worked together again on the spy thriller Morituri (1965), and Howard testified on Brando's behalf when he won a lawsuit against a British tabloid that had reported his obnoxious behavior on Mutiny on the Bounty.

It took ten years for Brando to recover his position as a major box-office star. The film that finally put him back on top was The Godfather (1972), and executives were so reluctant to trust him with the role of Don Vito Corleone, he had to screen-test for it.

In the '70s, director David Lean and writer Robert Bolt devoted several years to working on a version of the story that never made it to the screen. Conceived on an epic scale, the story was to have been told in two parts, released in successive years. The projected expense was so high Warner Bros. withdrew from the project.

In 1984, Orion released the Dino De Laurentiis production The Bounty, starring Mel Gibson as Christian and Anthony Hopkins (who had been considered for Lean's version) as Bligh. The film was not technically a remake, as it was based on Richard Hough's book Captain Bligh and Mr. Christian. Bolt wrote the screenplay. Although hailed as the most historically accurate depiction of the mutiny, the film did not perform well at the U.S. box office.

MGM (and later the Turner Entertainment Company after it purchased the MGM library) continued to use the Bounty for publicity purposes, first at the 1964 New York World's Fair and for decades after that as a floating museum in St. Petersburg, FL. In 1990, it appeared in the TNT telemovie adaptation of Treasure Island, starring Charlton Heston as Long John Silver. In 2007, it re-created the original ship's voyage to Tahiti.

by Frank Miller
back to top
---
Mutiny on the Bounty (1962)
Mutiny on the Bounty only made $9.8 million on its initial release, hardly enough to earn back its estimated $19 million budget, plus the costs of prints and marketing.

Anthropologist Bengt Danielsson, an expert on Tahitian society, was hired as a consultant on Mutiny on the Bounty during location shooting. When he advised MGM executives that venereal disease was almost at an epidemic level on the islands, the studio sent an assistant to supervise Marlon Brando's liaisons with the locals.

When a call went out for 5,000 Tahitian extras to film the Bounty's arrival there, more than 6,000 showed up. When nobody would leave, MGM had to pay all of them.

Among the many problems caused by Brando during shooting was his ballooning weight. He ate so uncontrollably during filming that he rose from 170 to 210 pounds, requiring rushed alterations to his costumes. According to legend, he ripped through 52 pairs of pants. Eventually, the costumer had to make his pants out of stretch fabrics.

The only footage shot by Sir Carol Reed that remains in the film is the stone-fishing scene and a few shots of Captain Bligh attempting to dance with the natives.

At one point after Lewis Milestone took over as director, a crew member had to announce over the loudspeaker, "Will somebody please wake up the director? His feet are in the shot."

Hugh Griffith was notorious for committing practical jokes while drunk. On the flight to Tahiti he locked himself in the airplane's lavatory and defaced the walls and mirrors with obscenities. MGM had to pay $1,200 to clean it up.

Eventually, Griffith's drunken behavior was so outrageous the French police force had him shipped out of Tahiti, even though he still had scenes to shoot. The production company dealt with his absence by killing off his character and filming his burial at sea, even though there were no scenes suggesting he had fallen ill.

Brando partied so hard on Sundays, the company's day off, that he earned the nickname of "Never-on-Monday" Brando - because the following day he was always later than usual and rarely knew his lines. They often had to be written on random pieces of paper placed out of camera range around the set and on the other actors' costumes.

Trevor Howard was famous for never badmouthing a fellow actor, but after almost a year of putting up with Brando, he broke his silence. Even then, he was decidedly terse in his assessment: "The man is unprofessional and absolutely ridiculous." (Trevor Howard, quoted in Vivienne Knight, Trevor Howard: A Gentleman and a Player)

by Frank Miller

Famous Quotes from MUTINY ON THE BOUNTY

"Now don't mistake me. I'm not advising cruelty or brutality with no purpose. My point is that cruelty with purpose is not cruelty -- it's efficiency. Then a man will never disobey once he's watched his mate's backbone laid bare. He'll see the flesh jump, hear the whistle of the whip for the rest of his life." -- Trevor Howard, as Captain Bligh

"It is a matter of supernatural indifference to me whether you contaminate the natives or the natives contaminate you. I have but one concern - our mission. Let one of you provoke an incident which endangers it and I shall cause that man to curse his mother for giving him birth." -- Howard, as Captain Bligh

"Command allows no intimacies. You can hardly expect unquestioning obedience from last night's partner in a debauch." -- Howard, as Bligh

"I was just thinking, sir, that our little errand for groceries might wind up in a page of naval history if we succeed in negotiating The Horn in the dead of winter."
"Why shouldn't we succeed? Admiral Anderson did."
"Yes, but of course he didn't choose to attempt it in a ninety-one-foot chamber pot. In any event, his was the only ship to do it and I believe he lost fifty percent of his crew." -- Marlon Brando, as Fletcher Christian, questioning Howard's plans to sail around Cape Horn

"I wonder why an alleged gentleman should give his first loyalty to ordinary seamen."
"Instead of to other alleged gentlemen?"
"Impertinence noted. It shall be logged. Do you care to enlarge the entry?"
"Yes, only with this observation, which I will report to the Admiralty in any case: in my years of service I have never met an officer who inflicted punishment upon men with such incredible relish. Sickening."
"Then go and be sick in your cabin, Mr. Christian. I have never met a naval officer who was so proud of a weak stomach." -- Howard and Brando, as Fletcher Christian debating Howard's treatment of the crew

"There'll be no more killing aboard this ship, not even Captain Bligh."
"If that's an attempt to earn clemency, I spit on it." -- Brando, as Christian, granting Howard mercy after the mutiny

"Well you've done rather well, Ned. Promoted to the rank of criminal. Not even 20 and a death sentence on your head." -- Brando, to Tim Seely as Ned Young

"I put it to you, we shall never find contentment on this island." -- Brando, succumbing to the guilt that will lead to his death

"There's no chance for people like us to go back to England, give Bligh a bad name and walk free men ourselves. And anyone who thinks otherwise hasn't got the sense that God gave geese." -- Richard Harris, as John Mills

SOURCES:
Marlon: Portrait of the Rebel as an Artist by Bob Thomas
Trevor Howard: The Man and His Films by Michael Munn
back to top
---
Mutiny on the Bounty (1962)
In 1787, the HMS Bounty left England for Tahiti on a mission to pick up breadfruit trees and take them to the West Indies, where the government hoped they would provide a source of cheap food for slaves. The ship's humane, accomplished captain, William Bligh, promoted his young friend Fletcher Christian to second-in-command during the voyage. When discipline slipped during the crew's stay in Tahiti, Bligh tried to reassert his authority back at sea, only to have Christian - who had left behind a pregnant Tahitian wife - join the ship's malcontents in a mutiny. Christian turned the captain and his supporters loose on a longboat and sailed the Bounty back to Tahiti. Miraculously, Bligh piloted the boat 3,618 miles to the nearest settlement. On his return to England, another ship, the Pandora, was sent to apprehend the mutineers. By that time, Christian and most of his supporters had fled to Pitcairn Island, where Tahitian tribesmen eventually murdered Christian. The men who remained in Tahiti were eventually arrested and taken back to England for trial. Four were acquitted, two convicted but pardoned, and three executed. Although, in accordance with Navy policy at the time, Bligh was court-martialed for losing his ship, he was pardoned and eventually rose to the rank of Vice Admiral.

The story of Captain Bligh and Fletcher Christian first reached the screen in Australia as the silent film The Mutiny of the Bounty in 1916.

Charles Nordhoff and James Norman Hall wrote three books about the historical event, Mutiny on the Bounty (1932), Men Against the Sea (1934) and Pitcairn's Island (also 1934). Although later research would contradict their rendition of the characters, they drew on legend to depict Captain Bligh as a sadistic tyrant and Fletcher Christian as his noble opponent. For the first book they invented the character of Robert Byam to serve as narrator. Byam was loosely based on Captain Peter Heywood, who was court-martialed for mutiny but pardoned.

In 1933, Errol Flynn made his film debut as Fletcher Christian in an Australian adaptation of the novel called In the Wake of the Bounty. When Flynn became a star, Warner Bros.' publicity department claimed he was a descendant of Christian. Actually, he was descended from Midshipman Young, who does not appear in MGM's 1935 version but is played by Tim Seely in the 1962 re-make.

MGM's 1935 version of the story, directed by Frank Lloyd, was one of the most successful films in the studio's history. With Clark Gable as Fletcher Christian and Charles Laughton as Captain Bligh, it was a box-office winner, taking in $4.5 million on a $2 million budget. It also captured the Oscar® for Best Picture and brought Laughton the first New York Film Critics Award for Best Actor.

With the success of their remake of Ben-Hur in 1959, which had wiped out the studio's deficit and saved MGM from bankruptcy, studio executives naturally wanted to find another past hit to remake that would lure people away from their television sets and into theatres. Director John Sturges suggested a wide-screen, Technicolor version of Mutiny on the Bounty. The studio announced it along with plans to re-make the silent World War I film The Four Horsemen of the Apocalypse (1921).

After a series of well-received films produced at Universal - including Winchester '73 (1950) and To Hell and Back (1955) - Aaron Rosenberg moved to MGM, where he had been promised the chance to produce the epic Western How the West Was Won (1962). When executives handed that project to Bernard Smith instead, they offered Rosenberg the chance to produce a remake of Mutiny on the Bounty as a consolation prize. The film was originally budgeted at $8.5 million.

Sturges also suggested that Marlon Brando would be perfect for either leading role, Mr. Christian or Captain Bligh. At first the actor wasn't interested. But after doing some research he agreed to play Christian on condition that the film be more than just a remake. He wanted it to carry the story further and deal with what happened to the mutineers after they settled on Pitcairn Island, where many of them would kill each other within two years. "What is there in human nature that makes men violent even in an island paradise?" he wondered. "That's what would interest me." At the time, Brando had been offered the lead in Lawrence of Arabia (1962), but finally decided he preferred working at sea to spending two years in the desert. MGM gave him script approval, $500,000, ten percent of the gross and $5,000 for each day the film went over schedule.

The first writer assigned to the script was Eric Ambler, best known for such suspense novels as Journey Into Fear and A Coffin for Dimitrios. He had been originally approached about writing The 4 Horsemen of the Apocalypse (1962). Brando rejected two drafts by him, at which point William Driscoll and Borden Chase joined the project.

With no authentic 18th century ships available for filming, Rosenberg commissioned a Nova Scotia shipyard to build the Bounty for a little more than $500,000. When an early winter made it impossible to transport lumber by land, they had to ship it from New Jersey, running the cost up to $750,000. The ship arrived at the Tahitian locations two months late, after two fires at sea and numerous cases of crew members suffering from seasickness.

MGM engaged Sir Carol Reed, the director of such suspense classics as Odd Man Out (1947) and The Third Man (1949), to direct the film. Reed's reputation as an actor's director made him acceptable to Brando, and his success working with the temperamental Burt Lancaster on Trapeze (1956) had convinced the studio he could work with the star. Reed insisted that most of the cast come from England, including his friend and frequent leading man Trevor Howard as Captain Bligh, Richard Harris as Seaman John Mills, Hugh Griffith as Alexander Smith and Gordon Jackson as Seaman Edward Birkett.

During pre-production, Brando married Movita, the Latina actress who had played Clark Gable's Tahitian bride in MGM's first version of Mutiny on the Bounty. They had been dating on and off since she had played a small role in Viva Zapata! (1952) and married when she became pregnant.

by Frank Miller

SOURCES:
Marlon: Portrait of the Rebel as an Artist by Bob Thomas
back to top
---
Mutiny on the Bounty (1962)
Producer Aaron Rosenberg had originally planned to shoot in sequence on Mutiny on the Bounty, starting with shipboard scenes under the gray skies of October, then bursting into color with scenes shot in Tahiti. With the reconstructed Bounty arriving late to the location, director Carol Reed had to start shooting the island sequences first, or any footage that did not require the ship in the background. Even then, Reed ran out of completed script pages before the Bounty arrived.

The Bounty created more problems when it arrived. Even though it was larger than the original ship, the vessel was so small crew members were hard pressed to find places to hide so they would be out of camera range. And the ship reacted so violently to each ocean wave that there was an epidemic of seasickness.

With Marlon Brando still unhappy with the screenplay, Eric Ambler returned to Hollywood. His first replacement was Howard Clewes. When that didn't work out, Charles Lederer arrived to take over the writing chores.

Brando fell in love with the Tahitian location. In particular, he valued not being recognized everywhere he went and enjoyed the attentions of several of the Tahitian women. When MGM hired Tarita, a dishwasher from a local restaurant, to play Christian's wife, he not only coached her personally on her dialogue but began a relationship with her. They would marry in August 1962 after Brando ended his marriage to Movita, who had appeared in the 1935 Mutiny on the Bounty.

As shooting dragged on, the rainy season hit, further disrupting production. Days were lost as torrents of rain -- at times as much as 17 inches in one day -- fell on the sets. After 17 days of being unable to film due to weather, the company returned to the MGM lot in Culver City to shoot interiors.

Carol Reed began to clash with Brando and MGM studio management early in the production. He and Brando disagreed about the interpretation of Captain Bligh, whom Brando wanted presented as an unambiguous and obvious villain, and Christian, whom Brando wanted to play as a fop. Reed also had problems with the screenplay, but when he tried to omit certain scenes from the shooting schedule, executives ordered him to shoot directly from the script. He tried to convince production head Sol Siegel to fire Brando on the grounds that he was holding up production. When that didn't work, he asked to be relieved, but production head Sol Siegel refused to allow it. Then Siegel decided to fire him. Had Reed been allowed to quit, he would have been paid nothing for his time, but since MGM fired him, he pocketed $200,000 for his time on the film.

Lederer suggested they hire Lewis Milestone, whose masterpiece All Quiet on the Western Front (1930) had been a pioneer in the creative use of sound on film. Milestone only agreed to do the film after speaking with Reed, who assured him he had wanted to leave. Things went well for two weeks. Then Milestone noticed Brando talking to the cameraman before shooting a scene. When Milestone called "Roll 'em," nothing happened until Brando gave the nod. When the scene ended, Milestone decided to see what would happen if he didn't call "Cut." The cameras stopped as soon as the last line had been delivered, and nobody asked him if they should print the take. During the filming of the next scene that day, Milestone didn't attempt to give any direction and read the Hollywood Reporter instead. This behavior brought Rosenberg to the set to ask if Milestone was quitting. Milestone assured him that it wasn't worth risking a lawsuit to quit the film. As shooting dragged on, however, he did try to quit, only to let Siegel talk him into staying in order to avoid any further negative pre-release press stories about the film. Nonetheless, he warned Siegel, "This guy Brando is going to ruin you." Then he sighed and said, "Oh well, it's MGM's money. I'll stay."

As filming continued, Brando slowed down production, questioning each line in the script and each of Milestone's suggestions. He also demanded repeated re-writes to meet his ever-changing vision of the film. Most days started with Brando and Lederer going over the day's scenes in private until well past noon, when the actor would finally emerge ready to shoot. Although Brando often derided the director as mechanical and unfeeling and even suggested he was going senile, whenever Milestone threatened to quit, it was Brando who begged him to return.

The production returned to Tahiti in July, but relations between Brando and Milestone were still tense, and the script was still being re-written daily. The rest of the cast dealt with the tense film set by drinking heavily as soon as shooting had finished for the day. One morning, Trevor Howard was nowhere to be found until the local police drove him to the dock two hours after his call; He had been up drinking and carousing all night, but still performed his scene flawlessly.

Brando remained standoffish with the British cast. Moreover, he alienated several of them with his chronic lateness on the set and his habit of changing his interpretation of scenes after rehearsing them. On the day they shot the scene where the natives welcome the Bounty to their island, he repeatedly ignored calls to the set while he was talking to some local women. When he finally showed up, Howard, who had been sweltering in the hot sun waiting, lost his temper and walked off the set, making Brando wait for him.

Not only did Brando improvise his lines in scenes with Howard, making it impossible for his co-star to pick up his cues, but he even started putting cotton in his ears so he couldn't hear Howard's lines.

During the final weeks of location filming on Mutiny on the Bounty, Brando decided to move into an abandoned villa 30 miles further from the shoot than his previous home. MGM spent several thousand dollars remodeling the place so he could live in it for two weeks.

After the Tahitian shoot, the company returned to Culver City in search of a decent script for the Pitcairn Island scenes. Eventually, Lederer brought in his friend Ben Hecht to help with the final scenes. When they finally produced something that met Brando's approval, he agreed to film it without any more overtime. He could afford to be generous. By that time, his overtime payments had amounted to $750,000. He also directed the final scenes. Milestone showed up each day, but nobody bothered to call him to the set.

Milestone never directed another film (though he did direct two TV series episodes before his death in 1980). His final take for the film was $250,000. In later interviews he would estimate that Brando's behavior had cost the production $6 million.

Production on Mutiny on the Bounty finally ground to a halt in October 1961, more than a year after filming had started. But they still didn't have an ending, mainly because nobody could figure out why Christian's crewmates would kill him. Finally, director Billy Wilder suggested that if Christian decided to sail back to England to be tried in court that would provide a motivation for the ship's burning with Christian on board. Brando then submitted a list of three directors he would work with on the final scenes. Milestone was not included. George Seaton , who had never worked with the actor, agreed on condition that there be no publicity. He also refused to accept payment. Brando was the soul of professionalism during that final week of shooting. When it came time for his death scene, Seaton informed him that dying from severe burns was similar to freezing to death. As a result, Brando shot his death scene in a bed filled with ice. They could only do three takes at a time, as he was so cold his skin turned blue. The scenes were shot in August 1962, almost a year after the end of principal photography.

Before Mutiny on the Bounty was released, the Saturday Evening Post published a scathing article about the production titled "The Mutiny of Marlon Brando." Drawing largely on an interview with Milestone, they recounted everything Brando had done to delay the production, with little mention of problems with the Bounty set or the weather on location. Brando got the new head of MGM, Joseph R. Vogel, to issue a statement exonerating him from any role in the film's escalating budget or production delays (that statement would later be used against Vogel when he was fired) and sued the magazine for $5 million. He would drop the case before it came to trial.

Brando would contend that the real problem with the film was MGM's failure to deliver a complete script in the year and a half he worked on the film, despite numerous promises to do so, even when he threatened to stop reporting to work. He also claimed the studio inflated the film's budget, adding $6 million in overhead charges, including the cost for rights to the original novels.

To promote the film, MGM sent the Bounty on a round-the-world cruise to visit the various cities where the film was to open. When it reached London, Howard joined a crowd of admiring on-lookers to watch it sail up the Thames, where the Tower Bridge was raised to let it pass. When a publicity man asked Howard, "She is beautiful, isn't she?" He replied, "Of course. She's mine."

by Frank Miller

SOURCES:
Marlon: Portrait of the Rebel as an Artist by Bob Thomas
Trevor Howard: The Man and His Films by Michael Munn
back to top
---
Mutiny on the Bounty (1962)
When MGM decided to green light this lavish re-make of the 1935 Mutiny on the Bounty starring Clark Gable and Charles Laughton, they were just coming off the huge success of another re-make, Ben-Hur (1959) and expected a similar financial and critical hit. The fact-based story from the Nordhoff/Hall trilogy of historical novels recounts the engrossing tale of the 1789 mutiny aboard the H.M.S. Bounty en route from England to the South Seas while under the command of the tyrannical Captain William Bligh. This version stars Trevor Howard as Bligh, Marlon Brando as First Mate Fletcher Christian and Richard Harris as crewmember John Mills. Filmed on location in beautiful Tahiti, Mutiny on the Bounty (1962) was shot in glorious color and Ultra Panavision 70, boasted exciting special effects by A. Arnold Gillespie and his team, a top-notch cast and a rousing musical score by Bronislau Kaper. It was also touted as a 'spectacle' which was one incentive to lure audiences away from their television sets in 1962.

From the beginning, however, problems plagued the production. Both the screenplay and the full-scale Bounty replica arrived late and harsh weather conditions delayed filming. Several writers came and went, and original director Sir Carol Reed was replaced with Lewis Milestone (All Quiet on the Western Front, 1930) when MGM feared he was taking too long. Rumors of turmoil on the set mounted as the film spiraled out of control and went significantly over budget. Many associated with the production blamed the eccentric star, Marlon Brando, as the root of many of the problems. Already sporting a reputation as being difficult, he reportedly was at odds with his replacement director Milestone and fought for his own creative interpretation of the role and the story. Some accounts have Brando, who was being paid 1.25 million dollars for his participation, alienating the other actors by taking wild liberties with his dialogue and holding up production to accommodate his "method" acting style. Director Milestone even accused the actor of wearing earplugs to avoid having to listen to him or his cast mates. "Whenever I tried to direct him in a scene," Milestone later reflected, "he'd say, 'Are you telling me or are you asking my advice?'" Brando claimed that he was only trying to make the character of Fletcher Christian multi-dimensional and more psychologically complex. While MGM executives were tearing their hair out over the film's inflating costs, word spread in Hollywood that Mutiny was shipwrecked before it ever left port.

The onslaught of bad press did nothing to help the success of Mutiny once it finally opened in the fall of 1962 to mostly negative reviews. Marlon Brando's career took a blow as his reputation as a troublemaker was sealed, even if many still considered him the world's greatest living actor. Brando's personal life also changed because of Mutiny on the Bounty. He fell in love with the beauty of Tahiti and subsequently purchased a series of islands where he made his home for many years. He also fell in love with his stunning co-star Tarita who plays his island girlfriend Maimiti. The two embarked on a long-term relationship that produced two children, son Tehotu and daughter Cheyenne. Despite the bad press, the film garnered seven Academy Award nominations that year including Best Picture, Best Cinematography, and Best Special Effects, but was overshadowed by David Lean's epic Lawrence of Arabia.

Interestingly, the Bounty ship replica used in the film was purchased in 1986 by Ted Turner when he acquired the MGM film library. He later donated it to the Fall River Chamber Foundation, which established the Tall Ship Bounty Foundation. In February of 2001 it was acquired by the Tall Ship Bounty Organization LLC in New England, which continues to use the Bounty to teach and preserve the maritime skills once used on the great ships of its day.


Producer: Aaron Rosenberg
Director: Lewis Milestone, Carol Reed (uncredited) (some scenes)
Screenplay: Charles Nordhoff (novel), James Norman Hall (novel), Charles Lederer, Eric Ambler (uncredited), William L. Driscoll (uncredited), Borden Chase (uncredited), John Gay (uncredited), Ben Hecht (uncredited)
Art Direction: George W. Davis, J. McMillan Johnson
Cinematography: Robert L. Surtees
Costume Design: Moss Mabry
Film Editing: John McSweeney, Jr.
Original Music: Bronislau Kaper
Cast: Marlon Brando (Fletcher Christian), Trevor Howard (Capt. William Bligh), Richard Harris (John Mills), Hugh Griffith (Alexander Smith), Richard Haydn (William Brown), Tarita (Maimiti), Gordon Jackson (Edward Birkett), Percy Herbert (Matthew Quintal), Chips Rafferty (Michael Byrne), Henry Daniell (Court Martial Judge).
C-186m. Letterboxed. Closed captioning.

by Andrea Foshee
back to top
---
Mutiny on the Bounty (1962)
Awards & Honors

Mutiny on the Bounty was nominated for seven Oscars®, including Best Picture, Best Cinematography, Best Special Effects, Best Film Editing, Best Music Score, and Best Art Director-Set Decoration, Color. It lost in all categories, with five of the awards going to Lawrence of Arabia (1962). Ironically, Brando had turned down the lead in that film in order to make Mutiny on the Bounty.

Other honors include:
American Cinema Editors nomination for Best Edited Feature (John McSweeney, Jr.)
Directors Guild of America nomination for Lewis Milestone
Golden Globe nominations for Best Motion Picture, Best Score and Best Supporting Actress (Tarita)
Laurel Awards nominations for Top Song and Top Drama
Motion Picture Sound Editors award for Best Sound Editing

THE CRITICS CORNER - MUTINY ON THE BOUNTY

"Superlative entertainment!...It may be somewhat short of dramatic greatness, but it is often overwhelmingly spectacular...Brando in many ways is giving the finest performance of his career. It is a many faceted character development, full of arresting subtleties in facial expression, voice inflection and gestures. The struggle within Christian is brilliantly suggested as well as projected by Brando. He has, too, given the screen its most realistic moment of death...."
- Pry, Variety

"For a robust and rousing enactment of a mutiny in a square-rigged sailing ship, you will have to wait a long time to beat what you will see in Mutiny on the Bounty. The sheer magnitude of this enactment of one of the most famous mutinies in history, and the energy that passionate performances impart to it on the color-filled wide screen render this aspect of the picture a highmark of filmed adventure on the sea....There is so much in this picture that is stirring and beautiful that it is painful to note and call attention to the fact that it also has faults. But it has, and the most obvious of them is the way Marlon Brando makes Fletcher Christian an eccentric....Mr. Brando puts tinsel and cold-cream into Mr. Christian's oddly foppish frame...."
- Bosley Crowther, The New York Times

"Flaccid epic...Unsurprisingly, the film lacks consistent texture. The departure from Portsmouth, the storm scenes, have excitement, but our first view of the natives is abrupt and ineffective and there is no shot at all of the crew's first sight of the natives."
- Stanley Kauffman, The New Republic

"Brando's performance is a curious one. His first entrance, with an affected English drawl, is momentarily amusing; then one realizes that an affected young Englishman might well have affected this drawl. The same holds true for later exuberances of speech and dress. But in his romantic scenes, he is pleasingly simple and direct; and in the awkwardly written finale he achieves a dignity that transcends his lines. The character of Christian has not been consistently drawn, but Brando keeps trying to force the ends together."
- Arthur Knight, Saturday Review

"Nevertheless, on a not-too-demanding level the film is good enough -- the first hour supremely so. The strange thing is that [Trevor] Howard [as Captain Bligh] and Brando never face each other as well-matched opponents, and what should have been a battle of the giants peters out into nothing very much."
- Richard Whitehall, Films and Filming

"Milestone's overlong and frequently leaden version of the classic tale of sadism and revolt, set in the high-adventure world of an 18th century ship sailing to the South Pacific, is not a patch upon the 1935 Laughton and Gable version. Brando makes a total mess of his English accent, the romantic interlude in Tahiti goes on endlessly, and the visuals (perhaps the main point of interest in the movie) too often resort to travelogue vistas and picture postcard lighting."
- The TimeOut Film Guide

"Lavish remake of 1935 classic can't come near it, although visually beautiful; Howard good as Captain Bligh, but Brando is all wrong as Fletcher Christian. Best thing about this version is spectacular score by Bronislau Kaper."
- Leonard Maltin's Classic Movie Guide

by Frank Miller
back to top
---