DVDs from TCM Shop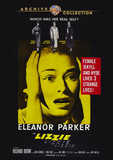 Lizzie A mousy woman discovers she... MORE&nbsp> $14.95 Regularly $21.99 Buy Now
NOTES
DVDs from TCM Shop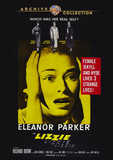 Lizzie A mousy woman discovers she... MORE&nbsp> $14.95
Regularly $21.99 buy now
The working titles for this film were Hidden Faces and Woman in Hell. During the opening credits for the film, hands blot ink on paper and produce a series of Rorschach prints behind the titles. The film's screenplay was based on an unpublished play also by screenwriter Mel Dinelli. Director Hugo Haas cast himself in the role of advice-giving neighbor "Walter Brenner." "It's Not for Me to Say," which was sung by Johnny Mathis in the film, became one of the popular singer's biggest hits. Lizzie marked Mathis' film debut.
Another film produced in 1957 also dealt with the issue of multiple personality. That film, a Twentieth Century-Fox release entitled The Three Faces of Eve, was directed by Nunnally Johnson and starred Joanne Woodward (see below). According to a September 1956 HR news item, Lizzie's producers sued Fox to postpone The Three Faces of Eve because of the similarity of their plots. Fox then decided to delay the production of their film until early in 1957, after the publication of the biography on which The Three Faces of Eve was based.
Joanne Woodward received an Academy Award for her portrayal of Eve in The Three Faces of Eve. According to modern sources, M-G-M expected that Eleanor Parker would receive a nomination for her role in Lizzie; however, when she was not nominated, they then blamed Haas for directing Parker to overact the vamp personality.