DVDs from TCM Shop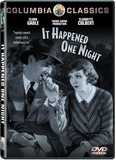 It Happened One Night A newspaperman tracks a... MORE&nbsp> $14.65 Regularly $19.99 Buy Now blu-ray
Trivia
Myrna Loy turned down the role of Ellie Andrews because a recent film set on a bus had failed, and she didn't think that this one would succeed.
'Clark Gable' , who was on contract with MGM, was on loan to Columbia (a less prestigious studio at the time) as a punishment for his raucous off-camera behavior.
At the Miami bus station, friends of Peter Warne (Clark Gable) refer to him as "the King" - Gable's nickname in real life.
The scene in which Clark Gable removes his shirt is credited as the number one cause for not only the decrease in undershirt sales for the following two years, but the implementation of product placements in movies to come.
Friz Freleng's unpublished memoirs mention that It Happened One Night was one of his favorite films, and that it contains at least three things upon which the character "Bugs Bunny" was based:- The character Oscar Shapely's (Roscoe Karns) personality- The manner in which Peter Warren (Clark Gable) was eating carrots and talking quickly at the same time- An imaginary character mentioned once to frighten Oscar Shapely named "Bugs Dooley."
Contributions
Holz (2008-02-20)

Source: not available

Robert Montgomery refused the role because he didn't want to work at Columbia. Clark Gable was forced to do so. Claudette Colbert accepted the role so she could work with Gable, and production was to take only two weeks. This film earned Gable and Colbert their only Academy Awards.