DVDs from TCM Shop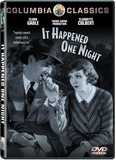 It Happened One Night A newspaperman tracks a... MORE&nbsp> $14.65 Regularly $19.99 Buy Now blu-ray
NOTES
The working title for this film was Night Bus, and it was to have starred Robert Montgomery, who was Frank Capra's original choice for the part of Peter Warne. Montgomery was replaced by Clark Gable, who was borrowed from M-G-M, while Claudette Colbert was borrowed from Paramount. In Capra's autobiography, he states that he variously sought Myrna Loy, Margaret Sullavan, Miriam Hopkins and Constance Bennett for the role of Ellie Andrews before selecting Colbert. A Daily Variety news item noted that part of the film was shot on location at Busch Gardens in Pasadena, CA. According to a Hollywood Reporter news item, Columbia produced a special trailer to publicize the film. The trailer had "a special cast of players," "a unique script of fourteen scenes" and was distributed by National Screen; however, no other specific information about the trailer has been found.
It Happened One Night was the first film to win Oscars in the five major categories, Best Picture, Best Direction, Best Screenplay, Best Actor and Best Actress (Colbert was the first French-born actress to receive the honor). It was voted one of the ten best pictures of 1934 by the Film Daily Poll of Critics and the National Board of Review, and on March 20, 1939, Gable and Colbert performed a radio version of it for the Lux Radio Theater.
Although he is uncredited on the film, Capra is given credit in many modern sources for co-authoring the scenario. In his autobiography, Capra credits his friend Myles Connolly with suggesting that he rewrite the script to make the characters more sympathetic. A modern source states that one of the auto lodges featured in the film is located at the Redwood Lodge (now the Conejo Lodge) in Thousand Oaks, CA. In his autobiography, photographer Joseph Walker describes locations at the RKO ranch in Encino and in Sunland, both of which are in the San Fernando Valley. Modern sources list two additional cast members, Hal Price and Charles Hall, both of whom played reporters, and Mary Wiggins, who was Colbert's stunt double for the dive off of Andrews' yacht. In an interview filmed for the 1975 feature Bugs Bunny Superstar, with Warner Bros. animation director Bob Clampett, he states that he based Bugs Bunny's characteristic carrot-munching technique on the scene in It Happened One Night in which Gable chomps on a carrot. According to a New York Times article on how films can effect business, the scene in which Gable undresses and reveals that he is not wearing an undershirt adversely effected the sales of undershirts throughout the nation, but no other information has been located to confirm this. Although many films are called "remakes" of It Happened One Night in modern sources, only the 1956 musical You Can't Run Away from It, produced at Columbia, directed by Dick Powell and starring Jack Lemmon and June Allyson, was based on the same short story and used the same screenplay (with adaptations) as the Capra film.