DVDs from TCM Shop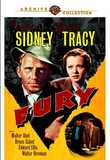 Fury An innocent man escapes a... MORE&nbsp> $14.36 Regularly $17.99 Buy Now
NOTES
Working titles of the film included Mob Rule and The Mob. A Motion Picture Herald news item on July 16, 1932 noted that M-G-M had recently purchased an original short story from Edmund Goulding entitled "Fury," however, that story is unrelated to this film. According to a news item in Hollywood Reporter on March 19, 1936, George Walcott replaced Eric Linden in the role of "Tom Wilson" when Linden became ill. According to information contained in the Fritz Lang collection at the AFI Library, a letter of congratulations was sent to Lang by NAACP secretary Walter White after he viewed the film. The letter stated, in part, "More than I have ever seen it before has the medium of the motion picture been used to bring home to America what mob violence means." This was Joseph L. Mankiewicz' first film for M-G-M as a producer, and was also German-born director Fritz Lang's first American film. According to additional information in the Lang papers, he had signed with M-G-M in the autumn of 1934. A press release for Fury issued by Howard Strickling, director of publicity for M-G-M, noted that during the year before Lang started working on Fury, he had been in the United States "studying the minute details that comprise the lives of Average Americans."
This was actress Sylvia Sidney's only film for M-G-M, and according to the Lang papers, the director stipulated that she be cast in the part before he signed his contract with the studio. Additional information in the Lang papers indicate that Walter Brennan, who portrayed "Bugs" Meyers in the film, had an extended illness that necessitated a transference of some of his "courtroom business" to George Chandler, who portrayed Milton Johnson. According to modern sources, Lang was the first filmmaker to use newsreel footage as a courtroom device in a motion picture, and May have done so before it was used in an actual court case. Norman Krasna's original story was nominated for the Academy Award, but lost to Pierre Collings and Sheridan Gibney for Warner Bros.'s The Story of Louis Pasteur. Although Spencer Tracy had made a number of films at M-G-M and elsewhere since his motion picture debut in 1930, Fury, along with two films released later in 1936, Libeled Lady and San Francisco (for which he was nominated for an Academy Award as Best Actor) marked a turning point in his career.
According to information in the Lang papers and an interview with Lang reprinted in a modern source, Lang did not like the ending of the film. At the end of the picture, after the character "Joe Wilson" eloquently tells the judge that his views on his country and the goodness of man have been shattered, he embraces, then kisses "Katherine." Lang said in the modern interview that M-G-M studio executives requested that the kiss be added to the film after the scene had been shot with Lang's preferred ending, following the the speech. A review of Lang's next film, You Only Live Once (see below), that appeared in the New York Daily Mirror and was reprinted in part in Hollywood Reporter, notes that that film was made "without the compromise which mitigated the punch in Fury." The review was apparently referring to the "tacked on" kiss that implies a "happy" ending for characters "Joe" and "Katherine."