DVDs from TCM Shop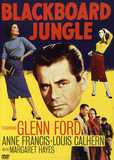 Blackboard Jungle An idealistic teacher... MORE&nbsp> $14.95 Regularly $19.98 Buy Now
NOTES
Before the opening credits are given, a rolling written introduction to the film states: "We, in the United States, are fortunate to have a school system that is a tribute to our communities and to our faith in American youth. Today we are concerned with juvenile delinquency-its causes-and its effects. We are especially concerned when this delinquency boils over into our schools. The scenes and incidents depicted here are fictional. However, we believe that public awareness is a first step toward a remedy for any problem. It is in this spirit and with this faith that Blackboard Jungle was produced."
Evan Hunter's novel was serialized beginning with the October 1954 issue of Ladies Home Journal. According to an April 1954 New York Times news item, M-G-M paid Hunter $95,000 for the rights to his novel. In May 1962, a Hollywood Reporter news item reported that writers Murray Burnett and Frederick Stephani accused Hunter of plagiarizing their work, but their suit was dismissed. According to a modern source, director Richard Brooks was originally hired to direct M-G-M's Ben Hur and William Wyler to direct Blackboard Jungle, but Brooks convinced Wyler to switch assignments with him. In his autobiography, Dore Schary, M-G-M's head of production, recalled that he was urged not to make the film by both Paramount executive Y. Frank Freeman and MPPA head Eric Johnston. Schary dismissed their concerns, but soon was asked by Loew's president Nicholas M. Schenk to reconsider. "I had only one argument for Schenk," Schary wrote. "'Nick, you're suggesting I give up on a film that might earn us nine or ten million dollars.' Nick asked me how much it would cost. I had a rough estimate of $1,200,000. He said go ahead." Schary added that the final cost of the film was $1,160,000.
In a 1983 New York Times interview, Brooks recalled that M-G-M wanted one of their contract players, either Mickey Rooney or Robert Taylor, to play schoolteacher "Mr. Dadier." Brooks insisted upon casting new, unknown faces, and as a result, hired unpolished actors with little camera experience for many of the roles, thus infusing a raw realism into their performances. Among the actors making their screen debut in this picture were Vic Morrow, Rafael Campos, Dan Terrnaova, Danny Dennis and Jameel Farah (who later changed his name to Jamie Farr.) Although the studio wanted the film shot in color, Brooks insisted upon black and white because he feared that "color would beautify everything," according to the interview. A December 6, 1954 Hollywood Reporter news item adds Victor Paul, Loren James, Bill Chaney, Lennie Smith and Mickey Martin to the cast, but their appearance in the final film has not been confirmed.
Upon its release, the film was greeted by controversy. According to an April 1955 Daily Variety news item, the school authorities of New Brunswick, NJ, objected to the depiction of school conditions in the film. As a result, the theater circuit was forced to add a disclaimer stating: "To our patrons, the school and situations you have just seen are NOT to be found in this area. We should all be proud of the facilities provided OUR youth by the Public School of New Brunswick..." According to a March 1955 Hollywood Reporter news item, the film was banned in Memphis, and a June 1955 news item in Variety reported that the film was banned in Atlanta because it was deemed "immoral, obscene, licentious and will adversely affect the peace, health, morals and good order of the city."
According to a March 21, 1955 Hollywood Reporter news item, the Institute for Public Opinion sent postcards to film critics claiming that the film was "anti-public schools" and denying that the conditions depicted onscreen really existed. M-G-M's Schary responded by citing research and news accounts that supported the film's depiction of certain inner-city schools. Claire Boothe Luce, at the time the U.S. Ambassador to Italy, prevented the film's screening at the Venice Film Festival by threatening to walk out if it was shown. Luce claimed that if she attended a performance of the film, she would be "giving ammunition to Italian Communist and anti-U.S. propaganda." Finally, Schary wrote in his autobiography, "Senator Estes Kefauver came to Hollywood to investigate movies-he meant one movie, Blackboard Jungle....He called me as his first witness. He explained that he was in Hollywood to learn whether we acted responsibly when making [this] film." Schary related that after providing Kefauver with volumes of data on juvenile delinquency, he asked the senator what he found objectionable about the film. "He admitted he had not yet seen it," Schary wrote. "I suggested that there seemed to be a lack of responsibility in his investigation."
The picture's soundtrack also created a stir. According to Brooks's New York Times interview, a Boston theater ran the first reel in silence for fear that the rock and roll music on the soundtrack would over-stimulate the audience. "Rock Around the Clock," the song played beneath the film's credits, was one of the top ten songs of the year and played an important part in expanding the rock and roll market. In a modern source, Peter Ford, the son of the film's star, Glenn Ford, noted that Brooks borrowed the record from Peter's collection. The article goes on to say that M-G-M purchased limited rights to the song from Decca Records for $5,000. Under that agreement, the studio was granted the right to use the song only three times in the film. The film was nominated for the following Academy Awards: Best Original Screenplay, Best Film Editing, Best Cinematography (black and white) and Best Art Direction/Set Decoration (black and white). According top a December 14, 1954 Hollywood Reporter news item, the Producers Theatre was to present a Broadway production based on the Hunter novel, but that production apparently never opened.