DVDs from TCM Shop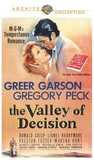 The Valley of Decision An Irish housemaid''... MORE&nbsp> $15.96 Regularly $19.99 Buy Now
USER REVIEWS
See Detailed Ratings
Acting of Lead Performers

Acting of Supporting Cast

Director

Music Score

Title Sequence

Screenplay

Cinematography

Historical Importance

Would You Recommend?

0 Member Ratings
Rate the acting of the Lead Performers

Rate the acting of the Supporting Cast

Rate the Director

Rating of the Music Score

Rating of the Title Sequence

Screenplay

Creatively uses the camera to tell the story

Importance in Cinema history

Would you recommend for fans of this genre
Submit Ratings
Cancel
Write a Review
Read Reviews
NO REVIEWS AVAILABLE
The title has not been reviewed. Be the first to write a review by clicking here to start.
Valley of Decisions

I loved this movie. Would love to purchase the DVD. However, TMC SHOWED it in closed captions. which was great for the deaf and hard of hearing. Would be gracious enough to inform me the next time TCM will show the movie in CC. THREW MY email. Also is there any print of the movie DVD in Closed Captions. Hard of Hearing.

valley of decision

I realize, following the scores of glowing reviews on this site, that I will come off as a Sanders supporter at a Trump rally, but this movie bored the bejesus out of me. It's a creaky melodrama with dull writing, cheesy outdoor sets (I actually spotted a palm tree in the first shot, which was supposed to establish that we are in Pittsburgh!) and an absurd star turn by Greer Garson, who is forty five (and looks it) but trying to be twenty four. With a crappy Irish brogue, to boot. Gregory Peck is your standard, handsome leading man, and Lionel Barrymore phones in yet another curmudgeon role. So, let's give it a C for solid work from Finlay Curie, Dan Duryea, and Jessica Tandy.

Best Ever

My favorite movie of all time!!!!

The valley of decision

This is the best movie ever made Although I have seen it many times I can never tire of it.

The valley of decision

One of the best movies ever made i

Valley of Decision

I've seen VALLEY OF DECISION before, but never tire of it. I do hope that TCM will show it again and again. I purposely cleared my schedule so I could see the movie. VALLEY OF DECISION has a great cast and is a wonderful heartwarming story.

Captured my heart!!

This film, my first of Greer Garson's movies, totally captivated me and I fell in love with her career. What a terrific face and amazing voice. Her body of work in such a short period of time proves her talent and I am grateful that Mr. Mayer had the foresight to sign Ms. Garson to a contract.

I loved this movie

I loved what I saw of the movie....But had a business call before 8:30...and another at 9:30;Would you please show it again soon....Thank You!

Wonderfull Movie!

I watched this movie this morning and I really liked it. It was such a good movie that I didnt get up until it was over because I didnt want to miss anything.

Wonderful!

I watched this movie this morning and it was really good! I would watch it again.

The Valley of Decision

I love Greer Garson's movies so recorded this movie and i loved it, the only probem was that the recording ended right before the ending of the movie. i would love to see it again. Happily, i just found the title which i had forgotten. I hope TCM will be showing this movie again.

Amazing

Romantically amazing. That is all that need be said.

One of My All Time Favorites!

Courtney Pedersen

5/21/11

I ABSOLUTELY LOVE THIS MOVIE! I fell in love with this movie the first time I saw it on TCM. It is such a captivating love story! This is another movie I just happened to stumble across. I was sort of a fan of Gregory Peck's but after I saw this movie, I was hooked. It has a Romeo

The Valley of Decision

This is now my new favorite TCM movie! I watched it for the first time the other day and I haven't been able to get it out of my mind. The screenplay is fantastic and the lead and minor actors did a wonderful job at bringing this movie to life. I couldn't look away. I found myself praying for Marie and Paul, loathing Pat Rafferty, feeling pity for Louise. It's a must see for anyone who loves classic films!

Great movie

i thought this movie was great! Saw it for the first time the other day and have never heard of it before. Loved the lead and the supporting cast. I felt more passion from the way they looked at and kissed each other than a thousand sex scenes! Very well done and overlooked. Like some one said in another review, this made me have a crush on the young Peck. Wish he was looking at me like that!

Wonderful film

My wife and I were enthralled at this wonderful movie.We also wondered how come we never heard of it before? The acting was excellent.Again we loved it,They don't make these anymore.

Great Movie

I agree with Autumn! I would have loved to have seen that he and her would have a child of their own, that special bond. He had a son by his mean wife, and now that he's going back to "Greer", I would have loved for them to have a child together in the movie.

Great Movie

I loved this movie! It was such a great love story and great acting. As a writer myself, I have to say though that I would have loved seeing something to indicate that they would marry and have kids of their own. He has a son by his mean wife, and I would have liked to have seen that special bond of a child together happen betweeen them as well. If only they would have stayed together in the first place, haha! Overall, this movie is worth owning!

The Valley of Decision

Albert Christensen

3/23/10

I undersand that Warner Archive has relesed The Valley of Decision on DVD. However it is not listed for sale here on TCM with all the other WB Archive films. How can I purchase a copy?

Now on DVD via Warner Archive

In response to Gordon Brown's comments (02/10/2010), this film is now available on DVD-R (manufactured on-demand) via the Warner Archive.Not sure why you say TCM has let you down. They don't have anything to do with a DVD release. TCM previously has shown this film regularly, but I've noticed it hasn't aired for many months now.

The Valley of Decision

I find it hard to believe that this classic movie is not available on DVD. Outstanding performances by Gregory Peck, Greer Garson, Donald Crisp, Lionel Barrymore, Jessica Tandy, Preston Foster, Marsha Hunt, and many other supporting actors, resulted in an academy award-class movie. I have long been trying to find this on DVD and feel that TCM has let me down.

A Little Known Classic

It's hard to imagine this movie being overlooked like it is. A fabulous cast... Gregory Peck is excellent, but if you are a Greer Garson fan like I am, you must see this movie. She is at her best and shows Hollywood once again what sheer class looks like in person. What a beautiful actress and a lovely person she was. This was Hollywood at its best. The only thing that was a little confusing for me was the title of the movie.

A Must See for All Gregory Peck Fans!

I can't believe with all the classic movies now on dvd, that Valley of Decision is still unavailable. It is a wonderful romance and a great story. What a winner it is with Lionel Barrymore, Greer Garson and Gregory Peck! I sort of fell in love with Gregory Peck after watching it the first time. Who wouldn't? I have seen it in a colorized version and have been searching for it for my home library. The black & white version shown on TCM is quite faded, but could be beautifully restored on dvd.

The Valley of Decision

The Valley of Decision is a forgotten classic. When asked what my favorite movie is, it is seldom that someone replies with anything other than "huh." This movie was lost in the whirlwind of 1945, and I believe that we should breathe life back into this beautiful story.

How long must we wait!

Please don't make us wait another year for this movie to be released! You simple do not schedule it enough for us to watch! It ranks high up on our list of memorable films. Please Mr. Turner release it now!

What a great movie and what a great cast!

I caught this movie the other night and stayed up very late to see it to the finish! It was well worth it! Gregory Peck's performance was fantastic and he was surrounded by so many great cast members; a young Greer Garson and a very young Jessica Tandy! The plot gave an interesting portrayal of what life could have really been like during the inception of the unions. I've been looking for more Gregory Peck movies as I had only seen him on Moby Dick and didn't realize he was such a talented actor. Great movie!

a true period classic

this movie held my interest from beginning to end thanks to a great script and a very effective casting director. all the actors were valiant.sure it's a movie to make you feel good. what's wrong with that? very entertaining. a true alltime sleeper.

Great Movie!!

This is my mom's favorite movie of all time, now it is one of mine. She told me about it for years, and I finally got the chance to see it on TCM. Usually it comes on during odd hours, or when we are busy. I've only seen it once. It would be great to have it on DVD, to enjoy anytime. Greer Garson was a great actress, and I see why she is my mom's favorite actress. I enjoy watching the classics on TCM. My mom and I often watch together, and I am 33yrs old, so you're just not appealling to the older crowd.

Valley of Decision

This movie is one of my all time favorites. I am trying to find it in a DVD. I must have this movie! Gregory Peck and Greer Garson are at their all time best. Great love story in a difficult time period. From devistation to good times.

Super!

A wonderful film. Greer was excellent and Gregory was not far behind. Once again I find myself wishing that they still made films like this.

THE VALLEY OF DECISION

Hope this will be released on DVD soon to the public to enjoy.

I Love This Film

Great Film all around.

Wonderful Garson and Peck

This was one of my favorite films. I adored Garson and Peck on the screen. The entire cast was superb. They made the movie a dream come true.

A truly lovely film

This was the first Gregory Peck film I saw and I loved it. It's such a sweet (though melodramatic) film and Gregory Peck and Greer Garson make such a beautiful couple. It's so sad, but beautiful. It's something that every Mary Pickford, Greer Garson, or Gregory Peck fan should see.

Such a Lovely Memory

I first saw this movie as a young girl and always hoped that someone would look at me the way Gregory Peck looked at Greer Garson when he rushed up the stairs to see her... I don't know whether audiences today can appreciate how much true feeling can be found in a look or an inflection of one's voice in the romance of a story when there is so little subtlety today. I would definitely purchase this movie in DVD for myself and as gifts.

A beautiful Story

I am a lover of old movies and The Valley of Decision tells a beautiful story. It has easily become one of my very favorite movies of all time. Greer Garson and Gregory Peck have such amazing chemistry together that they actually made me believe in love at first sight. I would love to see this film on DVD just so I can purchase it and watch it whenever I want!.

In a Pink Haze

This movie is obviously a huge credit to the cast and crew that created it. I've seen this movie about four or five times on TCM and each time I watch it I'm left on my couch or bed in a pink haze. I'm a HUGE fan a Greer and I love how she eludes her Irish roots on screen to give the audience a taste of what an Irish immigrant went through in America at that time period. Plus, I have to give credit to the writer of this storyline. There's nothing like a truly fascinating and some what warped Cinderella story.

The Valley of Decision - A great historical record

As a native of Pittsburgh with my family having worked in steel mills and involved with the Steel Workers Union since the beginning of the 20th century, watching Valley of Decision is always like reliving the stories that were told around the table. Although this film featured the mill owner it also highlighted the workers and their fight for the union. Greer Garson & Gregory Peck are, of course, wonderful as always in their rolls but what about the great Jessica Tandy as the nasty wife - how evil can one person be!

The Valley of Decision - Great Film

I was hooked as soon as I saw a few minutes of this film today. It was so fun to watch and the ending was particularly heart-warming. I agree with others that it should be released on DVD.

The Valley of Decision

This movie rates up at the top with, "To Kill a Mockingbird." It is a GREAT movie. I so want it to come out on DVD. It just leaves you with a feeling you can not describe. It would make wonderful Christmas presents. Please play it often, I need to record it several times. Why don't they put some of these really great old movies on DVD's?

I've been looking for this title for 10 years!

I got up very early one morning and started watching this film. My grandfather heard me get up & came in to check on me. We watched almost all of the movie but couldn't finish it. I had no idea what the name of the movie was but I was so captivated by it that all these years later I started searching for it again. I want to see what happens!!! It's a shame that such a wonderful movie with 2 of my favorite stars is not available!! Please release it on DVD!!!

Gregory Peck!!

I am not a big fan of Greer Garson, but Gregory Peck makes it all worth it!! It is a powerful movie with drama and romance. This is the second time I've seen this movie, and it gives me goosebumps just like when I saw it the first time.

Wistful sighs

I had high hopes for this movie because I like Gregory Peck and Greer Garson so much, and my hopes were definitely met. Peck and Garson were magnificent. I found myself so engrossed that I didn't realize I kept sighing. It's a wonderful movie; one that I'll record the next time it's on and add to my library.

THE GREATEST MOVIE EVER

This may well be the greatest love story ever. However, it is not just a chick flick. Gregory Peck turns this movie in to much more than just a love story, with his super acting.You really need to watch this. I wish it would come out on DVD.
*We protect your personal infortmation and will not provide it to anyone without your consent. For a complete explanation, please refer to TCM's Privacy Policy. By submitting your contribution, you agree to TCM's Terms of Use.