DVDs from TCM Shop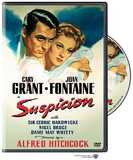 Suspicion A wealthy wallflower suspects... MORE&nbsp> $14.95 Regularly $19.98 Buy Now
USER REVIEWS
See Detailed Ratings
Acting of Lead Performers

Acting of Supporting Cast

Director

Music Score

Title Sequence

Screenplay

Cinematography

Historical Importance

Would You Recommend?

0 Member Ratings
Rate the acting of the Lead Performers

Rate the acting of the Supporting Cast

Rate the Director

Rating of the Music Score

Rating of the Title Sequence

Screenplay

Creatively uses the camera to tell the story

Importance in Cinema history

Would you recommend for fans of this genre
Submit Ratings
Cancel
Write a Review
Read Reviews
NO REVIEWS AVAILABLE
The title has not been reviewed. Be the first to write a review by clicking here to start.
Big disappointment

started watching for second time. Could not do it. Why did they pair Joan Fontaine with Cary. The naivete of her character loses me from the start. It is particularly ugly for Cary. I love him forever but just could not get into this movie, so unlike him. I spend a lot of time searching old Cary movies/bios, but once was enough for me on this movie. It followed Charles Boyer and Ingrid Bergman which I saw for the second time and once too much. I think Turner has lost me today.

the wrong way feldon of movies.

the way people talk about him.. most would think nigel bruce got lost on a studio tour one day and wound up having a career in movies by mistake.

The Screenwriters Should Be Slapped

I agree with the negative reviews and it is more than just the film's clumsy ending. For me what sinks this movie is its weak script. Cary Grant's Johnny is shown to be a jerk from the beginning while Joan Fontaine's Lina is so meek she grasps at any opportunity that Johnny doesn't seem as bad as she fears and looks the other way when he insults her. I just wish Lina had slapped Johnny when he started calling her "monkey face." Fontaine and Hitchcock really try to make this a suspenseful picture, but there isn't any character development and what happened with Nigel Bruce's character is not explained. At least, Grant and Hitchcock made three more films together which are better than this one.

Too Bad

What could have been a nifty little thriller is completely ruined by the ridiculous ending. BTW, the whole "monkey face" thing irritates me too.

Worst ever adaptation from a book!

Hitch blew it on this one! If the ending had closely adhered to the book, we would have all finally understood the absurd relationship between Grant and Fontaine. Fontaine was a woman-child who never changes and is so in love with this man that she will not believe or even waver in the belief that he could be pure evil. In the book, she even arranged ahead of time to cover up her own murder and have it look like suicide just to protect him. She KNEW he was going to kill her and still protected him! Fontaine's performance is completely lackluster here and she acts the same part as she did in "Rebecca." Grant's performance lacked the pure evil his character truly was. I simply cannot believe Hitchcock, of all directors, was happy with how this film turned out.

not suspicious of suspicion

Grant never more happy go lucky, Fontaine never more gorgeous, especially in the sexual awakening scene when Grant takes off her glasses and she unties her hair. Nigel Bruce is amazingly lovable, and Heather Angel, who plays the maid, is absolutely fabulous. I have always loved this film, without provisos. That's All, Folks.

I don't recommend it

I wouldn't recommend this film just because of the infamous ending. If it had ended the way it should have, it would have been great. Cary Grant was far too good at playing a creep in this- I was rooting for him to be undone, and then he wasn't! I'm also annoyed that my Nigel Bruce's murder went unsolved. And they didn't go to great lengths to have the changed ending make sense. The ending scene is just so obviously tacked on. Joan deserved her Oscar just for getting through that. How was that anyone's idea of a happy ending? If the husband *isn't* a murderer, then Joan is a crazy lady in need of serious psychiatric treatment!

A Hitch Miss

I love most of Hitch's movies, but Suspicion misses on so many levels. Cary Grant seems woefully miscast. He plays his usual light comedy role that he does so well, except this is the wrong venue. It's hard to take him seriously even when he blurts out his lines in the ridiculous and unbelievable ending. Joan Fontaine is anything but a "Monkeyface." She's quite lovely, but this seems a retread of her role in Rebecca. Still worth watching, though.

SUSPICION

REPLY TO DELIA. BRAVO. If there is One Word that could Kill this whole film, its Cary Grants term of endearment? Calling Joan Fontaine monkey face. No self respect British lady, in fact no women, period, should allow her self to be insulted its degrading. Didn't anyone involved with this production look at the rushes and think how bad this line was?

Not So Hot

Yeah, you should never marry a man who doesn't like to work. Not well thought out -- by Hitch or "Lina". "Johnny" should have been given some redeemable asset to pull us in, but from the get-go he's a loser. Sorry Cary, usually I'm your biggest fan but this is all wrong.

full of holes and lovely to look at

I have never understood what anyone sees/saw in Joan Fontaine. Her specialty seemed to be a vacant stare and occasional nasal whining, all meant to convey yearning I suppose. All she manages to do in this film is make me utterly unconvinced that Cary Grant could possibly have been motivated by love. This is the absolute bottom of the Hitchcock oeuvre, a great waste of Grant and fabulous art direction. The plot also is a rickety glued together mess, worst of all, not engaging. The only real mystery is how on Fontaine took home a best actress oscar over Barbara Stanwyck in Ball of Fire or Bette Davis in The Little Foxes as well as Olivia de Havilland and Greer Garson in two lesser films.

A feast for the eyes

The person who should have won an Academy Award is the Art Director. I've never seen a film as luminous as this. Looking at it is like being in a gallery of sterling silver against satin. I watch it as often as I can, just to be immersed in that glow. That said, I give it highest marks for it's visual appeal. Unfortunately, the high marks end there. The acting is disappointing, especially Fontaine, who gives a listless performance, verging on a Rebecca redux. Grant was OK, but if they'd let him play a progressively desperate man, as was written, he would have been far more compelling.Bruce played BruceThe" is he? or isn't he? "plolt was so metered, it actually had a rhythm.It's clear, Fontaine won the award for Rebecca, one year later, which Hollywood was wont to do, so I have no qualms with that, but the art direction and cinematography are the real winners for this one.Bye the bye, the costume designer for Fontaine should have double checked her dimensions before giving her the dark crepe dress she wore when the police come to interview her. it's easily a size too small.

It's All in the Nickname

Never trust a man who calls you Monkey-Face as a term of endearment. What could possibly be enduring about having a face like a monkey? Go figure.

How did it end after all?

We have no independent confirmation for anything Johnnie says at the end. Lina didn't drink the milk, so we don't know whether it was poisoned or not. He claims to have been in Liverpool when Beaky died, but he lied to the police and said he was at his club in London. He supposedly saved Beaky from going over the cliff, but we didn't see it happen. Beaky might have been misinterpreting a murder attempt. In the final scene, Johnnie is driving far too fast for the winding mountain road, and the way the scene is shot when the door flies open, it's ambiguous whether he's trying to pull Lina in or push her out. All we have as evidence for the "happy" ending is Johnnie's own words, which have repeatedly turned out to be lies throughout the film. After their conversation, we see their car from above, and it looks as if it's about to go over the cliff, then at the last minute he turns it around. I think that THIS is the metaphor for Lina's future life -- constantly on the edge of the cliff with her untrustworthy husband. It's brilliant!

Thanks RKO and Production Code!

Well, the ending is certainly the pits. It just made me feel that everything I watched was complete foolery. Throughout the film I enjoyed seeing Cary Grant look sinister. I was admiring the way he would change his emotion first and then his face would subtly change to suit. I enjoyed the encroaching shadows that would appear in rooms that were beautifully detailed. I connected with Fontaine in being a wallflower and an only child and having your father die early leaving only you and your mother. And then came the ending - really? Grant was going to commit suicide because he saw no other way out? That came so far out of left field and the way all of a sudden Fontaine knew he wanted poison to kill himself. It just became so implausible that the rest of the movie now seems silly. It really is too bad - I still give this film fairly high marks since I did enjoy it until the ending, but I think it's one of those that now that you know the ending you really don't want to even bother playing its game ever again.

Horrid!

This film falls flat on its face. I don't know what studio person decided they would re-write the book and turn this into a film but they failed miserably. Not even Cary Grant could rescue this mess of a story. Joan Fontaine is dreadful in this film, without a spark. How she won the Academy Award for this performance is beyond me! IMO, this is Alfred Hitchcock's worst film ever! I generously gave it one-half star!

The Perfect English-Village Mystery

A romantic and suspenseful Gothic-tinged mystery, set in a British village during the inter-war years - for my money, a near-perfect delight to savor like an old-fashioned "high tea," complete with crumpets and clotted cream. Cary Grant, Joan Fontaine, Nigel Bruce, Dame May Whitty and Sir Cedric Hardwick will transport you to another time and place. I recommend viewing this film - followed by Hitchcock's Rebecca if you've got the time - to anyone who wants to chase away the "daily blahs." Brew a pot of your favorite tea - or pour yourself a glass of sherry - and enjoy!

Suspicion

A taunt romantic thriller from Hitchcock. Fontaine became the only performer to win an Oscar for a Hitchcock film, Grant is excellent as her husband who she believe's wants to murder her. The story goes well until the required "Hollywood ending," a weak one at that. Still worth seeing for Hitchcock fans. I give it a 4/5.

Suspicion - 1941

Alternately plodding and laughable (yet always pretentious), this has to be one of Hitchcock's worst efforts.

Would Audiences Have Accepted the Novel's Ending?

I don't want this to be a spoiler if you haven't read the novel, but I am not sure audiences of that era would have accepted the ending of the book. Lena, knowing Johnny is going to murder her and still loving him and desiring to protect him, leaves a letter indicating that she is going to commit suicide to mislead the authorities. She also worries about how lonely Johnny will be after she's gone. Could audiences have accepted a heroine who took self-sacrifice to that level? Could they have accepted a hero who resorted to murder whenever it was convenient in spite of having some affection for his victims?It's been several years since I read the book, but Lena also insures that she won't have Johnny's child lest the child inherit Johnny's amoral tendencies.I think Grant would have shone as the amoral Johnny, but how could even the talented Miss Fontaine have made Lena as portrayed in the book understandable by those of us with a normal instinct for self-preservation?I enjoy this film every time I watch it, and I admit that I'm not positive I would have liked it as much if Hitchcock had retained the novel's ending.

A true classic

Great Hitch film,no matter what anyone bashing it says

A Hitchcock failure

This movie fails in that all the build up with Grant acting like a would-be murderer is flushed down the toilet when the ending says he isn't. Or should I say the Hollywood ending. They shot and used a second ending in which Grant is innocent and replaced the originally shot ending. I guess the studio panicked in having Grant shown as a killer. Also, Joan Fontaine's performance is extremely bland. An all around miss.

Suspense de tirar o folego

um suspense de tirar o folego e fazer vc entrar no filme. A cena do copo de leite uma das minhas preferidas. Realmente o Cary Grant caprichou neste personagem e a Joan Fontaine est maravilhosa. Um grande filme

An Essential

Those with good imaginations can picture living in the films location and era. However, Cary Grant will wear on you no matter how much you love him (I do). Those goofy google-eyes he puts on give him an idiotic, shallow vibe. And the way he rushes those lines! He is tiresome! Joan is beyond words - so fabulous she is.In spite of all of that, it is a treasure and an Essential:-)

Entertainingly Suspenseful

Have you ever seen a bad Cary Grant movie? Well here's another good one. It is a little different twist for Cary, but he manages it adroitly. Joan Fontaine is at her best. She conveys her feeling wonderfully through her expressions and body language. Hitchcock's direction is superb, as always. Order this one up and prepare to be entertained for over an hour and a half.

One of my favorites

pandoraspox@live.com

7/6/08

I ALWAYS watch this one when it's on - this time I'm taping it! I love all the characters especially Johnny and Beaky (Cary Grant, and the best ever 'Dr. Watson' actor). 'Monkey face' is pretty good, too!

One of Hitch's best

Hitch's first film where he is director and the producer. And one of the best movies ever made.Its a very clever thriller. I will give it 10/10.

JOAN IS BEAUTIFUL AND VERY SUSPICIOUS OF CARY!

Hitch and Ms. Fontaine pull out all the stops to make us believe that the suave and debonair Archie Leach is guilty of "MURDER". Unthinkable! And in the end, simply untrue! I would have like to seen this in the theater in 1941.

Not One of Hitch's Best...

Bob Galvin-Oliphant

2/23/06

This is not one of Hitchcock's best movies. The cast is excellent. However, the ending is a silly Hollywood one. This film was based on the novel "Before the Fact". If the ending in that novel had been used (as I understand Cary Grant wanted to play the part), this would have been a better film. Still, it is worth watching, as all Cary Grant movies are.
*We protect your personal infortmation and will not provide it to anyone without your consent. For a complete explanation, please refer to TCM's Privacy Policy. By submitting your contribution, you agree to TCM's Terms of Use.