DVDs from TCM Shop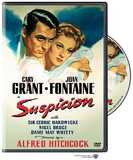 Suspicion A wealthy wallflower suspects... MORE&nbsp> $14.95 Regularly $19.98 Buy Now
NOTES
The working title of this film was Before the Fact. The opening credits include the following acknowledgment: "services of Miss Fontaine and Mr. Hitchcock secured through the courtesy of David O. Selznick Productions, Inc." According to pre-production news items in Hollywood Reporter, Michele Morgan was tested for the role of "Lina" and Constance Worth replaced Phyllis Barry as "Mrs. Fitzpatrick." A Hollywood Reporter production chart places Stanley Logan in the cast, but he does not appear in the final film. Hitchcock makes his customary cameo in Suspicion as a man mailing a letter.
The film's ending differs from the ending of the Frances Iles (a pseudonym for author James Hilton) novel on which it was based. In the novel, the character of "Johnnie" kills his wife "Lina" by poisoning her with a glass of milk. In a 1941 New York Herald Tribune interview, director Alfred Hitchcock stated that this ending was unacceptable because the studio feared that an unhappy ending would result in commercial failure and because the Production Code Administration mandated that all screen murderers must be punished. According to materials in the RKO Archives Script and Production Information Files contained at the UCLA Arts-Special Collections Library and the Hitchcock papers at the AMPAS Library, Hitchcock shot two different endings for this film. In the first, Johnnie leaves Lina and joins the RAF to redeem himself. When the studio previewed the film in June 1941, however, the audience objected to that ending as "too bleak and unsatisfactory." Consequently, in July 1941, Hitchcock shot the present ending in which Lina begs Johnnie to forgive her and he turns the car around. According to the Hollywood Reporter and New York Times reviews, audiences were confused by this ending, commenting that they were not certain if Johnnie was trying to push Lina out of the car or if she was trying to jump. In later interviews, Hitchcock stated that he wanted the film to end with Lina dying from drinking the poisoned milk after having written a letter to her mother in which she reaffirms her love for Johnnie while exposing him as a killer. As Lina drinks the poison and dies, Johnnie drops the letter in a mailbox.
According to the RKO Script Files, in 1936, RKO assigned Paul Trivers to write a screen treatment of Iles's novel. In 1939, Boris Ingster and Arnaud d'Usseau wrote a first-draft continuity, and in January 1940, Ingster and Nathanael West scripted a screenplay. According to a news item in Hollywood Reporter, Samson Raphaelson was brought in to work on the script in December 1940. Alma Reville, one of the writers who worked on the script with Raphaelson, was married to Hitchcock and frequently collaborated with him on his films.
Although the film officially opened in Los Angeles on January 20, 1942, RKO screened the film on January 11, 1942 in order to qualify it for the 1942 Academy Awards, according to material contained in the production files at the AMPAS Library. Joan Fontaine won an Academy Award for Best Actress, and the film was nominated for Best Picture and Franz Waxman was nominated for Best Dramatic Score. Hitchcock and Fontaine had previously worked together in the 1940 film Rebecca, Hitchcock's first American film (see AFI Catalog of Feature Films, 1931-40; F3.3646). Suspicion was the first of many collaborations between Grant and Hitchcock. In modern interviews, Hitchcock stated that an RKO executive ordered that all scenes in which Grant appeared menacing be excised from the film. When the cutting was completed, the film ran only fifty-five minutes. The scenes were restored, Hitchcock said, because he shot each piece of film so that there was only one way to edit them together properly. Hitchcock also noted that he placed a light inside Lina's glass of milk to make it look luminescent. Joan Fontaine reprised her role in a Lux Radio Theatre broadcast on May 4, 1942, co-starring her then-husband, Brian Aherne. It was presented again on September 18, 1944. An American Playhouse remake, starring Anthony Andrews and Jane Curtin, aired in April 1988. In August 2001, a new version of the story was announced as being in development by director Philip Kaufman. Initially to star Ben Affleck and Gwyneth Paltrow, the project was still in development as of spring 2005, with a new script to be written by John Guare.