DVDs from TCM Shop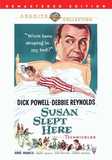 Susan Slept Here A Hollywood screenwriter takes... MORE&nbsp> $14.96 Regularly $19.99 Buy Now blu-ray
NOTES
Onscreen credits include the following written statement: "Academy Awards statuettes were used in this picture by special arrangement with the Academy of Motion Picture Arts and Sciences, copyright owner of the symbol." Offscreen narration, spoken by radio announcer Ken Carpenter as "Mark Christopher's" Oscar, is heard intermittently throughout the picture. Although Steve Fisher and Alex Gottlieb's play, Susan Slept Here, was published in 1956, it was not performed until July 11, 1961, when it ran for sixteen performances.
According to Hollywood Reporter news items, Dan Dailey, Mickey Rooney and Robert Mitchum were considered for lead roles in the picture. As noted in a October 14, 1953 Variety news item, because of production delays, RKO lost the services of Dailey, who had a prior commitment to Twentieth Century-Fox, and of actor David Wayne, who was scheduled to appear in a play in New York. Cary Grant was being considered as a replacement for Dailey, according to the Daily Variety item. RKO borrowed Debbie Reynolds from M-G-M and Anne Francis from Twentieth Century-Fox for the production. Louella Parsons, who was producer Harriet Parsons' mother, plays herself in the picture.
The song "Hold My Hand," which was nominated for a Best Song Academy Award and became a popular song after the film was released, is heard as a phonograph recording, sung by Don Cornell. "Susan Slept Here" is performed over the opening and end titles. Eddie Rubin is listed onscreen as associate to the director but is credited in a Hollywood Reporter news item as dialogue director. During the film, "Maude Snodgrass" talks wistfully about "Oswald," her old flame from North Dakota, and at the end, Oswald-Red Skeleton in a nonspeaking cameo-reunites with her.
According to an August 1954 Daily Variety news item, the Chicago censor board designated the film as "adults only." Producer Parsons protested the board's action, pointing out that no other censors had objected to the film's content. In addition to its Best Song nomination, Susan Slept Here received an Academy Award nomination for Best Sound Recording. Although he was not listed in the onscreen credits, John O. Aalberg, the head of RKO's sound department, received specific mention in the nomination.