DVDs from TCM Shop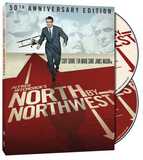 North by Northwest An advertising man is mistaken... MORE&nbsp> $16.95 Regularly $24.98 Buy Now blu-ray
USER REVIEWS
See Detailed Ratings
Acting of Lead Performers

Acting of Supporting Cast

Director

Music Score

Title Sequence

Screenplay

Cinematography

Historical Importance

Would You Recommend?

0 Member Ratings
Rate the acting of the Lead Performers

Rate the acting of the Supporting Cast

Rate the Director

Rating of the Music Score

Rating of the Title Sequence

Screenplay

Creatively uses the camera to tell the story

Importance in Cinema history

Would you recommend for fans of this genre
Submit Ratings
Cancel
Write a Review
Read Reviews
NO REVIEWS AVAILABLE
The title has not been reviewed. Be the first to write a review by clicking here to start.
Enjoy art for what it is

Just getting ready to watch NBNW for about the 30th time. I just read this last page of reviews and I must say I agree 110% with Msrs Morris and Kelso. To quibble over one of the most iconic and legendary scenes in film history is like saying "OMG, Judy Garland blinked while singing Over the Rainbow, tsk-tsk, tut-tut."If one has a problem with the accuracy of a scene, please use Suspension of Disbelief (a technique which must be mastered to watch any of the tripe and drivel that is thrust upon us as a "great movie" these days ) This is film art of the highest magnitude. All you have to do is "respect and enjoy." TCM FOREVER!

if i am not mistaken..i think i know these guys.

forget your nit pickers guide to ruin fun movies. this was the last go around for two legends who brought out the best in each other. enjoy and respect it.

outstanding thriller

One cannot miss a moment when watching this movie. It's easy to stay focused, but even one quick trip out of the room will result in missing important information. Cary Grant is at his very best. Eva Marie Saint is a worthy co-star and they make a very appealing team. James Mason is outstanding. He may be the most suave and elegant bad guy to ever appear in a movie. The plot is loaded with interesting and endless twists and it results in an excellent glimpse of life in the late 1950s. Jessie Royce Landis as the mother to Grant's character, Roger Thornhill, is very good. She is charming, witty and very skeptical about her son's predicament. I wish she appeared in additional scenes. Her wry humor is a nice foil for Grant's bewilderment. Leo G. Carroll is solid as the professor who is the only one who really does know what is happening. He helps the viewer to begin to unravel the plot twists and turns. There are some outstanding moments: Grant and Saint in railroad dining car, Grant running from the crop duster plane in the dried out corn fields, the incredibly tense scenes in the auction house, the shooting in the visitor cafeteria, and the scenes inside that incredible house near the monument and the chase scenes over the face of the monument are all wonderful to watch. I do struggle with Eva Marie Saint with her suit and heels and Grant with his suit and leather shoes trying to maneuver the granite faces of the presidents. In real life it would just never work. This is a fulfilling thriller in every way.

N.B.N.W.: A Telling Compass

This movie is A.H's magnum opus which surpasses any 007 movie in grandeur, actors, plot, action, & script but rivals said competition in nonsuspense due to the immediate sense that our big name protagonist & heroine will save each other from their perilous encounters with the enemy & each other! A small scene that hooked my memory was when the housekeeper, in the employ of the bad guys, spotted the protagonist in the tv's reflection & pulled a gun on him (or something like that)!

Hitchcock's Best

I believe this is Hitchcock's best film in a long list of entertaining films. The mistaken man theme deluxe as spies and cops chase Grant around climaxing at Mount Rushmore. Eva Marie Saint is great and beautiful as the 'lady on the train'. Beautiful cinematography and exciting musical score. Landau is excellent as Mason's henchman. Terrific entertainment all the way. One of the best 20 films ever made. A must-see film.

filming of corn scene

yes, great movieI watched the filming of the corn scene in North by Northwest. I was seventeen years old and President of the FFA, Wasco, CA. We received a call from a movie studio, as they wanted to buy our silage corn. We sold it to them and I follow them to a location west of Wasco as they filmed that corn scene.

Nit-picking??

My all-time favorite Hitchcock film; I watch it every time it's on. As for the crop-dusting scene, Paul Ort, aren't we being a bit over-critical? Cary Grant's character is an ad-man, not a superspy. He probably wouldn't have the slightest idea how to escape that plane. If something is chasing you, isn't your first instinct to run AWAY from it?

The movie that has everything

Nothing comes close when it comes to greatness in so many ways. Hitchcock and the writers put something for everyone in this masterpiece that remains an enjoyable view three generations later. It never gets old. Like Cary Grant.

Running From The Airplane

The scene of Cary Grant "fleeing" in front of an airplane is exciting but ill-conceived. If you ever want to escape from an aircraft in which somebody is firing a gun at you, the safest method is running TOWARD the aircraft in a zig zag pattern. Many seconds will be removed from the period of vulnerability. If you can't run, get behind one of the fence posts to the left in the scene; no pilot will fly low enough to snag his machine on some ground based trajectory. Running in the same direction as the (faster) attacker only gets you a higher risk shot in the back. The director of this movie must have thought his audience would include only dumkophs!

North By Northwest

Spanning some geography from the U.N. building in New York to Mt.Rushmore in South Dakota this is Hitchcock's adventure classic with Cary Grant wrongly identified as a killer and James Mason who wrongly knows Cary as a government agent. Eva Marie Saint is good in a double-agent role as she a Cary get chased over the faces of Mt.Rushmore. Memorable is the crop-dusting scene where the plane goes after Cary and a train ride from New York to Chicago when Cary and Eva meet up. Once again....quite an adventure.

Hitchcock at his best....

I love this film. Just look at the cast: Cary Grant, Eva Marie Saint, James Mason, Martin Landau.... This movie is endlessly interesting and entertaining. It offers tremendous suspense and some of the best scenes in film history including the famous scene when Cary Grant is buzzed by the crop dusting plane and the scenes on the presidential faces on Mount Rushmore. I do have a few questions, however. The scenes when Cary Grant is drunk at the wheel of the car and racing along a road with cliffs and steep rocks surprises me. He is supposedly on Long Island and that place just does not have that sort of topography. Why did Hitchcock allow this? And that final scene with Cary Grant and Eva Marie Saint on the bed in their railroad sleeper and then the train racing into the tunnel--if that's not Freudian, nothing is. Hitchcock had to intend this--right? I mean, nobody could make a scene like that and not realize its message. In any event, there isn't a dull moment in this movie. The scene in the Long Island estate, the murder in the UN building, the banter on the New York Central train, the crop dusting scenes, Cary Grant getting shot in the dining room at Mount Rushmore (complete with the kid covering his ears BEFORE the gun is fired), Grant climbing into that incredible house overhanging the cliff and then the stunning scenes on what is supposed to be Mount Rushmore--they are all great fun to watch. Although the idea of Eva Marie Saint trying to maneuver those rocks while wearing heels and Cary Grant wearing loafers is a stretch. Anybody who wants an evening of pure suspense and quality acting should watch this movie. Truth is, I have never seen a Hitchcock film I don't enjoy. But North By Northwest is one of my favorites.

K. I. Russell is correct

You're correct in that the title is "It's a Most Unusual Day." The song is from "A Date With Judy" (1948). This was the only occasion Elizabeth Taylor sang on screen. If anyone wishes to check this out, a clip from the film was featured in That's Entertainment (1974), which also has Taylors' reminiscences about MGM. I'm sure Hitchcock included it as an in-joke/foreshadowing.

It's a Most Unusual Day

Kirsten I Russell

5/16/15

Answer to the reviewer's trivia question: the name of the piece the violin group is playing about five minutes into the film is "It's a Most Unusual Day."

I am but mad north, northwest

Kirsten I Russell

5/16/15

This 1959 Hitchcock comedy thriller held me spellbound through seven theatrical screenings that I left on wobbly legs when I was growing up. Until the wonderfully rhythmic score by Bernard Herrmann became available on a soundtrack album, I saw the movie many more times partly to hear the score. NORTH BY NORTHWEST is one of my all-time favorite movies and I've always viewed the streamlined ending as the best possible ending. I can still get drawn into this movie and enjoy it when I see it on TCM. Questions about the title of this movie: It was a working title that turned out to be the one that stuck. Hitchcock and the scriptwriter, Ernest Lehman, may not have had any deeper meaning in mind when they adopted the title, but it may have more to do with theatricality than geographical direction. Cary Grant plays a man caught in a theatrical situation, where he meets people playing roles as other people and staging confrontations that he quickly notes are theatrical. He soon begins to play a role himself. There are many references to role-playing in this movie. Another drama with much role-playing and even a play within a play is Shakespeare's HAMLET, wherein Hamlet remarks about his own role-playing, "I am but mad north, northwest; when the wind is southerly, I know a hawk from a handsaw." It's possible that the title "North by Northwest" was intended as a deliberate reference to HAMLET or was just a creative shot in the dark, but the reference makes sense.

a bit of trivia

North by Northwest is the last really fun film from Hitchcock. My trivia question: What is the name of the piece the violin group is playing as Cary Grant enters the restaurant about five minutes into the film?

North by Northwest

An underrated Hitchcock masterpiece. See the book Hitchcock's North by Northwest: The Man Who Had Too Much for an excellent analysis and defense.

north by northwest

Not as good as "Vertigo," but a helluva lot more enjoyable. You can actually watch this particular Hitchcock film without wanting to slit your wrists, the way you want to do after the other. Hell, if you look close, it almost seems as if the director actually LIKES Roger Thornhill. Nah. I'm probably reading too much in. Give it an A minus.

Good but not great!

I like this film, I really do, but there are so many improbable moments and such a lousy ending that it just doesn't live up to greatness. (For me, "Rear Window" is Hitchcock's best film, as making an entire film in one room in an apartment was just genius.) I feel that a lot of this film was left on the cutting room floor, particularly the ending. This isn't to say there is no great acting here. James Mason is superb, Cary Grant is actually good in the action scenes and is great eye-candy, Landau is excellent as the synchophant aide to Mason and, of course, there's Eva Marie Saint who chooses to climb down the monument in high heels and looking gorgeous (pet peeve of mine!). Let's face it. You're running through the woods at night, you're trying to escape the bad guys, you're climbing down a huge monument - all without a hair out of place or a mussed dress. Dumb!

Cary is Good but Mason is Better

Who doesn't like Cary Grant? I know--nobody. Especially me in just about all of his leading roles. But he finds two fellow thespians here--James Mason and Eva Marie Saint--who can match his electricity. Great mistaken-identity backdrop with Grant as the package. He's kidnapped by people and taken to a mansion for interrogation only to have the same people deny they've ever met him. Eva is beautiful, but evil. Or is she? James Mason, for my money, is the real star with Mt. Rushmore lines like "That's not very sporting...using REAL bullets." Action-packed with the classic crop duster scene and the closing action sequence with Cary hanging onto Eva whose about to drop off Mt. Rushmore. Or does she? Classic.

it s the tops !

When was the last time anyone saw a movie like this in a theater today? Maybe 20 years ago plus some. From the all time master of suspense- a movie that has it all- suspense, class, REAL actors who lucky for us were of the greats-debonair and smooth Grant, sophisticated Saint, master of the portrait for evil Mason, slick Landau and others, and - an actual dialogue (shocking by today's standards). And they did all and still kept their clothes on ( another shocker by today's standards ). Simply one of the all time great classics !

North By Northwest

Overall-3 1/2 out of 5Lead performers-4/5Supporting Cast-4/5Director-5/5Score-5/5Titles-4/5Screenplay-3/5Cinematography-3/5Importance-3/5Recommendation for fans of genre- 3 1/2 out of 5

it was fair

The movie was okay ummmm the dialogue was consistent but this film did not have that clever and obscure humor that most of that most of Hitchcock films had. The only sort of clever humor i saw was in James Mason's character ,but he usually has that Claude Rain attitude in his films. So I give this film 3 stars because of it's consistence, dim characters.

Surprisingly funny, romantic and nerve racking

classic movie lover

8/21/12

I don't know about other people but Alfred Hitchcock always seemed to me like a hit and miss writer/director. Psycho and Dial M for Murder were excellent but Strangers on a Train and Vertigo were boring and un-engaging. So I figured North by Northwest would be a tossup and I didn't want to sit through it, but am wholly glad I did. The movie kept my attention from beginning to end and the twists and turns were fun and unexpected. Hitchcock proved me wrong with this film, go and see it.

North by Northwest

One of the most iconic Hitchcock films not only from the '50's, but also from his entire career. Grant, in his final film with Hitchcock, is excellent as the traditional man unwillingly involved in espionage. Saint is great as one of Hitchcock's blondes, as is Mason &. Landau as the antagonist's. Oscar-nominated screenplay includes memorable scenes involving a crop duster & Mt. Rushmore, well-handled by Hitchcock. A great film that's a must-see by all film lovers. I give it a 5/5.

North by Northwest

My favorite of the Hitchcock genre. Did a presentation in a film class in college. was well recieved. Any Hitchcock fan can agree that this is one of the best,. Great performances by Grant and Saint. Love it

North By Northwest

On-the-edge-of-your-seat entertainment by the master of suspense - top-shelf cast, score, screenplay - this one's got it all. "Paging George Kaplan...."

North by Northwest--a Hitchcock classic!

Excellent on many levels. Cary Grant is a suave executive mistaken for a spy and gets abducted, forced to drink alcohol, and set up to have a fatal car accident, but gets arrested for drunk driving instead. While investigating on his own, he is set up for a murder at the U.N., and then goes on the run. He meets up with Eva Marie Saint on a train, and she covers for him when the police are searching for him. He doesn't know she works for the government and is spying on the bad guys who set him up. Cary later learns the truth, and accompanies governmental agents to North Dakota, Mount Rushmore. In the cafeteria there, a shooting is staged, whereby Eva shoots Cary. There is a young boy in the cafeteria, who obviously went to rehearsals. Right before Eva shoots Cary, the kid plugs his ears--priceless! To maintain the illlusion, Cary is taken to a hospital, even though he wasn't injured, but decides to escape to rescue Eva because the bad guys are on to her, so he climbs out of his hospital window, crosses a ledge, and climbs into the window of a female patient. Frightened, she yells "Stop", but after she gets a good look at handsome Cary, she softens it to a more seductive version of "Stop". Cary traces Eva to a very modern (for the time) house, perched on the edge of a mountain and warns Eva that the bad guys know she's working for the government, and that they plan to push her out of an airplane. She and Cary escape before she boards the plane, but are being pursued by the bad guys, including Martin Landau. Watch for his subtle homosexual jealousy over James Mason's attraction to Eva. The bad guys chase Cary and Eva to Mt. Rushmore, and they climb down, attempting to escape. Landau steps on Cary's fingers as he dangles over the edge, but is shot by local police. The ending is priceless--Eva and Cary get married and honeymoon by train. The film ends with a train going into a tunnel--subtle Hitchcock allegory. Very much worth seeing. A classic!

North by Northwest

Decent suspense movie but I agree that it is nowhere near Hitchcock's best films ("Dial 'M' For Murder" and "Rear Window" are far better). I also agree with those that say this movie is extremely overplayed on TCM. It is, that's obvious.

A TRUE CLASSIC!!

Fifty-two years later...and it's still an absolute must-see movie!! 'Mr. Suave' (Cary Grant) made many excellent films...but this one was over-the-top!! James Mason, Eva Marie Saint, and Martin Landau...a stellar cast for a classic movie!! If you somehow missed this one, by all means...see it now!!

North by Northwest (1959)

The most influential action film of all time was directed by none other than the Master of Suspense, Alfred Hitchcock. The film is about Roger Thornhill (Cary Grant), who is thrust into the world of espionage unwillingly. Grant, Eva Marie Saint, and James Mason are all at the top of their game, however, they are only pawns in Hitchcock's scheme. This is Hitchcock's movie and he won't let everyone forget it. The kamikaze plane scene and the Mount Rushmore climax are unforgettable. The production design and sets are great and Bernard Herrmann's score is excellent. This was Hitchcock's best movie.

Simply the best movie ever made

If you haven't seen this movie - make an appointment. It features the best director, best cast, best music, script and photography. The story is riveting. It's 136 minutes go by in a blink. North by Northwest is a treasure. And the best movie ever made.

Ernest Lehman at his best

Hitchcock usually gets the lion's share of credit for this movie but you also have to give credit to Ernest Lehman, the screenwriter. Anybody ever read what William Goldman said about this movie in "Which Lie Did I Tell?"? He was very complimentary of the screenplay, pointing out that about a dozen plot points are all tied up in the last minute or so of the film. And how can you go wrong with Cary Grant? The great thing about Cary Grant was that, unlike most freakishly beautiful movie stars, he always came across as self-deprecating & not especially impressed with his own good looks. I think that's what made him so endearing. Never more so than this well-crafted classic.

North by Northwest

One of Hitchcock's finest--there's nothing to dislike here. The cast is marvelous--Cary Grant, Eva Marie Saint, James Mason and Martin Landau. The locations are great--New York City, the United Nations building, Mt Rushmore and Chicago. The action is tremendous--the scene where the crop duster tries to kill Cary Grant and the scenes on Mt. Rushmore are iconic. The clothes are marvelous, too. Some of the action takes place on a train, and for those of us too young to have taken an overnight train trip in the days before travel by train mostly died out, it's fun to see what dinner in the diner and having your own private compartment were like. The plot is exciting as well--a case of mistaken identity, espionage, intrigue. Several marvelous scenes--while passing through an attractive lady's hospital room, the lady comes on to Cary. The symbolic train entering the tunnel at the end is funny, as is the scene in the Mt. Rushmore cafeteria where the little boy plugs his ears just before Eva Marie Saint pulls out a gun and shoots Cary Grant--hey, the kid's no fool--he went to rehearsals. The editor left this in by mistake--look for it.

North By Northwest (1959)

Certainly one of Alfred Hitchcock's best. A very exciting and entertaining film. It has it all, expert direction, well developed characters, an amazing cast, outstanding art direction, a mesmerizing score and an intriguing screenplay. Hitchcock adds his usual touches of humor. It is extremely well produced with many memorable scenes including the classic Mt. Rushmore climax, as well as the crop duster scene. Expertly edited. Nominated for three Academy Awards, art direction, editing and writing. Cary Grant is ideally cast.

Hitchcock's most overrated film.

I'm sorry, I like Hitchcock as much as the next guy but this film doesn't do it for me. I find the premise " Nobody believes me!" which was hoisted upon Cary Grant, to be OVERUSED schlock. It's been the basic plot of so many films as to become tedius and extremely annoying. (Even his Mother pooh-poohs his predicament. Puleez!) "Notorious" now THERE is the perfect Hitchcock film.

Can't Miss Masterpiece

Intelligent,exciting, witty, romantic, and realistic (enough) to be rightfully considered a bonafide classic. It seems like TCM plays this slice of Hitchcock heaven more than any other movie - and I watch it over and over.A diamond in the rough.

to the frequency guy

this is james mason day what else do you want. movies without him you tard.

Cryptic Title

There has been much speculation as to what the title of Hitchcock's classic "North By Northwest" means. After Roger Thornhill (Cary Grant) is arrested after creating a diversion at the auction to escape from Vandamm (James Mason), he is taken to the airport on the orders of the Professor and travels NORTH from Chicago by NORTHWEST airlines to South Dakota for the climactic chase scene across the face of Mt. Rushmore. Actually, Rapid City, SD where Mt. Rushmore is located is northwest, and not north of Chicago, but I guess the title "Northwest By Northwest" would sound a little awkward. When I checked the synopsis earlier this year, NBN was shown as being on DVD. Now you have it listed as not available on home video under home video vote. What's up with that? Obviously an error.

Frequency

This is shown too often, taking up space/time that other equally good films might use. Once a year is sufficient.

Prossibly My Favorite Hitchcock Film

This movie is so much fun to watch. When it's about to end I'm disapointed that it has to end

Cary, Cary, Cary

Another great Hitchcock classic. Great plot idea and what a cast! The plane sequence is one of the most recognized scenes from any movie and the train sequence is ever so sexy. I can never see this movie enough and like most of Hitchcock's movies I own it on DVD.

Target this Compass Heading

I've lost count on how many times I've seen this film. The paradox is it is probably Hitchcock's best in terms of pure entertainment; but the plot is preposterous. Hitchcock has taken happenstance to a new level. Forget the plot and just sit back and become totally engrossed in this action/comic tourdeforce. There has always been controversy on what the title means. This has never been a problem for me. North by Northwest is a compass heading from Rapid City, South dakota to Russia (remember the cold war)? That's where James Mason and company were heading.

What is the meaning of North By Northwest

The meaning of North By Northwest is obscure, which is strange for such an important film. Maybe it does not make any difference but here is a possible solution. To get to Rapid City, Cary Grant takes Northwest Airlines. So he goes North by Northwest. The trouble with this is that Rapid City is only a little farther north than Chicago. So he actually goes West by Northwest by Northwest. Regardless of the title it is still one of the greatest movies.

Unbeatable

I saw this movie when it first came out in '59 and have seen it at every opportunity since. The pairing of Cary Grant and Alfred Hitchcock proved once again to be an unbeatable combination. Too bad that NBNW was their last collaboration.

Superb

"North By Northwest" could have gone horribly wrong. It combines so many genres -- thriller, chase, action, romance -- put a foot wrong in any of them and the movie begins to sink. But NBN only gets more intense and entertaining as it goes along. Perfect casting, numerous surprises and memorable scenes. Witty script by Ernest Lehman. First class entertainment.

Best movie ever!

What doesn't this movie have? Intrique. Suspense. Mystery. Train. Plane. Automobiles. And a chase across the faces of Mount Rushmore! What more could you want from a movie? Cary Grant at his debonair best, and Eva Marie Saint is perfect as his leading lady. Hitchcock was flawless (but for the scene with the kid in the restaurant) and the supporting cast were superb. Perhaps the most perfectly cast movie if all time.
*We protect your personal infortmation and will not provide it to anyone without your consent. For a complete explanation, please refer to TCM's Privacy Policy. By submitting your contribution, you agree to TCM's Terms of Use.