DVDs from TCM Shop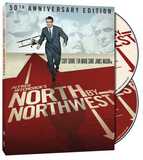 North by Northwest An advertising man is mistaken... MORE&nbsp> $16.95 Regularly $24.98 Buy Now blu-ray
Trivia
'Stewart, James' was very interested in starring in this movie, begging Hitchcock to let him play Thornhill. Hitchcock claimed that Vertigo (1958)'s lack of financial success was because Stewart "looked too old". MGM wanted Gregory Peck, but Hitchcock cast Cary Grant.
It was journalist Otis L. Guernsey Jr. who suggested to Hitchcock the premise of a man mistaken for a nonexistent secret agent. He was inspired, he said, by a real-life case during WW2 when some secretaries at a British embassy in the Middle East, for fun, invented a nonexistent agent and successfully tricked the Germans into looking for him.
Hitchcock couldn't get permission to film inside the U.N., so footage was made of the interior of the building using a hidden camera, and the rooms were later recreated on a sound stage.
The final chase scene was not shot on Mount Rushmore; Hitchcock couldn't gain permission to shoot an attempted murder on a national monument. The scene was shot in the studio on a replica of Mount Rushmore. Everything is shot carefully, so as to avoid associating the faces of the monument with the violence.
Rather than go to the expense of shooting in a South Dakota woodland, Hitchcock planted 100 ponderosa pines on a MGM soundstage.
Contributions
Holz (2008-02-29)

Source: not available

Roger O. Thornhill claims that the "O" stands for "nothing". This is a reference to David O. Selznick, whose "O" also signified nothing. Selznick has been quoted: "I have no middle name...I had an uncle, whom I greatly disliked, who was also named David Selznick, so in order to to avoid any growing confusion between the two of us, I decided to take a middle initial and went through the alphabet to find one that seemed to give me the best punctuation and decided on 'O'."

Holz (2009-05-06)

Source: not available

One of Eva Marie Saint's lines in the dining car seduction scene was re-dubbed. She originally said "I never make love on an empty stomach", but it was changed in post-production to "I never discuss love on an empty stomach". It is said that the censors felt the original version was too risqué.

krf1026 (2009-09-25)

Source: not available

Cyd Charisse was in the last years of her contract with MGM and they wanted her to be the female lead in "North by Northwest".