DVDs from TCM Shop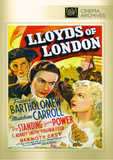 Lloyd's of London A young man's love for a... MORE&nbsp> $18.36 Regularly $19.98 Buy Now
NOTES
DVDs from TCM Shop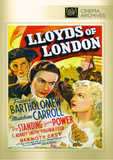 Lloyd's of London A young man's love for a... MORE&nbsp> $18.36
Regularly $19.98 buy now
After the opening credits, the film begins with the following statement: "We acknowledge with appreciation the assistance of the official historian of Lloyd's of London in the preparation of the historical background for this production." Curtis Kenyon's original story was entitled "The Bell Ringers." Reviews noted that the main character, "Jonathan Blake," was fictional and that the film took many liberties with historical events. The program notes for the film's premiere state that Lloyd's insured the production for $1,000,000, and modern sources state that the film was budgeted at $850,000. According to a Hollywood Reporter news item, the chairmen of Lloyd's, in a letter to studio head Darryl Zanuck, lauded the film for its excellence.
According to information in SAB, the screen credits, as originally intended by the studio, did not include writer Walter Ferris. He protested and the studio then backed him, but Ernest Pascal wanted full credit for the screenplay. Ferris then offered to settle for an "additional dialogue" credit, but this did not comply with the AMPAS Code that governed writing credits, so the dispute was submitted to Twentieth Century-Fox scenario editor Julian Johnson for arbitration, and Ferris was awarded a co-screenplay credit.
This was Tyrone Power's first starring role. According to a New York Times news item, because of his performance in this film, he was signed to a seven-year contract with Twentieth Century-Fox to begin in May 1937. Modern sources relate that Don Ameche was tested first for the role of Jonathan Blake, but that director Henry King prevailed upon Zanuck to look at a test of the same scenes with Power; because of King's recommendation and that of editor Barbara McLean, Zanuck gave the role to Power. Variety commented concerning Power, "He's okay. He's going places. He has looks and he has acting ability. The women ought to go for him in a big way."
According to Hollywood Reporter production charts, Loretta Young, who was originally cast as "Lady Elizabeth," was in the production until mid-September 1936. Information in the Twentieth Century-Fox Records of the Legal Department, states that Young was suspended by the studio after she left the role. According to a September 17, 1936 Hollywood Reporter news item, Madeleine Carroll was then borrowed from Walter Wanger to replace Young, whom, Hollywood Reporter reported, was on a Hawaiian vacation for her health. Modern sources state that Young refused the role because she learned that Power's role was being expanded at the expense of her own.
According to a Hollywood Reporter news item, George Sanders was borrowed from British and Dominions Film Corp. This was his first American film. Publicity for the film states that sixty-five sets were built and that Chris Christensen, the nautical technical director, built all the ships in the film and had also built the ships in The Sea Hawk (Associated First National, 1924), Moby Dick (Warner Bros., 1930) and Mutiny on the Bounty (M-G-M, 1935). Wilfrid Lawson is listed as a cast member in an early Hollywood Reporter production chart, but his participation in the final film has not been confirmed. According to an ad in Hollywood Reporter, the film was shot on Eastman Super-X Negative. This film received two Academy Award nominations: for interior decoration (William Darling) and for film editing (Barbara McLean). Modern sources credit Ray Sebastian with make-up.