share:
Recent DVDs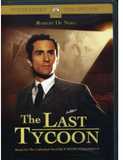 Last Tycoon ... Directed by Elia Kazan. Starring Jeanne Moreau, Jack Nicholson, Robert Mitchum. more info $6.95was $14.98 Buy Now
MEDIA:
WATCH MOVIE CLIPS
|
VIEW TRAILER
|
VIEW PHOTOS
|
WATCH A TCM PROMO
| | | | |
| --- | --- | --- | --- |
| Also Known As: | | Died: | September 28, 2003 |
| Born: | September 7, 1909 | Cause of Death: | natural causes |
| Birth Place: | Turkey | Profession: | Director ... |
RATE AND COMMENT
MILESTONES
1913:
After brief stay in Berlin, immigrated to the USA with parents
1932:
Theatrical debut as stage manager and understudy for the Theater Guild production, "The Pure in Heart" in Baltimore, Maryland
1932:
Apprenticed with Group Theater
1933:
Broadway acting debut, "Men in White"
1934:
Film acting debut in the short "Cafe Universal"
1934:
Co-directed and acted in the experimental short film, "Pie in the Sky"; wife Molly Day Thatcher also directed a segment
:
Was a member of the Communist Party
1935:
Appeared on Broadway in Group Theatre production of Clifford Odets' "Waiting for Lefty"
1937:
Directed short documentary "People of the Cumberland"
1937:
Played Eddie Fusseli in the Group Theatre production of Odets' "Golden Boy"
1938:
Stage directing debut with "Casey Jones"
1940:
Feature film acting debut in "City for Conquest", playing a neighborhood tough-turned-gangster opposite James Cagney
1941:
Group Theater folded
1942:
Broadway directing debut, Thornton Wilder's "The Skin of Our Teeth"
1945:
Feature film directing debut with "A Tree Grows in Brooklyn"
1947:
Co-founded (with Cheryl Crawford, Robert Lewis and Lee Strasberg) Actors Studio
1947:
Directed seminal Broadway productions of Arthur Miller's "All My Sons" (for which he won his first Tony) and Tennessee Williams' "A Streetcar Named Desire"
1947:
Won Best Director Oscar on first-ever nomination for "Gentleman's Agreement"; film also won Best Picture
1949:
Helmed the Broadway production of Miller's "Death of a Salesman"; received second Tony Award
1950:
"Panic in the Streets" marked his passage to a more ambitiously cinematic phase
1951:
Received Oscar nomination as Best Director for "A Streetcar Named Desire"
1952:
Directed "Viva Zapata!", written by John Steinbeck and starring Marlon Brando
1952:
Testified before the House Un-American Activities Committee and named eight former colleagues (including Odets and actress Paula Strasberg) as dangerous Communist infiltrators
1953:
Directed overtly anti-Communist film, "Man on a Tightrope", starring Fredric March
1954:
Took home second Oscar as director of "On the Waterfront", written by fellow "name-dropper" Budd Schulberg
1955:
Staged the premiere of Tennessee Williams' "Cat on a Hot Tin Roof" on Broadway; exercised much influence over the final draft
1955:
Produced first film "East of Eden"; also directed; adapted by Paul Osborn from the Steinbeck novel; picked up fourth Oscar nomination as Best Director
1956:
Collaborated with Tennessee Williams on "Baby Doll"
1957:
Reunited with Schulberg for "A Face in the Crowd"
1959:
Appointed to develop and run the new Lincoln Center Repertory Theater
1959:
Received acclaim for producing and directing "J.B.", Archibald MacLeish's retelling of the biblical story of Job
1960:
After trying for some time to write a screenplay about the TVA (Tennessee Valley Authority), turned ideas over to Osborn who scripted "Wild River", directed by Kazan
1961:
Helmed "Splendor in the Grass" from an Oscar-winning original screenplay by William Inge
1963:
Nominated for three Oscars--Best Director, Best Picture (as producer) and Best Screenplay--for "America, America", based on his uncle's life
1964:
Directed Miller's "After the Fall" for inaugural season of Lincoln Center Repertory Theater; production starred second wife Barbara Loden playing a thinly disguised Marilyn Monroe
1969:
Bombed with "The Arrangement", film version of his own best-selling novel
1972:
Accused of union-busting on "The Visitors", a family-affair (son Chris wrote and produced), low-budget picture shot in and around Kazan's home turf of Newton, CT; film reportedly cost $150,000, of which the non-union actors (including James Woods and Steve Railsback) received a total of $1,200; put on "unfair" list of Screen Actors Guild
1976:
Directed last feature film to date, "The Last Tycoon", adapted from the unfinished F. Scott Fitzgerald novel by Harold Pinter
1982:
Subject of French documentary "Elia Kazan, Outsider"
1988:
Published memoirs "Elia Kazan: A Life"
1989:
Turned up in a surprising role as Captain of Fishing Boat in foreign film "Sis", directed by Omer Zulfi Livanelli
1995:
Subject of documentary "Elia Kazan: A Director's Journey" (AMC), produced by long-time friend Julian Schlossberg