share:
Recent DVDs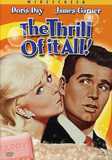 The Thrill of... Doris Day, James Garner. TV commercials, suburbia and daytime soap operas all... more info $8.55was $14.98 Buy Now
The Hurricane ... Denzel Washington. The shocking true story of Rubin Hurricane" Carter, a highly... more info $7.46was $9.99 Buy Now
MEDIA:
WATCH MOVIE CLIPS
|
VIEW TRAILER
|
VIEW PHOTOS
|
WATCH A TCM PROMO
| | | | |
| --- | --- | --- | --- |
| Also Known As: | | Died: | |
| Born: | July 21, 1926 | Cause of Death: | |
| Birth Place: | Toronto, Ontario, Canada | Profession: | Director ... |
RATE AND COMMENT
MILESTONES
1963:
Based on success of "40 Pounds of Trouble", signed by Universal Studios to a seven-picture deal of which only three were ultimately completed
1995:
Directed "Soir Bleu" segment of Showtime's "Picture Windows" anthology; also served as an executive producer
1962:
Directed first film, "40 Pounds of Trouble"
2001:
Directed the HBO adaptation of the Pulitzer-winning play "Dinner With Friends"
:
Founded Yorktown Productions
1984:
Got career back on track with the popular and critical success of "A Soldier's Story", adapted by Charles Fuller from his Pulitzer Prize-winning "A Soldier's Play"; nominated for three Academy Awards including Best Picture; film featured Denzel Washington
1993:
Produced the TNT biopic "Geronimo"
1968:
Reteamed with McQueen and Wexler for "The Thomas Crown Affair"; checked out that year's Montreal Expo with Wexler and editor Hal Ashby and discovered a short film that introduced multiple screen effects, borrowing the technique for the film; Ferro created and edited the multiple screen effects including the use of 66 images in one frame for the polo sequence, reputedly a first for a 35mm feature
1997:
Appeared as himself in "Burn, Hollywood, Burn"
1970:
Depressed about the assasinations of the Reverend Martin Luther King and Robert F Kennedy, moved family to London for eight years
1966:
First feature producing credit, "The Russians Are Coming, The Russians Are Coming"; also directed; garnered first Oscar nomination for Best Picture; initial collaboration with title designer Pablo Ferro
1971:
First film adaptation of a successful stage musical, produced and directed "Fiddler on the Roof"; film received eight Academy Award nominations including Best Picture and Best Director
1932:
Gave readings of poetry by Robert Service at various Masonic lodge meetings at age six (date approximate)
1999:
Helmed and executive produced feature-length documentary, "Norman Jewison on Comedy in the 20th Century: Funny Is Money" (Showtime), using the hype surrounding the finale of the wildly successful series "Seinfeld" (NBC) as his launchpad
1996:
Played a TV director in John Landis' "The Stupids"
1999:
Produced and directed "Hurricane", starring Denzel Washington as Reuben 'Hurricane' Carter, the 1960s world middleweight boxing champion, unjustly convicted of the murder of three white men in a New Jersey bar
1994:
Teamed with director of photography Sven Nyvist to provide a lush Italian backdrop for the far-fetched "Only You"
:
After college, drove a cab to earn passage to England
1973:
Co-wrote screenplay (with Melvyn Bragg), produced and directed the film adaptation of "Jesus Christ Superstar", the Andrew Lloyd Webber-Tim Rice pop opera
1975:
Helmed and produced the sci-fi thriller "Rollerball", scripted by William Harrison from his own short story
1982:
Made an officer of the Order of Canada by the Governor-General, the Queen's representative in the Canadian capital of Ottawa; the Order is Canada's highest civilian decoration
1996:
Missed with pairing of Whoopi Goldberg and Gerard Depardieu in "Bogus"
1970:
Produced Ashby's feature directing debut, "The Landlord"
1982:
Reteamed with Levinson and Curtin for "Best Friends", a romantic comedy starring Burt Reynolds and Goldie Hawn
:
Returned to Canada to join the CBC's television training program, subsequently working with the network as producer-director
:
Served briefly in the Canadian navy at the end of WWII
1989:
Stumbled with "In Country", a poorly executed adaptation of Bobbie Ann Mason's acclaimed novel
1979:
Teamed with screenwriters Barry Levinson and Valerie Curtin for "...And Justice for All", starring Al Pacino
1950:
Worked in England as actor-writer with BBC (dates approximate)
1965:
After directing three "innocuous Hollywood comedies" ("The Thrill of It All" 1963, "Send Me No Flowers" 1964, "The Art of Love" 1965), found loophole in his contract and took over the direction of MGM's "The Cincinnati Kid" from Sam Peckinpah; first collaboration with actor Steve McQueen
:
Began working for CBS in NYC, first revitalizing the "Your Hit Parade" show and then staging network specials like "Tonight with Belafonte" and "The Judy Garland Show" (directing and producing the special as well as producing the subsequent series)
1987:
Had popular and critical success with the romantic comedy "Moonstruck", receiving Best Picture and Best Director Oscar nominations
1967:
Helmed Academy Award-winning Best Picture "In the Heat of the Night"; received first Oscar nod for directing; also first collaboration with director of photography Haskell Wexler
1991:
Provided Danny De Vito with a great vehicle, "Other People's Money", though the movie lacked the bite of Jerry Sterner's off-Broadway play; third film with Wexler
1985:
Received much less praise for his next stage-to-film adaptation, "Agnes of God"; first feature filmed in his native Canada and initial collaboration with cinematographer Sven Nykvist