share:
Recent DVDs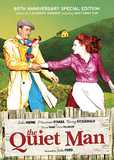 The Quiet Man ... Sean Thornton (John Wayne) in an American boxer who swears off fighting after he... more info $17.47was $24.95 Buy Now
Portlandia:... IFC's award-winning hit series starring Fred Armisen and Carrie Brownstein... more info $15.95was $19.95 Buy Now
MEDIA:
WATCH MOVIE CLIPS
|
VIEW TRAILER
|
VIEW PHOTOS
|
WATCH A TCM PROMO
| | | | |
| --- | --- | --- | --- |
| Also Known As: | Ford (Pappy),Jack Ford,Sean O'Feeney,Sean Aloysius O'Fearna,Sean Aloysius O'Feeney,Jack Ford | Died: | August 31, 1973 |
| Born: | February 1, 1895 | Cause of Death: | cancer |
| Birth Place: | Cape Elizabeth, Maine, USA | Profession: | Director ... director producer extra double set laborer assistant propman assistant cameraman actor assistant director stuntman |
RATE AND COMMENT
BIOGRAPHY
. In 1970, he suffered a broken hip that required moving about in a wheelchair and moving out of his Bel Air home. He received a number of honors in his final years, including a promotion to full admiral by President Richard Nixon, before he died on Aug. 31, 1973 after being treated for cancer. Ford left behind an incalculable legacy that included influencing countless filmmakers â¿¿ everyone from Sergio Leone and Akira Kurosawa to Steven Spielberg and Martin Scorsese counted him as their inspiration.
By Shawn Dwyers-spanning epic that focused on generations of a hard-working Welch mining family that starred Walter Pidgeon, Maureen Oâ¿¿Hara and a young Roddy McDowall. The film was another giant hit for Ford and was nominated for 10 Academy Awards, winning five including statues for Best Picture and Best Director.
"How Green Was My Valley" was the last movie Ford made before the end of World War II, during which time he directed a number of acclaimed propaganda documentaries as part of his contributions to the war effort. He served in the United States Navy under the rank of commander and headed the photographic unit for the Office of Strategic Services, for whom he made documentaries for the Navy. The first two were the short-subjects "Torpedo Squadron" (1942) and "Sex Hygiene" (1942), which demonstrated how to avoid contracting syphilis. He next directed "The Battle of Midway" (1942), which Ford shot on 16mm himself while present for the battle. Ford was wounded in the arm by shrapnel â¿¿ an injury that brought about complications for the remainder of his life â¿¿ and later won an Academy Award for Best Documentary. He went on to win another Oscar, this time for Best Documentary Short Subject, for "December 7th" (1943), a propaganda film about the Pearl Harbor attack in 1941. Ford was also at Omaha Beach for the Invasion of Normandy with camera in hand, but the color footage he shot of the first wave of the landing was deemed to be too gruesome for audiences to see and was put into storage, only to become lost decades later.
Wrapping up his wartime efforts, Ford directed Robert Montgomery and John Wayne in "They Were Expendable" (1945), a stirringly patriotic look at two PT boat officers rebounding from Americaâ¿¿s defeat in the Philippines. He returned to his regular Hollywood duties with "My Darling Clementine" (1946), a highly fictional portrayal of Wyatt Earp (Henry Fonda), and his adventures with his brothers and Doc Holliday (Victor Mature). After teaming with Fonda again for "The Fugitive" (1947), Ford directed Wayne in the first of the so-called cavalry trilogy, "Fort Apache" (1948), which continued with the stirring "She Wore a Yellow Ribbon" (1949) â¿¿ widely considered to be one of Wayneâ¿¿s finest performances â¿¿ and "Rio Grande" (1950). Following the workman-like Western "Wagon Master" (1950) and the dismissible comedy "When Willie Comes Marching Home" (1950), Ford directed Wayne in his most uncharacteristic role in "The Quiet Man." In the directorâ¿¿s affecting romantic comedy, the Duke played an American boxer who accidentally kills a man in the ring and flees to Ireland to escape the trauma, where he meets and falls for a spirited Irish woman (Maureen Oâ¿¿Hara) whose father refuses to consent to their marriage. Understated and underappreciated, "The Quiet Man" was a pet project of Fordâ¿¿s decades in the making, and earned him his fourth and final Academy Award for Best Director.
Following the rather poorly received Western comedy "The Sun Shines Bright" (1953), Ford had one of the biggest commercial hits of his career with "Mogambo" (1953), a lavish romantic adventure that followed a big game hunter (Clark Gable), a good-time playgirl (Ava Gardner) and a sheltered English couple (Donald Sinden and Grace Kelly) as they go on safari in Africa, only to face dissention among their ranks born from unrequited lust. Ford next directed "Mister Roberts" (1955), his masterful comedy about a cargo officer (Hendry Fonda) forced to deal with a tyrannical ship captain and a zany crew of misfits while awaiting a reassignment. The film marked a return to the screen for Fonda after an eight-year absence, as well as the last film he made with Ford, who became so irate with the actor for questioning his work, he punched him in the jaw. Ford and Fonda never worked together again. The event triggered Ford to embark on a serious drinking binge that shut down production for days. He eventually returned, only to suffer a ruptured gallbladder that required emergency surgery. Ford was replaced by Mervyn LeRoy, who received shared credit for finishing the film.
Having recovered from his surgery, Ford went about directing his most famous film, "The Searchers" (1956), wide considered to be one of the best â¿¿ if not the best â¿¿ Westerns ever made. Highly regarded by critics, historians, and such contemporary directors as Steven Spielberg, Martin Scorsese and George Lucas, "The Searchers" was not only a rousing adventure tale, but also a melancholy examination of the contradictions of settling the Old West. At the center was Ethan Edwards (John Wayne), a ruthless and bitter veteran of the Civil War who engages in an obsessive quest to retrieve an orphaned niece (Natalie Wood) abducted by a Comanche raiding party. Shot entirely in Monument Valley, which was on fine display in vivid Technicolor, "The Searchers" was later a major influence on filmmakers throughout the decades. David Lean repeatedly watched it while preparing to shoot "Lawrence of Arabia" (1962), while Sam Peckinpah paid homage to the film in several of his own works. But despite its widespread influence and its commercial success, "The Searchers" received zero Academy Award nominations.
Ford departed from his previous films over the next couple of years, starting with "The Wings of Eagles" (1957), a fictionalized biopic on the directorâ¿¿s own friend, Frank "Spig" Wead (Wayne), a Navy man and World War II veteran who breaks his neck in a fall down the stairs and overcomes his depression by becoming a screenwriter. He followed with the Irish-set anthology "The Rising of the Moon" (1957) and the British-made crime drama, "Gideonâ¿¿s Day" (1958), before making "The Last Hurrah" (1958) with Spencer Tracy, who starred as a tough Irish-American mayor of an unnamed city who will do whatever is necessary to win re-election. After directing Wayne in the Civil War-era Western "The Horse Soldiers" (1959) and Jeffrey Hunter in "Sergeant Rutledge" (1960), Ford had a brief and rocky working relationship with James Stewart, starting with "Two Rode Together" (1962), one of the directorâ¿¿s least favorite films. His second film with Stewart, "The Man Who Shot Liberty Valance" (1962), was a return to form as well as his last truly great film. Filmed in stark black and white, "Valance" starred Stewart as a powerful U.S. Senator who recounts his tale of vengeance for being robbed as a young lawyer by a ruthless outlaw (Lee Marvin) with the help of a local cowboy (Wayne). Fordâ¿¿s dark vision of a West plagued by lies and deceit was hailed by critics and became an instant hit based on the popularity of its two stars.
From there, Ford directed the Civil War segment of the anthology Western, "How the West Was Won" (1962), and moved on to make his last film with Wayne, "Donovanâ¿¿s Reef" (1963), an easily dismissed comedy about two buddies (Wayne and Marvin) on leave in the South Pacific that was an unworthy end point to the pairâ¿¿s highly successful collaboration. By this time, Fordâ¿¿s health was in serious decline from decades of heavy drinking, smoking and the residual effects of the wounds he suffered at the Battle of Midway. He directed only a few more films â¿¿ the epic Western "Cheyenne Autumn" (1964) with James Stewart and Edward G. Robinson, the fictionalized biopic "Young Cassidy" (1965), and the period drama "Seven Women" (1966), starring Anne Bancroft and Margaret Leighton â¿¿ before succumbing to his various ailments