share:
Recent DVDs
Johnny Be... Scrawny and short, high school quarterback Johnny Walker (Anthony Michael Hall,... more info $15.95was $24.95 Buy Now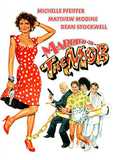 Married to the... Michelle Pfeiffer, Matthew Modine, Dean Stockwell, Alec Baldwin and Mercedes... more info $14.96was $19.95 Buy Now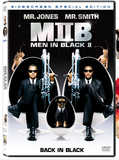 Men in Black... This is the wide-screen special edition version of the sequel to the sci-fi... more info $11.95was $14.99 Buy Now
MEDIA:
WATCH MOVIE CLIPS
|
VIEW TRAILER
|
VIEW PHOTOS
|
WATCH A TCM PROMO
| | | | |
| --- | --- | --- | --- |
| Also Known As: | | Died: | |
| Born: | January 15, 1935 | Cause of Death: | |
| Birth Place: | Cuba | Profession: | Title Design ... |
RATE AND COMMENT
MILESTONES
:
Spent early childhood on a farm in the Cuban countryside
:
Moved with family to NYC where he spent his teens
1953:
As a high school student, learned animation from a book by MGM animator Preston Blair
:
Formed an animation studio with two friends in Brooklyn; referring to Blair's book, built their own animation boards and stand so they could shoot artwork with a 16mm Bell and Howell camera that photographed single frames
:
Expanded interest in film as an usher in a 42nd Street theater that screened foreign films; befriended the projectionist; first saw UPA's "Gerald McBoing Boing" cartoons which inspired him and his friends; acquired some frames from the film for study
:
Worked as a penciler (artist) for Atlas Comics (later renamed Marvel Comics) under editor Stan Lee and Dell Comics; worked in the EC horror comic-book style
1955:
Worked as an animator and animation director
:
Got first animation job in a studio that produced black-and-white commercials; worked with former Disney veteran animator Bill Tytla (best known for animating the devil in "The Night on Bald Mountain" sequence of "Fantasia")
:
Worked as a director of animation for various NYC-based TV commercial studios including Academy Pictures, Gifford Animation and Elektra Studios; collaborators included Phil Kimmelman and Dante Barbetta
1961:
Formed the influential and award-winning film production company Ferro, Mogubgub and Schwartz; served as president, writer, producer and director
1961:
With associate Fred Mogubgub, hired by stage director Jerome Robbins to create a film sequence for the Broadway show "Oh Dad Poor Dad Ma's Hung You in the Closet and I'm Feeling So Sad" which utlized and illustrated the title in their distinctive mixed media style
1962:
Won notoriety in the advertising industry for pioneering use of multiple image screens and quick cut techniques (graphics combined with live-action and animation); first use was for station opening for TV station in Hartford CT
1962:
Fred Mogubgub left the firm in October to open his own studio; the name Mohammed was chosen to replace his name as the result of a publicly held contest; firm renamed Ferro, Mohammed & Schwartz
1963:
Traveled to London, England; conceived and directed American and British TV commericals; caught the attention of ascendant filmmaker Stanley Kubrick
1963:
Feature debut, Kubrick's "Dr. Strangelove or: How I Learned to Stop Worrying and Love the Bomb"; created main title sequence with "mating" airplanes accompanied by the song "Try A Little Tenderness" and huge hand-drawn letters; also assembled trailer and TV spots; teaser trailer used 40 different scene changes and eight different voices during a one-and-a-half minute spot; other versions included a three-minute theater reel, three 20-second TV teasers and two versions at different lengths for British TV
1964:
Returned to NYC; left Ferro, Mohammed and Schwartz to form Pablo Ferro Films, an award-winning commercial production company
1964:
Made a commercial for Beech-Nut Fruit Sours featuring an early use of split-screen techniques for commercials; screen segmented into six units yet worked as an integral whole to tell "story"
1964:
Conceptualized, created, directed and edited a film showing all facets of the Singer Corporation for the Singer Pavilion at the 1964 NYC World's Fair; two film projectors were used in sync and each film used 12 separate images creating a multiple screen effect; reputedly the first time multiple screen images were created using only film projectors
1964:
Created the famous corporate logo for Burlington Mills which utilized fast-moving multicolored "stitching" animation
1965:
Focused on producing commercials
1966:
Created main title sequence and print campaign for "The Russians Are Coming, The Russians Are Coming"; first collaboration with director Norman Jewison; created trailer and TV spots for "A Fine Madness"
:
Produced, directed, edited and co-wrote (with Don Calfa) a short entitled "The Bridge" in the 1960s
:
Served as producer, director, editor and cameraman on the short film "The Infatable Doll"
1967:
Focused on producing commercials
1968:
Created and edited the special multiple screen effects sequences including 66 images in one frame for the polo sequence in "The Thomas Crown Affair"; reputedly a first for 35mm feature; first collaboration with Hal Ashby, who served as supervising film editor as well as associate producer
1968:
Created the main title sequence for "Bullitt"
:
Designed a multi-image opening for CBS's "The Ed Sullivan Show"
1969:
Developed a process by which TV tape techniques could be used to produce motion pictures with a Sony videotape camera and half-inch videotape to record sound and images; his first film made in this process was a 15-minute short entitled "Pretend You're Dead and Come With Me" made on a budget of less than $1000; video shot entirely on location on Manhattan Bridge with available light hand-held with a crew of two
1969:
Produced, directed and edited a short film entitled "The Lawyer" scripted by Julian Barry
1969:
Began collaboration with director William Friedkin on "The Night They Raided Minsky's"; served as visual consultant, 2nd unit director and editor; supervised re-edit of film; created special effects; created main title sequence
1969:
Did the main title sequence, 2nd unit directing and editing and the bedroom TV scene of John Schlesinger's "Midnight Cowboy"
1971:
Beginning of long collaboration with director Hal Ashby, "Harold and Maude"; designed main titles and created special trailer; included a scene in trailer wherein the film's stars, Bud Cort and Ruth Gordon, kiss; upset Paramount production chief Bob Evans who fired Ferro and forced Ashby to remove the scene from the film
1972:
Created trailer and TV spots for Kubrick's controversial feature, "A Clockwork Orange"
1972:
Feature acting debut as Chief Cloud in the Head, an Indian with severe back problems, in Robert Downey's "Greaser's Palace"
1972:
Hired by Atlantic Records to assemble a film saluting their artists; made "The Original Jive", an ambitious, free-form film collage mixing documentary footage with Hollywood film clips and surreal bits from the films of Luis Bunuel and Jean Cocteau; Atlantic disliked the film and cut the financing after only thirty minutes had been completed; fragment screened in 1988 at the Museum of Fine Arts in Boston, Massachusetts
1973:
Created trailer and TV spots for Lindsay Anderson's "O Lucky Man"; created trailer for Jewison's "Jesus Christ Superstar"
1974:
Created trailers and TV spots for John Boorman's "Zardoz"
1975:
Created trailers and TV spots for Ingmar Bergman's "Scenes from a Marriage" and Lina Wertmuller's "Swept Away..."
1976:
Designed main titles for Ashby's "Bound for Glory"; as Depablo Depablo, directed featurette on "The Making of 'Bound for Glory'"; as Depablo Depablo, served as graphic consultant on Downey's "Jive (Complement to the World)" (also created main titles and acted as "Co-pilot in Spaceship")
1977:
First collaboration with director Jonathan Demme, created main title sequence for "Citizen's Band"
1979:
Provided main title design, trailer, TV spots, radio spots and print campaign for Ashby's "Being There"; created main title sequence for Demme's "Last Embrace"
1980:
Created re-release print campaign for Ashby's "Being There"
1981:
Provided main title design, trailer, TV spots and print campaign for Ashby's "Second Hand Hearts"
1982:
Provided main title design, trailer, TV spots and several print campaigns for Ashby's "Looking to Get Out"
1983:
Credited as "creative associate" on "Let's Spend the Night Together", the Hal Ashby-directed concert film of the Rolling Stones, but actually co-directed (DGA requirements kept him from officially having that title); supervised editing; created montage sequences using time-lapse photography
1983:
Served as supervising editor on "Beat It", the landmark Michael Jackson video; Ferro was nominated for Best Editing by the American Video Awards
1983:
Acted in Robert Downey's "America"; portrayed Hector Frantico; created main title design for Demme's "Swing Shift"
1984:
Reprised the hand-drawn lettering look of "Dr. Strangelove" for the main titles of "Stop Making Sense", the Demme-directed concert film of the Talking Heads; also created the trailer and music video
1985:
Created the main title sequence for the popular NBC family sitcom "Family Ties"; created the main title sequence and theatrical trailer for Friedkin's "To Live and Die in L.A."
:
Did title design and/or TV campaigns for various film and TV projects; responsible for the Alive Films logo; did graphic design and directged animation and logo graphics
1987:
Provided special trailer end title shoot and theatrical trailer for "Prince of Darkness"; first colloboration with writer-director John Carpenter
1987:
Created special effects sequences and main titles for William Friedkin's "Rampage"
1988:
Created "filler" programming--quick cuts of historical film sequences set to outlandish music and sound effects--for the 15th annual Saturn Awards show presented by the Academy of Science Fiction, Fantasy and Horror
1990:
Created the main title sequence and montage sequences for Sam Raimi's "Darkman"
1992:
Directed and produced "Me, Myself and I", a romantic comedy starring George Segal and JoBeth Williams; from a screenplay by Julian Barry that he had commissioned some 20 years earlier
1993:
Director Demme successfully appealed to the Directors Guild of America requesting a waiver that would allow Ferro's credit to appear in the opening titles of "Philadelphia"
1995:
Provided acclaimed opening title sequence montage of tabloid headlines for Gus Van Sant's "To Die For" after test audiences expressed confusion about the plot
1996:
Was graphic consultant and created main title design and special visual effects for Michael Cimino's "Sunchaser"
1997:
Had small role as a dancer and designed the title sequence for Robert Downey's "Hugo Pool"
1997:
Created main title designs for the Oscar-winning films "Men in Black" (directed by Sonnenfeld), "L.A. Confidential" (helmed by Curtis Harrington), James L Brooks' "As Good As It Gets", and "Good Will Hunting", directed by Van Sant
1998:
Fashioned title design and sequence and montage for "Krippendorf's Tribe" (helmed by Todd Holland) "Hope Floats" (directed by Forest Whitaker), "Beloved" (directed by Jonathan Demme) and the remakes of "Doctor Dolittle" and "Psycho", directed respectively by Betty Thomas and Gus Van Sant
1998:
Formed Depablo Productions (dba Pablo Ferro & Associates)
1998:
Honored with a tribute by the Directors Guild of America, hosted by Michael Cimino (October 9)
1998:
Returned to the small screen with the title design and sequence and montage for the HBO biopic "Winchell", directed by Paul Mazursky
1999:
Designed the main title sequence for the baseball-themed Kevin Costner vehicle "For Love of the Game", helmed by Sam Raimi as well as the title sequence for "Agnes Browne", directed by Anjelica Huston
2000:
Served as titles consultant on "Shadow Hours"