share:
Recent DVDs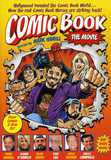 Comic Book:... Directors Mark Hamill; features Mark Hamill, Donna D'Errico, Billy West, Jess... more info $7.95was $9.98 Buy Now
MEDIA:
WATCH MOVIE CLIPS
|
VIEW TRAILER
|
VIEW PHOTOS
|
WATCH A TCM PROMO
| | | | |
| --- | --- | --- | --- |
| Also Known As: | Hugh M. Hefner,Hugh Marston Hefner | Died: | |
| Born: | April 9, 1926 | Cause of Death: | |
| Birth Place: | Chicago, Illinois, USA | Profession: | Producer ... magazine publisher reality TV personality producer TV host copywriter cartoonist |
RATE AND COMMENT
BIOGRAPHY
est-selling publications in the world by decade's end.
Hefner reacted to the universal acclaim by diverting the Playboy empire into nearly every aspect of popular culture. He returned to the airwaves in 1968 with a revamped version of "Playboy's Penthouse" called "Playboy After Dark" (syndicated, 1968-1970), and launched a book publishing firm, a limousine service, a record label and a movie production office which guided several notable (if not particularly successful) features, including Roman Polanski's adaptation of "Macbeth" (1971) and the Monty Python film "And Now for Something Completely Different" (1971). When Hefner took the company public in 1971, it counted a vast number of clubs, casinos and hotels among its fortunes.
In 1975, Hefner relocated the Playboy offices to a sprawling mansion in Holmby Hills, which quickly became ground zero for no-holds-barred parties with major players from the Hollywood film industry. Hefner himself indulged in the hedonistic lifestyle that took root at the mansion; he squired countless Playmates, as well as aspiring actress Barbi Benton, who was featured in its pages. The good times also took a dark turn in the mid-1970s with the overdose death of Hefner's secretary, Bobbi Arnstein in 1975, as well as the brutal 1980 slaying of that year's Playmate of the Year and possible movie star Dorothy Stratten by her controlling manager/husband, Paul Snider. The whole sordid murder cast a pall over the mansion and the company in general, as Stratten was widely loved within the Playboy family. It took Hefner a good while to get over the death of the one Playmate who he felt had the best chance to break into the mainstream, following her brief movie career in films like "Galaxina" (1980) and Peter Bogdanovich's "The All Laughed" (1980).
Though Hefner's image became irreparably associated with partying during the snorting seventies, the magazine maintained its lead in the men's magazine field. Hefner also expanded his philanthropic interests by spearheading a campaign to restore the Hollywood sign, which earned him a star on the Hollywood Walk of Fame and inclusion in the Hollywood Chamber of Commerce's Hall of Fame. In 1979, his daughter Christie, who began working for her father in the late 1970s, established the Hugh M. Hefner First Amendment Awards to honor individuals who worked to preserve the First Amendment.
But by the 1980s, Playboy's fortunes began to experience a downward turn. The proliferation of hardcore pornography in the video market ate away at its readership and relevance, as did a slew of more explicit competitors like Bob Guccione's Penthouse and Larry Flynt's Hustler. The Playboy Clubs - long a destination for high rollers in numerous cities - closed down en masse by 1986, and even Hefner himself took a bad turn in 1985 when he suffered a mild stroke, following the publication of an indicting tell-all from former friend Bogdanovich, who in writing his Stratten memoir The Killing of the Unicorn, blamed his lover's death as much on her murdering husband as Hefner and the Playboy mentality of women as sexual objects. The stroke - coupled with the very public bad blood with Bogdanovich - later caused the veteran publisher to re-evaluate his life, which resulted in him naming daughter Christie as president and later Chairman and CEO of Playboy Enterprises. Four years later, the avowed bachelor married Kimberly Conrad, his 1989 Playmate of the Year. Their union produced two sons, Marston and Cooper, in 1990 and 1991, respectively. He also began contributing extensively to film-related organizations and causes, including the University of Southern California's School of Cinematic Arts, where he funded a course on censorship, as well as an endowment for the study of film and an exhibition space in its new headquarters. Hefner also sponsored the "American Cinema" (1995) series on PBS, and was a regular contributor to film restoration projects, as well as producing documentaries on Golden Age sex symbols who had fascinated him, including Clara Bow and Louise Brooks.
As he entered into his sixth and seventh decade, Hefner began collecting tributes and recognition from his peers and the world at large for his successes and struggles in the publishing field. He was the subject of an engrossing documentary, "Hugh Hefner: Once Upon a Time" (1996) by producers David Lynch and Mark Frost, and a two-hour special, "Hugh Hefner: American Playboy" (1996), for the A&E Network. That same year, he received the International Publishing Award from the International Press Directory in London, and was inducted into the American Society of Magazine Editors' Hall of Fame in 1998. And in 2002, he received the Henry Johnson Fisher Award, the highest honor of the Magazine Publishers of America.
In 1999, Hefner and Conrad separated, though she maintained a residence with their sons on the grounds of the mansion. The 73-year-old raised eyebrows by quickly taking up with a rotating selection of Playmates, all in their early 20s, and who dated Hefner in packs of up to seven at a time. His escapades with this gaggle of girlfriends later became the focus of "The Girls Next Door" (E!, 2005- ), a reality series which followed the girls' experiences at the mansion, with Hef remaining at slight stage left as a bemused eminence grise. In 2003, Playboy celebrated its 50th anniversary with a slew of television specials and events that paid tribute to its legacy and the achievements of its founder. And though the magazine had not rebounded to the heights of success it experienced in the late 1960s and throughout the decade of the 1970s, Playboy managed to weather countless aspirations to its throne - including the wave of "lad" magazines like England's FHM and Maxim in the 1990s - and maintain a viable presence in the marketplace. However, the 21st century edition of Playboy Enterprises drew only a third of its income from the magazine; most of its revenue was generated from electronic sources such as DVD and the Internet, as well as its revitalized hotel and casino ventures. A large majority of this content was devoted to hardcore pornography, which flew directly against the policies Hefner drafted for the magazine five decades prior, but he was a cagey enough businessman to realize that the modern American male's tastes had changed since 1953.
In 2007, a biopic of Hefner's life and achievements was announced by Brian Grazer and Imagine Entertainment; the producer optioned Hefner's story and collaborated with several screenwriters and filmmakers (including Oliver Stone) before settling on Brett Ratner as director. Hefner was portrayed on film and in television several times prior to the film, including two features about Dorothy Stratten - Bob Fosse's grim "Star 80," with Cliff Robertson as Hefner, and the 1981 TV movie "Death of a Centerfold," with Mitchell Ryan as Hefner. Randall Batinkoff played Hef in the 1999 TV movie "Hefner: Unauthorized," while Sean Thibodeau contributed a brief comic turn to "The Ladies Man" in 2000. In addition to his appearances in "The Girls Next Door" reality show, the real Hefner made cameos in countless television programs, documentaries, music videos and commercials throughout his long and storied career - always starring as himself, with pipe in hand and beautiful, buxom blondes on either arm.ures of the day, including Martin Luther King, Billy Wilder, Albert Schweitzer, the Beatles and even President Jimmy Carter, who infamously admitted he "lusted in his heart" outside of his marriage. Authors ranging from John Updike and Ray Bradbury to Vladimir Nabokov contributed fiction and essays to its pages. Hefner also refused to make the nude pictorials more explicit, despite changing cultural standards regarding nudity and sexuality. The quality of the magazine's production and editorial helped to make it one of the b