share:
Recent DVDs
All You Need... The full series of films was released in 2008 to great critical and commercial... more info $7.95was $7.95 Buy Now
Life & Times... Visionary, radical, spiritual seeker, renowned poet, founding member of a major... more info $16.95was $29.95 Buy Now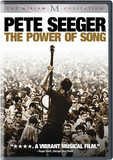 Pete Seeger:... Pete Seeger is a revered singer and performer, an ambassador of the world's folk... more info $15.95was $24.99 Buy Now
MEDIA:
WATCH MOVIE CLIPS
|
VIEW TRAILER
|
VIEW PHOTOS
|
WATCH A TCM PROMO
| | | | |
| --- | --- | --- | --- |
| Also Known As: | | Died: | |
| Born: | January 9, 1941 | Cause of Death: | |
| Birth Place: | Staten Island, New York, USA | Profession: | Music ... |
RATE AND COMMENT
BIOGRAPHY
rael and Palestine, and South America, where she received death threats for attempting to play for large audiences. Her 1989 appearance in Communist Czechoslovakia was marked by her meeting with future president Vaclav Havel, whom she saved from arrest by enlisting him as her guitar tech, and for a stunning a capella performance after government officials shut off her microphone during a performance.
After years without major label support, Baez signed with Virgin in 1992 to release Play Me Backwards. After the companyâ¿¿s purchase by EMI, she switched to Guardian, which released the live album Ring Them Bells (1995), which featured her performing at New Yorkâ¿¿s Bottom Line club with artists who had drawn influence from her, including the Indigo Girls and Mary Chapin Carpenter. The new millennium saw reissues of her classic albums on Vanguard, as well as studio and live albums on a variety of labels. Her storied career earned her the Grammy Lifetime Achievement Award in 2007, which preceded appearances as a guest of honor at the U.K.â¿¿s Glastonbury Festival and Montreux Jazz Festival in 2008 and the 50th anniversary of the Newport Folk Festival in 2009. That same year, Baez was the subject of a PBS documentary, "Joan Baez: How Sweet the Sound," which aired as part of the "American Masters" (1986- ) series. In 2011, she was honored at Amnesty Internationalâ¿¿s 50th Annual General Meeting with the inauguration of the Joan Baez Award, which paid tribute to artists who, like Baez herself, helped to advance the cause of human rights. Seven months later, she reconfirmed her commitment to social issues by performing a three-song at the Occupy Wall Street headquarters in New York City.
By Paul Gaitaocial causes during her adult years. Music took root in her life at the age of eight when a friend of her father gave her a ukulele, on which she would teach herself basic chords. That same year, an aunt took her to a concert by folk legend Pete Seeger, who became one of her greatest influences. Within a few years, Baez was performing Seegerâ¿¿s songs in public. At 16, she purchased her first acoustic guitar, which became her instrument of choice throughout her career.
In 1958, Baez⿿s father moved the family, which included Baez⿿s sisters Pauline and Margarita, the latter of whom would later enjoy her own folk music career under the name Mimi Fariña, to Boston after accepting a faculty position there. Baez began studying drama at Boston University, but found herself drawn to the folk clubs in Cambridge. She became a staple at the famed Club 47, before making her recording debut on Folksingers ⿿Round Harvard Square (1959), an album recorded with two other singers in the cellar of a friend⿿s house. Baez⿿s otherworldly soprano voice brought her to the attention of prominent figures in the early ⿿60s folk scene, most notably Bob Gibson, who brought her to the 1959 Newport Folk Festival. Her performance generated a bidding war between Columbia Records and Vanguard Records to sign her for a recording contract. She chose Vanguard, believing that she stood a greater chance of exercising her artistic choices at a smaller label, and released her self-titled debut in 1960.
Though the track listing was comprised of traditional folk material â¿¿ English ballads and blues â¿¿ Baez would soon earn a reputation for championing newer singers, most notably Bob Dylan, whom she met in Greenwich Village in 1961. Upon their first meeting, she was unimpressed by the rough-hewn Minnesotan, who had initially shown interest in her sister, Mimi. Gradually, the pair became not only the leading lights of the modern folk scene, but a romantic couple as well. Dylan would also exert a tremendous influence on her own songwriting, which began to address more political themes in 1962. By the following year, Baez had begun to exercise her political activism off-stage as well. She participated in Dr. Martin Luther Kingâ¿¿s March on Washington for Jobs and Freedom in 1963, performing a rendition of "We Shall Overcome" on the steps of the Lincoln Memorial that forged a permanent link in the social consciousness between her and the song. Baez also withheld 60 percent of her income tax to protest military spending, vocally endorsed draft resistance at her concerts, and founded the Institute for the Study of Nonviolence in 1964. A year later, she rejoined King for his 1965 march from Selma to Montgomery, AL. These and other commitments had a deeply polarizing effect on the American public: while liberals championed Baez, cartoonist Al Capp spoke for many conservatives by satirizing her in his Liâ¿¿l Abner comic as "Joanie Phoanie," a hypocritical folk singer who espoused Communist ideals while charging exorbitant fees for her concerts.
As her standing among the socially conscious grew in stature, so too did her influence on the folk scene. Like Dylan before her, she experimented with her sound on numerous occasions, adding instrumentation behind her acoustic guitar for 1965⿿s Farewell, Angelina, then tackling Christmas hymns on 1966⿿s Noël. The following year, she added lush orchestration to Joan (1967) and recited poetry on Baptism (1968). She continued to bring modern songwriters to the attention of her listeners, covering songs by the likes of Phi Ochs, Leonard Cohen, Tim Hardin, Johnny Cash, Luis Bonfa and even such non-folk artists as the Beatles. Her fearless attitudes toward her music and her politics wielded enormous influence on countless singers who followed in her wake during the 1960s, including Judy Collins, Joni Mitchell, Emmylou Harris and Bonnie Raitt.
After her relationship with Dylan unraveled in 1965, she met anti-war activist David Harris, with whom she was jailed following a 1967 protest at the Oakland, California Armed Forces Induction Center. The couple married shortly after their release, but Harris was soon incarcerated after again refusing his military induction. Baez would draw attention to his plight through her well-publicized appearance at the Woodstock music festival while heavily pregnant with Harrisâ¿¿ child, before releasing several well-regarded album tributes, including 1969â¿¿s Davidâ¿¿s Song, which found Baez experimenting with country rock. Despite her dedication to Harris, the couple split amicably shortly after his release in 1972.
Baez also parted ways with her label, Vanguard, after 11 years of success. She would release one final album, Blessed Are⿦ (1971), which featured her Top 10 cover of The Band⿿s "The Night They Drove Old Dixie Down." Come from the Shadows (1972) marked the beginning of a four-year tenure with A&M, marked by ambitious projects like Where Are You Now, My Son (1973), which featured an album side devoted in part to field recordings made during her 1972 visit to North Vietnam, and the Spanish-language LPGracias a la Vida (1974). But her boldest move may have been Diamonds & Rust (1975), a pop-rock album that generated her second Top 10 single with the wistful title track. The song allegedly referenced her platonic reunion with Bob Dylan for his 1975-76 Rolling Thunder tour, which included a turn as the Woman in White in his directorial debut, the highly allegorical "Renaldo & Clara" (1978). Shortly thereafter, she left A&M for CBS Records, where she remained through the early 1980s.
Baezâ¿¿s second decade of commitment to music and causes earned her honorary Doctor of Humane Letters degrees from both Antioch University and Rutgers University in 1980. Though prestigious, the awards seemed to symbolize the publicâ¿¿s attitude toward Baez during the 1980s as more of a living symbol of the 1960s than a still-active talent. She was without a label for nearly seven years, during which she toured extensively throughout the world, performing at not only Live Aid in 1985, but in such hot spots as the Middle East, where she played concerts for both Is