share:
Recent DVDs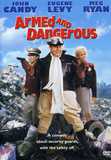 Armed and... Originally released in 1986. Directed by Mark L. Lester. Starring Eugene Levy,... more info $6.95was $9.98 Buy Now
MEDIA:
WATCH MOVIE CLIPS
|
VIEW TRAILER
|
VIEW PHOTOS
|
WATCH A TCM PROMO
| | | | |
| --- | --- | --- | --- |
| Also Known As: | Brian Thomas Grazer | Died: | |
| Born: | July 12, 1951 | Cause of Death: | |
| Birth Place: | Los Angeles, California, USA | Profession: | Producer ... executive producer screenwriter script reader legal intern |
RATE AND COMMENT
BIOGRAPHY
For most of his long and illustrious career, Brian Grazer worked behind the scenes as director Ron Howard's dynamic producing partner, forming one of the most powerful and successful filmmaking duos working in Hollywood. Ever since teaming up with Howard on "Night Shift" (1982) and "Splash" (1984), Grazer developed a reputation as a highly influential creative with a strong sense for commercial stories and a sharp eye for emerging talent. In fact, Grazer has often been credited with having launched or boosted the careers of Michael Keaton, Tom Hanks, Val Kilmer, Meg Ryan and John Candy. Though he started in television production during the late 1970s, Grazer found his niche in features, churning out hit after hit while elevating his status through his partnership with Howard on Academy Award-worthy material like "Apollo 13" (1995), "A Beautiful Mind" (2002) and "Frost/Nixon" (2008). He eventually translated his feature success to the small screen with shows like "Arrested Development" (Fox, 2003-06), "24" (Fox, 2001-2010) and "Friday Night Lights" (NBC/DirecTV, 2006-11), but it was the many successful big screen projects that made Grazer one of the top producers for several decades.
Born on July 12, 1951 in Los Angeles, Grazer was raised by his father, Thomas, a criminal lawyer and his mother, Arlene, in the San Fernando Valley's Sherman Oaks and Northridge. Though he grew up amidst the bright lights of Hollywood, Grazer had no particular ambition to enter show business. Instead, he won a scholarship and entered the University of Southern California as a psychology major set on entering medical school. Upon graduating, however, he made the switch to law school, but decided to quit after his first year to take a $5-an-hour job as a clerk at Warner Bros. once he realized he wanted the Hollywood lifestyle. Once on the inside, Grazer demonstrated his savvy and nerve after a vice president was fired; he immediately jumped on the opportunity and asked to use the empty office, which put him in close proximity to the other executives. Grazer watched, listened and learned, then began making calls and taking meetings. But his ambition may have proved to be too much for the studio to handle. He was fired after eight months.
Grazer struggled to find his next job because he lacked connections, experience and money. He did, however, receive some valuable advice: If he wanted to get anywhere, he needed to produce his own material. So Grazer pitched several ideas around town, sold a couple to NBC and eventually went to work for television producer Edgar Scherick, with whom he produced two television movies, "Zuma Beach" (NBC, 1978), a teen comedy about a fading rock star (Suzanne Somers) trying to forget her faltering career, and "Thou Shalt Not Commit Adultery (NBC, 1978), a drama about the wife of a paraplegic who is given permission to have an extramarital affair. Then after meeting Ron Howard while executive-producing television pilots for Paramount Pictures, Grazer formed a partnership with the budding director and segued to features, where the two found immediate success, starting with "Night Shift" (1982), a madcap comedy about a straight-laced morgue attendant (Henry Winkler) who gets pulled into a get-rich-quick scheme by his fast-talking co-worker (Michael Keaton) to turn the morgue into a brothel. The duo went on to make "Splash" (1984), a huge box office hit about a man (Tom Hanks) who falls in love with a mermaid (Daryl Hannah) that solidified Grazer and Howard as a filmmaking force to be reckoned with.
Grazer expanded his film comedy resume by producing "Real Genius" (1985), a Martha Coolidge-directed teen comedy starring a young Val Kilmer, and the larger scale Chevy Chase-Dan Aykroyd outing, "Spies Like Us" (1985), helmed by John Landis. In 1986, Grazer and Howard formed Imagine Films Entertainment, an independent production company that reaped big dividends for the producing partners almost from the start. Since its inception, Imagine tended to specialize in high-profile comedies built around a particular star, like Hanks in "The 'Burbs" (1989) and Steve Martin in "Parenthood" (1989), perhaps one of Grazer's most enduring successes. Grazer had another hit with "Kindergarten Cop" (1990), which starred Arnold Schwarzenegger as a detective going undercover as a kindergarten teacher in order to protect a child from his fugitive father. Grazer continued making television programs as well, like "Take Five" (CBS, 1987), "Poison" (Showtime, 1988) and a small screen version of "Parenthood" (NBC, 1990-91), though he failed to achieve the same success as he did in features.
Meanwhile, Grazer left television behind for several years to churn out hits on the big screen, including "The Doors" (1991), "My Girl" (1991) and "Backdraft" (1991), Howard's well-crafted look at a group of Chicago firefighters battling a series of blazes set by an arsonist who may in fact be one of their own. After Grazer produced Howard's ambitious, but ultimately flawed period epic, "Far and Away" (1992), starring Tom Cruise and Nicole Kidman, he began a lucrative partnership with star Eddie Murphy with "Boomerang" (1992), a battle-of-the-sexes comedy about a marketing executive and unrepentant womanizer who meets his match when he gets a new boss (Robin Givens). Following a string of forgettable features like "For Love or Money" (1993), "My Girl 2" (1994) and "The Cowboy Way" (1994), Grazer and Howard had another box office hit - and their first legitimate Oscar contender - with "Apollo 13" (1995), a harrowing look at the manned flight to the moon that brought out incalculable bravery on the parts of the astronauts (Tom Hanks, Bill Paxton and Ed Harris) trapped in a spacecraft over 200,000 miles from Earth without power and with a dwindling supply of oxygen. The film was nominated for nine Academy Awards, and won two for best editing and sound.
After "Apollo 13," Grazer hit full stride with a series of blockbuster hits, starting with another collaboration with Eddie Murphy on "The Nutty Professor" (1996). He next produced the Mel Gibson vehicle, "Ransom" (1996) before having another huge box office success with "Liar Liar" (1997), which starred Jim Carrey as a lawyer desperately trying to fulfill his son's wish to stop lying for 24 hours. Grazer returned to the small screen following a six year stretch, producing the short-lived sitcom, "Hiller and Diller" (ABC, 1998), which lasted all of two weeks, then found much more success with the 12-part miniseries "From the Earth to the Moon" (HBO, 1998), which focused on America's Apollo space program from 1961-1972. The program was hailed by many critics and earned numerous Emmy award nominations on its way to winning three statues, including one for Outstanding Miniseries. Following more collaborations with Eddie Murphy on the underrated satire "Bowfinger" (1999) and the hit sequel "Nutty Professor II: The Klumps"(2000), Grazer, Howard and Carrey joined forces again for the live-action version of "Dr. Seuss' How the Grinch Stole Christmas" (2000), which earned a big take at the box office amidst scores of scathing reviews. The movie also won an Oscar for Best Makeup.
Following their success with "The Grinch," Glazer and Howard made "A Beautiful Mind" (2001), the award-winning biopic of mathematician John Forbes Nash, Jr. (Russell Crowe), who overcame schizophrenia with the help of his devoted wife (Jennifer Connelly) to win a Nobel Prize. Despite a series of controversies ranging from how much of the film deviated from the subject's life, "A Beautiful Mind" was a commercial and critical success, earning eight Academy Award nominations while taking home four Oscars, including one for Best Picture. A slew of film projects followed in the following year, as Grazer took on production of "8 Mile" (2002), starring rap superstar Eminem, produced the spoof "Undercover Brother" (2002) with Eddie Griffith and Denise Richards, and recalled his wave-riding roots by producing the summer surf girl flick "Blue Crush" (2002). On the television side, Grazer executive-produced several prominent and successful shows, including "Sports Night" (ABC, 1998-2000), "The PJs" (Fox, 1998-2001) and "Felicity" (1998-2002). Now oscillating between features and television with ease, Grazer produced the mammoth production of "Dr. Seuss' The Cat in the Hat" (2003), a live-action remake starring Mike Myers that was panned, but nonetheless a box office hit, followed by the smaller projects "Intolerable Cruelty" (2003) and "The Missing" (2003).
In the midst of churning out box office hits, Grazer finally hit pay dirt on the small screen with the groundbreaking and critically hailed series "24" (Fox, 2001-2010), a dark action thriller about a counter-terrorist officer (Kiefer Sutherland) having exactly 24 hours to save the world. The series was nominated for an Emmy award in 2002 for Best Drama Series - the first of several nominations it received over the course of its long run. Sticking with the small screen, Grazer had a couple of misfires: "Miss Match" (NBC, 2003-04), a sitcom about a divorce attorney (Alicia Silverstone) juggling her job and her hobby as matchmaker for her friends, and "The Big House" (ABC, 2003-04), about a wealthy Malibu man who g s back to his blue-collar beginnings when his father loses all his money. Grazer then produced "Arrested Development" (Fox, 2003-06), a highly-touted and oft-troubled sitcom about a wealthy, but estranged Orange County family who bond together in order to survive after their patriarch (Jeffrey Tambor) is convicted of fraud and sent to prison, effectively freezing the family's considerable assets. With its stinging humor and cast of oddball misfits, "Arrested Development" became a critical darling while earning a small, but loyal audience.
But the highly dysfunctional Bluth family proved to be too much for mainstream audiences to understand. After constant questioning of whether or not the show would survive, "Arrested Development" was finally canceled due to poor ratings in 2006. Glazer, however, still had plenty of projects on his plate. He produced the well-received high school football feature "Friday Night Lights" (2004); "Inside Deep Throat" (2005), a documentary that probed the porn phenomenon from the early 1970s; and "Fun with Dick and Jane" (2005), a disappointing remake of the George Segal-Jane Fonda comedy starring Jim Carrey and Tea Leoni. After two more series - "Quintuplets" (Fox, 2004-05) and "The Inside" (2004-05) - came and went, Grazer focused almost exclusively on features, including "Flightplan" (2005), an action thriller starring Jodie Foster as a frantic mother determined to find her supposedly vanished daughter (Marlene Lawston). Though not an overwhelming success, "Flightplan" did manage to take in a respectable $86 million at the box office.
Grazer teamed once again with Ron Howard, Russell Crowe and scribe Akiva Goldsman for "Cinderella Man" (2005), the heartwarming underdog tale of famed prize fighter James Braddock (Crowe). Once a promising contender, Braddock's life and career were upended by a stinging defeat to lightweight champion Tommy Loughran. As the Great Depression forced him to work the docks to support his wife (Renee Zellweger) and family, Braddock was determined to get back into the ring even though he was considered to be too old and out-of-shape to fight. The rags-to-riches tale earned plenty of critical kudos and award nominations, particularly for supporting actor Paul Giamatti. His next producing effort was "Inside Man" (2006), Spike Lee's impressive crime thriller about a brilliant and cool-headed thief (Clive Owen) who remains one step ahead of a smooth-talking hostage negotiator (Denzel Washington) in an effort to pull off the perfect heist.
Grazer and Howard then made one of the most controversial and awaited movies to have come along in decades, "The Da Vinci Code" (2006), adapted from Dan Brown's mega-blockbuster book. A famed symbologist (Tom Hanks) is called to the Louvre where the murder of a curator has left behind a trail of mysterious symbols and clues leading to a secret society that has spent the past 2000 years guarding a secret that could destroy the very foundations of society if it were revealed. Even before its release - highly anticipated to be one of the summer's biggest blockbusters - the Catholic Church urged its faithful to boycott the film because of its depiction of members of Opus Dei, a group of lay people and secular priests committed to spreading the gospel. The Church wanted filmmakers to put a disclaimer before the movie stating that it was fiction, not fact; a demand Howard and Grazer rightly refused. Though controversial before its release, critics were largely underwhelmed, many of whom considered the film to be dull and plodding. Nonetheless, "The Da Vinci Code" took in more than $200 million at the box office.
Once again turning to television, Grazer pushed forth a one-hour small screen version of Peter Berg's feature, "Friday Night Lights" (NBC/DirecTV, 2006-11), which struggled throughout its first season to find ratings. In fact, the show teetered on the fence for the entire year. But its small, fiercely loyal viewership made their collective voice be heard and managed to save the day. "Friday Night Lights" was also helped by a vast majority of critics, who placed the show on their top ten lists. Eventually, "Friday Night Lights" survived for a few more seasons, though it remained seemingly forever on the chopping block. After "How to Eat Fried Worms" (2006), a coming-of-age tale about an 11-year-old boy's first day at school adapted from Thomas Rockwell's classic children's novel, Grazer produced "American Gangster" (2007), a real-life telling of drug kingpin-turned-informant Frank Lucas (Denzel Washington) and his efforts to aide lawman Richie Roberts (Russell Crowe) in bringing down the crooked cops and foreign nationals running the rampant heroin trade. Also that year, Grazer made rare personal news when he filed for divorce from his wife, Gigi Levangie Grazer, author of The Starter Wife, citing irreconcilable differences.
Grazer continued having mild success on television, producing the short-lived, but critically accepted drama "Shark" (CBS, 2006-08), starring James Woods as a former hot shot attorney-to-the-stars who suddenly flips sides and becomes a prosecutor of high profile cases. Following the Golden Globe-nominated made-for-television movie "24: Redemption" (Fox, 2008), Grazer served as producer on "Changling" (2008), Clint Eastwood's compelling period thriller about a distraught mother (Angelina Jolie) fighting the corrupt Los Angeles Police Department in order to find her missing son. Grazer and Howard then teamed up for the excellent political drama, "Frost/Nixon" (2008), a behind-the-scenes look at the famous 1977 interviews between David Frost (Michael Sheen) and Richard Nixon (Frank Langella). "Frost/Nixon" was hailed by critics and nominated for several awards, including a Best Picture nod at the Academy Awards. Meanwhile, Grazer and Howard followed up their "Da Vinci Code" success with the sequel, "Angels & Demons" (2009), also starring Hanks.
After a successful updated version of the series "Parenthood" (NBC, 2010-15), Grazer produced the Russell Crowe-Ridley Scott rehash of "Robin Hood" (2010), before returning to the small screen with the much-hyped, but short-lived drama series "The Playboy Club" (NBC, 2011). While awaiting the release of his next biopic, "J. Edgar" (2011), Grazer was named as one of the producers for the 84th Annual Academy Awards after previous producer, Brett Ratner, stepped down amidst controversy for making derogatory remarks against gays. Grazer's first task was to find a new host for the show after Ratner's pick, Eddie Murphy, stepped down as well. Fans of another Howard-Grazer collaboration were overjoyed by news of the long-rumored resurrection of "Arrested Development" (Netflix, 2013- ) for a fourth season to be aired on the media company's live-streaming application. Returning cast members included Jason Bateman, Will Arnett, Jessica Walter and Jeffrey Tambor, prompting devotees of the dysfunctional Bluth dynasty to once again hold out hope for a feature film adaptation.